---
Of Arms and a Woman: Late Medieval Wind Music Blondel
Album Info
Album Veröffentlichung:
2019
HRA-Veröffentlichung:
01.03.2019
Das Album enthält Albumcover Booklet (PDF)
Guillaume Dufay (1397 - 1474):

1

Se la face ay pale

01:55

2

Or me veult bien espérance mentir

02:12

3

Belle, veulliés moy retenir

02:19

John Bedyngham (1422 - 1460):

4

O rosa bella, o dolze anima mia

01:59

Gilles Binchois (1400 - 1460):

5

Les tres doulx ieux du viaire ma dame

02:40

traditional:

6

À cheval, tout homme, à cheval

02:46

7

Réveillez-vous Piccars (Arr. E. Gutteridge for Chamber Ensemble)

02:57

8

Gardés le trait della fenestre

02:17

Gilles Binchois:

9

Dueil angoisseus

02:14

Johannes Ciconia (1370 - 1412):

10

Le ray au soleyl qui dret som kar meyne

02:01

Baude Cordier (1380 - 1440):

11

Tout par compas

01:25

Guillaume de Machaut (1300 - 1377):

12

Aymi, dame de valour (Arr. E. Baines & E. Gutteridge for Chamber Ensemble)

04:33

Solage:

13

Corps femenin

03:25

Robert Morton (1430 - 1479):

14

Le souvenir de vous me tue

02:06

Guillaume Dufay:

15

Le serviteur hault guerdonné

02:50

John Bedyngham

16

Le serviteur

02:00

traditional:

17

De quan qu'on peut belle et bonne estrener

02:17

18

Anxci bon youre

01:31

Francesco Landini (1325 - 1397):

19

Adiu, adiu, dous dame

02:09

traditional:

20

La Spagna

01:32

21

Pues Serviçio Vos Desplaze - Cançión Contrahecha Pues Serviçio Vos Desplaze, Letra y Punto

05:37

22

Allez à la fougère (Arr. E. Gutteridge for Chamber Ensemble)

02:06

23

L'homme armé - Lome arme - Lom arme (Falsum)

02:54

Gilles Binchois:

24

Filles à marier ne vous mariez ja

01:51

Total Runtime

59:36
Info zu Of Arms and a Woman: Late Medieval Wind Music
"Of arms and a woman" ist eine Chronik der Liebe, des Verlustes, der Ritterlichkeit und der Erinnerung an die spätmittelalterliche Musik von Dufay, Binchois, Ciconia, Landini und Machaut, aufgeführt auf Schalmeien, Zugtrompete, Blockflöten, Pauken, Dudelsack und Schlagzeug. Das Album ist inspiriert von den Schriften von Christine de Pisan, deren Werk alle Aspekte des höfischen Lebens berührte, von romantischer Poesie über Militärstrategie bis hin zu feministischen Kritiken über die Stellung der Frau in der Gesellschaft. Dazu gehören mitreißende Schlachtrufe, fesselnde Liebeslieder und das herzzerreißend schöne Dueil Angoisseux, die einzige zeitgenössische musikalische Vertonung von de Pisans Gedichten.
Blondel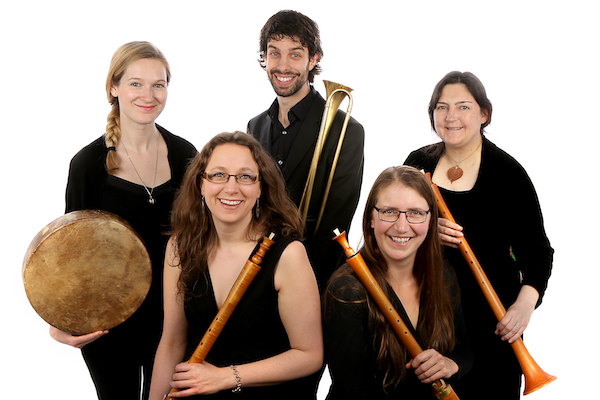 Blondel
Towns and grand households across Europe employed musicians to entertain at dances and banquets and as a symbol of their prestige. Professional wind players would have been expected to play on a wide range of instruments, the foremost of which were the double-reeded shawms.
It is easy to imagine how the strident sound of the shawm band cut across the hustle and bustle of the dance and banquet halls, or even the city square. More surprising to modern ears is their sophistication of expression and blend of sound which gives them a unique and joyful beauty of their own.
Blondel have been playing at Hedingham Castle for four years, enhancing our Event Days with their superlative medieval music. Beautifully turned out, hard-working and utterly reliable, they are tuneful and intricate, lively and mellow. Blondel are as happy creating wonderfully atmospheric background music as they are performing to a static audience or engaging with our visitors, explaining their instruments and the origins of their music. Great fun, and great musicians.


Booklet für Of Arms and a Woman: Late Medieval Wind Music