---
Album Info
Album Veröffentlichung:
2022
HRA-Veröffentlichung:
27.05.2022
Das Album enthält Albumcover Booklet (PDF)
Alexander Nikolayevich Scriabin (1872 - 1915): Fantasie in B Minor, Op. 28:

1

Scriabin: Fantasie in B Minor, Op. 28

10:03

Serge Prokofiev (1891 - 1953): Piano Sonata No. 2 in D Minor, Op. 14:

2

Prokofiev: Piano Sonata No. 2 in D Minor, Op. 14: I. Allegro, ma non troppo

07:47

3

Prokofiev: Piano Sonata No. 2 in D Minor, Op. 14: II. Scherzo. Allegro moderato

02:15

4

Prokofiev: Piano Sonata No. 2 in D Minor, Op. 14: III. Andante

06:50

5

Prokofiev: Piano Sonata No. 2 in D Minor, Op. 14: IV. Vivace

05:20

Dmitri Shostakovich (1906 - 1975): Piano Sonata No. 2 in B Minor, Op. 64:

6

Shostakovich: Piano Sonata No. 2 in B Minor, Op. 64: I. Allegretto

08:38

7

Shostakovich: Piano Sonata No. 2 in B Minor, Op. 64: II. Largo

07:19

8

Shostakovich: Piano Sonata No. 2 in B Minor, Op. 64: III. Moderato con moto – piu mosso – Allegretto con moto – poco meno mosso

14:43

Sofia Gubaidulina (b. 1931): Chaconne:

9

Gubaidulina: Chaconne

09:55

Total Runtime

01:12:50
Info zu Neo
The 'neo' in neo-classical, reflects the use of classical forms in the 20th century. Composers threw off the romantic era's excesses and began striving for a new clarity and stability. However, the term shouldn't always be seen as a case of 'out with the old, in with the new'. The heritage of earlier romantic styles - Tchaikovsky, Borodin, Rimsky-Korsakov - can be detected in the music by Scriabin, Prokofiev and Shostakovich. In an uncertain and turbulent world, the old ways can be a comfort and provide a sense of stability. Oda Voltersvik's fascinating recital opens at the beginning of the century with Scriabin's early Fantasy. The work looks forward to his later style, while still glancing back to the romantic era. Likewise, Prokofiev's 2nd sonata of 1912 stands on the cusp of his exposure to the latest modern trends in music and the looming Russian Revolution and World War I. Shostakovich's 2nd sonata is a masterpiece written during the height of World War II. His struggle to create under the threat of Stalin's repression is evident in this powerful and deeply personal work. Gubaidulina came under criticism from the Soviet regime in the early 1960's for writing 'irresponsible' music. Shostakovich supported her during this period and her Chaconne harks back the baroque style.
Oda Hjertine Voltersvik, piano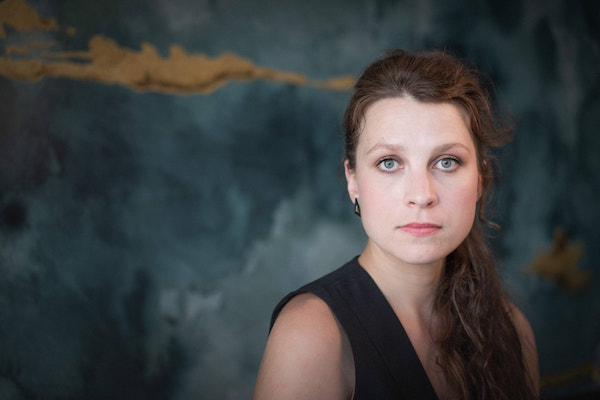 Oda Hjertine Voltersvik
The Norwegian pianist has been considered by the renown conductor Marios Papadopoulos, MBE Oxford Philharmonic, as a "pianist with great sensitivity and lovely tone (...) she has the touch to render the orchestral textures vividly and the technique to tackle the ferociously difficult piano writing with ease" and by pianist Gabriele Baldocci "a musician with a wonderful control of the instrument and innate sense of music." ​
Oda has performed at venues internationally including Carnegie Weill Recital Hall and Scandinavia House in New York, "Palermo Classica" International Festival, the 1st International Folk Music Festival in Beijing, the Nordic Museum in Seattle, the Concordia Piano Festival (Moorhead, MN) and the Fringe Edinburgh Festival. Venues in London include Wigmore Hall, St Martin in the Fields, St James` s Piccadilly, Regent Hall, Blackheath Halls, 1901 Arts Club and Charlton House. Concert societies in UK include Powderham Castle 'New Generation Artist Series', the Oban Music Society (Scotland), Fitzwilliam Museum (Cambridge) and Jacqueline du Pré Concert Hall (Oxford).
Her concert engagements in Norway include a solo recital at the Norwegian Opera House (Den Norske Opera og Ballett) in 2020, annual lunchtime concerts for a week at Edvard Grieg's museum in Bergen (2014- 2022) in addition to solo recitals, the Grieg Hall, Oslo University Aula, Stavanger Cathedral, Flekkefjord SPIRA, Lofoten International Chamber Music Festival (outside season), SKUR 2 (Stavanger), Kabuso Concert Hall and concerts at the Grieg in Bergen International Festival with solo and chamber music recitals (since 2010). In addition, she has performed for numerous music societies including Grimstad Music Society and Music at Sandefjord Church (MISK). She has performed concertos with the Sinfonietta of Athens, the Northport Symphony Orchestra (NY) and the Norwegian–Polish Youth Orchestra. Upcoming performances include the Aberdeen Sinfonietta, Scotland and the Aberdeen Civic Symphony Orchestra, South Dakota.
Her solo CD "Firebird" was released in January 2019 with a great review at klassiskmusikk.com. In April 2016, her debut CD "Khoreia" was released in collaboration with the Italian pianist Giulio Potenza (Volt&Potenza Duo) for the label Velut Luna and received excellent reviews (musicweb-international.com). Her CD "Neo" is being released on the Rubicon Classics label, May 2022.
She is a 1st prize winner of the Buono&Bradshaw competition, May 2017. In 2016, Oda was a finalist in the Jaques Samuels Intercollegiate Competition in London, Wigmore Hall 2016. For the years 2021&2022, Oda is a recipient of the honorable work grant for younger and newly established artists in Norway.
Oda is artistic director of "Volt Classics", a concert series held in Bergen where she managed the first season for autumn 2021.
Oda has been the project leader of the Volt Ensemble since 2015, a group of Scandinavian musicians with postgraduate degrees from outstanding universities abroad (Julliard School, Manhatten School of Music, Royal College of Music London) with growing international careers individually. For many of her projects (recordings, solo tours, chamber music tours, concert series) she has been rewarded funding from the Norwegian Arts Council, Music Norway, Fund for Norwegian performing artists and the Bergen Municipality among others. For her upcoming CD recording, she has received a stipendium from Ingerid, Synnøve og Elias Fegerstens foundation for Norwegian Artists among others.
She holds a Master in Performance from the Royal College of Music, London (Prof. Niel Immelman & Prof. Andrew Ball) and an Artist Diploma from Trinity Laban Conservatoire for Music and Dance, London (Prof. Gabriele Baldocci) with distinction from the Intercollegiate Jury. Oda has participated in the Oxford Philharmonic Orchestra` s Piano Festival and Summer Academy (2006 - 2014), where she has played for renown musicians such as Menahem Pressler, Marios Papadopoulos, Gary Graffmann and Vladimir Krainev. From 2005 to 2008, Oda was selected for the `Young Musicians Talent Programme` at the Grieg Academy, University of Bergen. From 2009 to 2016, she has taken part in the Jiri Hlinka Grand Piano Academy (Bergen).


Booklet für Neo