---
Album Info
Album Veröffentlichung:
2022
HRA-Veröffentlichung:
11.11.2022
Das Album enthält Albumcover
1

Desperate Times, Desperate Measures

05:15

2

Gormenghast

09:05

3

Walk With Me, My Friend

07:49

4

Glossolalia

03:48

5

Now or Never

06:13

6

It Takes All Kinds to Make a World

09:34

Total Runtime

41:44
Info zu It Takes All Kinds to Make a World
"It Takes All Kinds To Make A World" (11th Nov, April Records) pairs critically acclaimed saxophonist and composer Frederik Lundin with the forward-thinking Odense Jazz Orchestra in an original set of intricately composed music which bridges the gap between avant-garde emotion and heavy groove.
But this is much more than simply a collection of newly-commissioned big band jazz.
With the growing number of seemingly insurmountable issues and conflicts plaguing our world today, the arts have never felt more important as means of escape, communication, expression, and protest - as this album proves to full effect.
"Diversity is a prerequisite for sustainable life on this, our beautiful but suffering, blue green globe", says saxophonist and composer Frederik Lundin.
His striking arrangements explore themes of conflict, frustration and environmental crises, painting musical pictures of the human impact on society and our planet.
You need look no further than the title track to see how entwined the music and concept are; it opens with a field recording of the last-known survivor of a species of Hawaiian bird, serving as requiem for all of those of our fellow species the human race has managed to wipe out.
Inspired by the fearless nature of 70s music, the 18-piece ensemble uses dense harmonic textures, chaotic free-ness, and a wide range of dynamics to tell the stories encapsulated within each tune. Yet despite the affected horn solos, synth textures and slick drum grooves, this an undeniably modern, transportive listening experience.
It Takes All Kinds To Make A World may be dealing with a host of negative subject matters, yet the record ends on a positive note: a call for humility, tolerance, benevolence, open heartedness, curiosity and open-mindedness.
"This is perhaps one of the most exciting Big Band Albums I've had the pleasure of hearing so far this year. Often modern big band albums can sound like a "science project" for the arranger, but there is none of this here. The arrangements sound very organic with the use of of bombastic tutti sections giving way to intriguing soundscapes all driven by an amazing rhythm section. This album is not for those listeners with a week constitution however it all makes sense. Frederik Lundin has done an amazing job to presenting an album that has all the impact of a large ensemble while keeping the freedom and flexibility of a small band. I highly recommend this album to all adventurous lovers of Big Band music and I urge the more conservative listener to take a chance. The Press release made the bold statement that the album is "an undeniably modern, transportive listening experience" and I couldn't agree more." (jazzineurope.mfmmedia.nl)
Fredrik Lundin, tenor- and mezzo soprano saxophone
Odense Jazz Orchestra
Torben Sminge, conductor, artistic director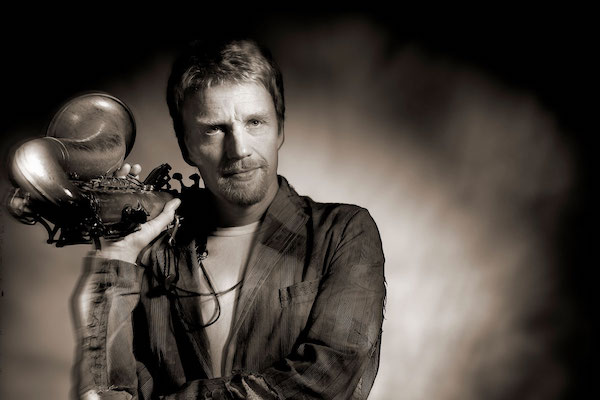 Fredrik Lundin
saxophonist, flutist, composer and band leader Fredrik Lundin is one of the major jazz profiles of his generation in Scandinavia. Since arriving on the Danish Jazz scene in 1981 this elegant and explosive musician has been searching relentlessly into the realms of contemporary music, respecting no boundaries. A truly original and virtuoso voice, performing in bands around Europe and Scandinavia, such as his own Offpiste Gurus, 5 Go Adventuring Again, the 13 piece MaLuBa Orchestra, which he co-leads with Marilyn Mazur and Kasper Bai, and with Marilyn Mazur Group, Jon Balke Magnetic North Orchestra and Carsten Dahl.
He's currently a member of Marilyn Mazur Group, Makiko Hirabayashi's Weavers, Tomasz Dabrowski's Istnienia Poszczególne // The Individual Beings and Simon Spang-Hansens "Epistrophy Septet"
With Trinelise Væring he's co-leading the 10 piece band Tone of Voice Orchestra
Also he is a distinguished composer for contemporary ensembles, jazz groups and big band, as well as theater and modern dance performances.
Odense Jazz Orchestra
a professional big band that is based in Odense.
The band has existed since 1994, formerly known as TipToe BigBand, is an active part of the Danish professional big band scene and includes some of the best musicians, composers and arrangers associated with the Funen music scene.
Odense Jazz Orchestra's vision is to challenge the big band format by constantly seeking artistic challenges in different musical expressions and to renew the big orchestra sound through creative musical collaborations that go beyond the big band tradition. Thus, the band has released both electronic-based music and music for classical percussion, played concerts with the Odense Symphony Orchestra, classical choir and a large number of soloists from different musical environments.
In addition to a long series of concerts, the Odense Jazz Orchestra also involves the musical growth layer in and around Funen through various educational projects.
The dedication of the musicians, the musical director, Torben Sminges, and our regular series of musical organizers has been the common thread in all projects, which all contribute to a present, personal and outward-looking expression.
The orchestra has thus played with names such as Stacey Kent, Richard Bona, Lars Jansson, Anders Blichfeldt, Erann DD, Odense Symphony Orchestra, Dick Oatts, Marie Bergman, Tobias Trier, Steffen Brandt, Lars Møller, Harald Haugaard and Helle Hansen. They have also made projects in collaboration with, among others, the Odense International Film Festival (OFF) and Jam Days.


Dieses Album enthält kein Booklet