---
Album Info
Album Veröffentlichung:
2023
HRA-Veröffentlichung:
19.05.2023
Das Album enthält Albumcover
1

A Straight Story

04:56

2

Noa

04:47

3

Coco Loco

05:20

4

Tune For M.C.

04:38

5

Adrift

04:09

6

The Child In You

03:43

7

Zattere

04:05

8

Squiggles

05:19

9

Journey To The Unknown

07:10

Total Runtime

44:07
Info zu Squiggles
Gur Liraz, einer der israelischen Hoffnungsträger des Jazz präsentiert mit seinem umwerfenden Gitarrentrio sein Debütalbum Squiggles; eine stilbewusste Verbeugung vor den größten Formationen dieser Besetzung. Das Trio wird an diesem einmaligen Abend durch einige Freunde und langjährige Wegstreiter Gurs ergänzt; freuen Sie sich auf einen Jazzabend der Extraklasse!
Squiggles entstand während des Corona-Lockdowns, und so hatten wir mehr als alles andere Zeit: Zeit, um zu schreiben, zu komponieren, zu arrangieren und unsere eigenen Ideen als Individuen und gemeinsam als Band zu erforschen. Als wir uns für die Aufnahmen entschieden, war uns klar, dass wir nur Original Musik machen wollten, und so sind, obwohl das Album einen deutlichen Hard-Bop-Einschlag hat, alle Songs Originale, sieben von mir und zwei von Tals. Sie alle sind inspiriert von unseren israelischen Wurzeln sowie von der Tradition des Soul- und Blues-Spiels, das die Jazzmusik prägt. Mit einem ästhetischen Schwerpunkt auf der Erkundung der kanonischen Orgel-Gitarren-Combos der 60er Jahre, wie Wes Montgomery und Melvin Rye oder Grant Green und Larry Young, haben die Songs einen wunderbar traditionellen Klang.
Gur Liraz wurde 1988 in Tel Aviv, Israel, geboren und wurde an der renommierten Thelma Yellin High School im Hauptfach Jazz angenommen. Er verbrachte 4 Jahre mit dem Studium bei dem Jazzgitarrenmeister Ofer Ganor. Nach einem achtmonatigen Aufenthalt in New York, wo er Unterricht bei der Gitarrenlegende Peter Bernstein nahm, zog Gur 2013 nach Berlin und wurde bald in die sich rasant entwickelnde Jazzszene der Stadt eingebunden. Mit seinem Quartett begleitete er die Sängerin Amanda Becker bei ihrem Debütalbum "You're Looking at Me". Die beiden nahmen auch ein Duett-Album auf - "Ask Me Now" im Jahr 2023. Sein Debütalbum 'Squiggles' wird am 19. Mai 2023 beim Londoner Musiklabel UBUNTU Music erscheinen.
Der Pianist, Komponist und Arrangeur Tal Balshai wurde 1969 in Jerusalem geboren, studierte klassisches und Jazz-Klavier in Jerusalem, Berlin und New-York. Erfolgreiche Konzerte führten ihn als Pianist und Liedbegleiter an wichtige Spielstätten weltweit, wie die Mailänder Scala, die Staatsopern von Hamburg, Berlin und Wien, das Teatro Real in Madrid oder zu den Salzburger Festspielen. Tal schreibt und singt seine eigenen Lieder. Zum Beispiel auch in seinem eigenen Programm "The Prosperity Blues", das ebenfalls als CD erschienen ist, beschreibt in humorvollen und nachdenklichen Texten den Alltag, das Leben und die Rolle des Einzelnen in der heutigen Welt.
Komplettiert wird die Band durch Omri Gondor, einen aufstrebenden Berliner Drummer mit israelischen Wurzeln. Er ist vielbeschäftigtes und gefragtes Mitglied der Berliner Jazzszene und ist gern gesehener Sideman in verschiedensten Konstellationen. Er besticht vor allen Dingen durch seine Vielseitigkeit, seinen unnachgiebigen Puls und durch seine empathische Art seine Mitmusiker in Szene zu setzen.
Gur Liraz, Gitarre
Tal Balshai, Klavier
Omri Gondor, Schlagzeug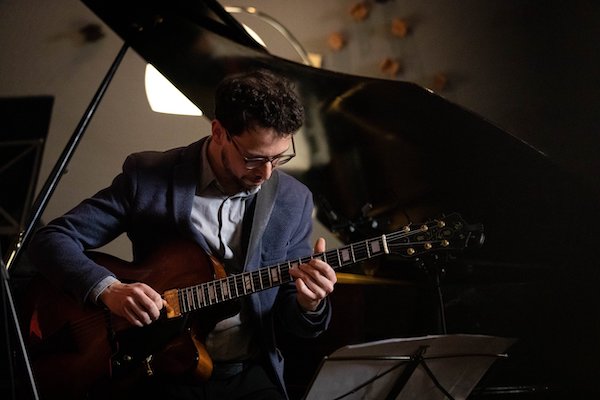 Gur Liraz
Born in Tel Aviv, Israel, in 1988, Gur first took up the guitar when he was nine years old, and soon began his journey with jazz music. He majored in jazz at the prestigious Thelma Yellin High School, where he studied with some of the best musicians from the Israeli scene such as Amit Golan, Yuval Cohen, Erez Barnoy, Amos Hoffman and many more. He spent four years of that time studying under jazz guitar master, Ofer Ganor.
As soon as graduating high school in 2004, Gur became an active part of the lively Tel Aviv Jazz scene, performing in jazz clubs, bars and different venues, as well as recording. At the same time, he was also teaching guitar and music, both privately and in music schools. Later, Gur took up the classical guitar, studying under internationally acclaimed guitarists Seth Josel and Ruben Saroussi and gaining third place at the Young Guitarist's competition of the Music Academy in Jerusalem.
In 2013, after eight months in New York, taking lessons with guitar legend Peter Bernstein, Gur moved to Berlin and soon became involved in its rapidly evolving jazz scene. He performs regularly in some of the city's most visited jazz clubs. Aside from his own quartet and trio projects, he collaborates with some of the city's most in demand musicians. Together with his quartet Gur was featured with singer Amanda Becker on her debut album, You're Looking at Me. The two also recorded a duet album, Ask Me Now, in 2023.
During the corona virus crisis and the subsequent lockdown, Gur became more interested in the challenges of composition. Seeking an inspiring environment to investigate questions of Jewish heritage and its intersections with jazz, he applied and was accepted to the prestigious LABA Jewish culture lab. His debut album, Squiggles, will be released with the London based music label Ubuntu Music on May 19th, 2023. It features his compositions in a trio format, including Tal Balshai (organ) and Omri Gondor (drums).
Gur is also a two-time recipient of Neustart Kulture Grant, #hierspieltdiemusik and Musifonds fundings and GEMA stipendienprogramm 2021, as well as a member of the Deustche Jazz Union and GEMA Society for Composers.


Dieses Album enthält kein Booklet