---
Album Info
Album Veröffentlichung:
2021
HRA-Veröffentlichung:
10.09.2021
Das Album enthält Albumcover
1

See No Limits

03:37

2

Love Confessions

03:23

3

Through the Middle

04:25

4

Spring (Not as Planned)

00:40

5

Stab Somebody Else

03:50

6

Late Spring (Sober, but Drunk)

00:39

7

The Glorious Return of the Funk

03:58

8

Come Together

03:07

9

Sub Bass

03:36

10

Summer (But Different)

00:38

11

SX Funk

04:02

12

Can't Wait a Day

03:38

13

Higedance

01:00

14

Late Summer (I Guess I Was Here Before)

00:55

15

Understood

03:09

16

Early Autumn (Everything Gonna Be Alright)

01:10

17

She Put a Spell on Me (Voodoo, Pt. II)

04:01

18

Early Winter (Tnm Party)

01:32

19

Winter Feat. Tumbleweed (The Longest Snare in the World)

15:19

Total Runtime

01:02:39
Info zu The Next Movement
Bereits seit 2003 treffen die drei in der Schweiz etablierten, an renommierten Musikhochschulen (Berklee College Of Music, Musikhochschule Basel, Jazzschule Luzern) studierten und mehrfach ausgezeichneten Musiker J.J. FLUECK, PASCAL "P" KAESER und SAM SIEGENTHALER in unterschiedlichen Besetzungen wie der JAMES BROWN TRIBUTE SHOW oder als Studiound Livemusiker für Künstler wie NICOLE BERNEGGER, GREIS oder WILLIAM WHITE immer wieder aufeinander, ehe sie vereint durch die Begeisterung für Funk, R&B, Blues und Jazz beschlossen, selbst eine Band mit eigenen Songs zu gründen - THE NEXT MOVEMENT war geboren.
Schon mit dem Debütalbum "Loud" (2018) wurde europaweit getourt, direkt nach einer fulminanten Performance am GG Jazz Festival in Russland wurde schon an neuen Songs gearbeitet. Vor allem um soulige und jazzige Elemente erweitert, ist der Nachfolger "The Next Movement" ein noch reiferes, vollends ausproduziertes und unwiderstehlich zum Tanzen einladendes Funk-Album mit Reminiszenzen an Größen wie JAMES BROWN, PRINCE, JIMI HENDRIX oder MILES DAVIS, das vom ersten Hören an fesselt und die Beine nicht stillhalten lässt. Wie eine neue Produktion aus der Szene der Metropole Minneapolis wirkt das Album - in spielerischer und tontechnischer Perfektion.
J.J. Flueck, vocals, drums, samples
Sam Siegenthaler, guitar, fx, vocals
P Kaeser, bass, synth, vocals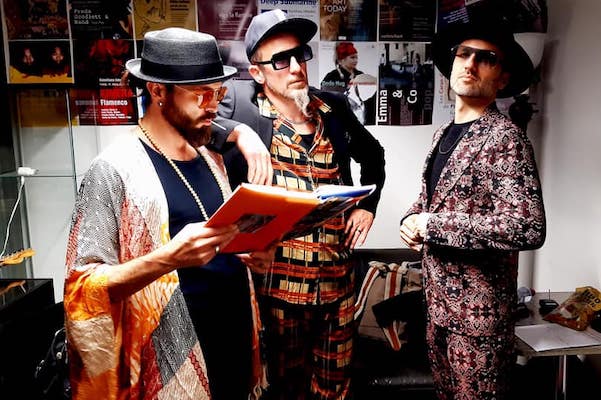 The Next Movement
Character, authenticity and urgency – but above all: Groove.
The Next Movement, led by singer / drummer J.J. Flueck, joined by Pascal "P" Kaeser on bass & synth and guitar-virtuoso Sam Siegenthaler have gone through it all. The three have worked together over a decade as in-demand musicians and rhythm section (Greis, Nicole Bernegger, William White, Steff la Cheffe, Soul Train, The James Brown Tribute Show, Manillio, Diens, Rogue State Alliance a.m.m.), being too busy to release their own music.
With the release of their soulful-feelgood summer (video-)single "Superfly", followed by the raw pounding, non-chalant funkcut "Voodoo", the group has set off to a series of impactful releases. Tons of props were granted by US-musicblog Earmilk.com with the video-premiere of "Let It Go". Their third single "I Wanna See You Move", let's call it ADM (Analog Dance Music) is the last dancefloor-filling teaser before finally releasing the much anticipated album "Loud". The Swiss Tour in support of "Loud" peaked with a highly energetic and acclaimed perfromance at sold out GG Jazz Festival in Russia.
The (Video-)Single "Free Your Mind" (28.9.18) hit the nerve of groove gourmets and marked the direction of the latest "No Sleep Till Paradiso" EP (29.3.19) with the singles "Like A Rolling Stone" (8.3.19) and "Cucumber" (26.4.19). No Sleep Till Paradiso Tour started on 30.03.2019 with 30+ Shows in Switzerland. Up next is their latest studio project THE NEXT MOVEMENT, coming out on CD, Vinyl & Streaming on September 10th, 2021.
Explosive Groove-pop with enough funky soul might be the most accurate description of their fairly unswiss sound creation. Comparisons to Anderson .Paak and references to Prince show up on a regular. Call it what you want; their music is very meaningful and grooves hard.
Live delivery is a given and known to most promoters after literally thousands of shows with various artists and projects throughout Switzerland and abroad.


Dieses Album enthält kein Booklet