---
Album Info
Album Veröffentlichung:
1982
HRA-Veröffentlichung:
23.02.2021
Das Album enthält Albumcover
Entschuldigen Sie bitte!
Sehr geehrter HIGHRESAUDIO Besucher,
leider kann das Album zurzeit aufgrund von Länder- und Lizenzbeschränkungen nicht gekauft werden oder uns liegt der offizielle Veröffentlichungstermin für Ihr Land noch nicht vor. Wir aktualisieren unsere Veröffentlichungstermine ein- bis zweimal die Woche. Bitte schauen Sie ab und zu mal wieder rein.
Wir empfehlen Ihnen das Album auf Ihre Merkliste zu setzen.
Wir bedanken uns für Ihr Verständnis und Ihre Geduld.
Ihr, HIGHRESAUDIO
1

It's A Long Way There (Remaster 1999)

04:14

2

Help Is On It's Way

04:02

3

Reminiscing (2002 Digital Remaster)

04:10

4

Man On Your Mind

04:05

5

The Other Guy

02:49

6

The Night Owls

05:18

7

Lonesome Loser

03:58

8

Take It Easy On Me

03:45

9

Down On The Border (Remastered 2010)

02:54

10

Happy Anniversary (2002 Digital Remaster)

03:58

11

Lady

04:58

12

Cool Change

05:14

Total Runtime

49:25
Info zu Greatest Hits (Remastered)
The Little River Band formed in the mid 70's in Australia, and in record time began having success worldwide with their first album featuring the smash hit "It's A Long Way There." Consisting of the core artistry of Glenn Shorrock, Graham Goble, Beeb Birtles and Derek Pellicci, the band would soon be a household name and over the next few years would release some of the most memorable rock and pop songs ever recorded.
In the early 80's, Capitol Records awarded this amazing band with the fantastic platinum plus collection "Greatest Hits" featuring all of their key hit singles like "Lady" "Lonesome Loser" "Reminiscing" "Help Is On the Way" & "Take It Easy On Me."
Other notables joined the band over the years like Wayne Nelson, John Farnham, Stephen Housden and their work is also represented here with more hit tracks like "Down On The Border" and the non LP hit single "The Other Guy."
Even their more prog-rock era also gets a nice overview with tracks like "It's A Long Way There" "Cool Change" and "Happy Anniversary", all which became steady radio and retail favorites, which will forever live on in popular music history.
In honor of the legendary artists and their music, Friday Music is very pleased to announce the first time 180 Gram Audiophile Vinyl release of the Capitol Records classic "Greatest Hits" by the Little River Band
Little River Band
Digitally remastered
Please Note: We offer this album in its native sampling rate of 48kHz, 24-bit. The provided 96kHz version was up-sampled and offers no audible value!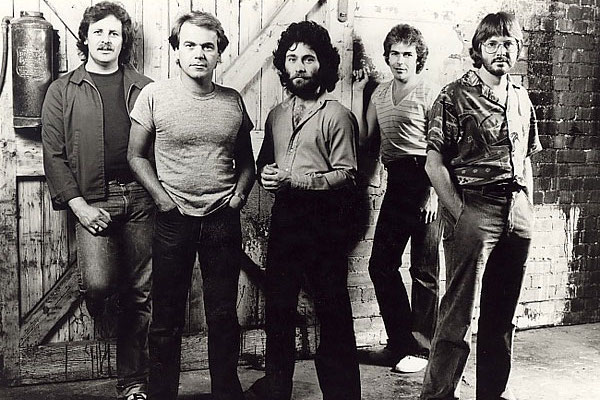 Little River Band
One of the first Australian bands to find widespread commercial success in America, Little River Band brought a polished, vocal-heavy pop sound to the late-'70s airwaves, melding the rich harmonies of the Eagles and Crosby, Stills & Nash with a bit of AOR drive and soft rock melodicism. Staffed by a crew of previously distinguished veterans of Melbourne's vibrant rock scene, the group's sights were already set on American shores by the time of their 1975 formation, and within two years, they had achieved their breakthrough with 1977's gold-selling Diamantina Cocktail, followed quickly by Sleeper Catcher and its Top Ten hits "Lady" and "Reminiscing." Their acceptance in the U.S. was mirrored and subsequently exceeded by their prominence back home, and they headed confidently into the '80s with a string of hit albums and an international reputation. Things began to splinter, though, with the departure of key founding members, singer Glenn Shorrock and guitarist Beeb Birtles, and by 1985, their profile in the U.S. began to dip with a change in both sound and membership. After a series of albums with singer John Farnham at the helm, Shorrock reentered the picture and Little River Band managed to retain their popularity in Australia through the end of the decade. However, the group continued to bleed personnel and by 1998, no original members remained involved in the band and the legal rights to the name were claimed by '80s members Stephen Housden and Wayne Nelson. Backed by a frequently rotating staff, Housden and Nelson toured a version of Little River Band throughout the 2000s despite numerous legal battles with the group's founding members, who had authored all of their best-known material. The contentious legal entanglements persisted well into the next decade with continued strife between both parties resulting in the cancellation of several major anniversary appearances by the touring version of the group, now led solely by Nelson, who in 2016 released an album of re-recorded versions of the band's earlier hits. In spite of this ongoing drama, Little River Band's status as one of Australia's most prominent bands of the late 20th century has remained strong, and they entered their fifth decade with 2020's live orchestral album Black Tie.
When Little River Band initially formed in Melbourne in 1975, the group's key bandmembers were already well-known to many Australians. Lead singer Shorrock had made his name first in the mid-'60s group the Twilights, and later with Axiom, whose 1970 single "A Little Ray of Sunshine" eventually became an Australian classic rock staple. Guitarist Beeb Birtles had initially been the bass player for a group called Zoot (Rick Springfield was a later member) then later joined guitarist Graham Goble and drummer Derek Pellicci in the popular country-rock group and LRB precursor Mississippi. Even the band's manager, Glenn Wheatley, carried a significant rock pedigree as the former bassist for the Masters Apprentices. From the start, they had the status of something of a supergroup aimed at conquering the world, from Australia to America. With that in mind, they almost immediately went into the studio, even before the rest of the band had been consolidated.
Although the early lineup shuffled around a bit, by the time Little River Band released their self-titled debut in late 1975, the band consisted of mainstays Shorrock (vocals), Birtles (vocals, guitar), Goble (vocals, guitar), and Pellicci (drums), with lead guitarist Ric Formosa and bassist Roger McLachlan. Their follow-up, After Hours, was released in Australia mere months later in April 1976, though the band's American record company considered it to too dark and sent them straight back into the studio to record the next album, resolving to use some of the After Hours tracks and the best of what was being recorded for the group's third Australian album. The result was called Diamantina Cocktail, produced by John Boylan. Preceded by late 1976 European tour dates with Queen and American dates supporting Average White Band, Diamantina Cocktail finally appeared in both countries in the front half of 1977 and proved to be the breakthrough Little River Band were hoping for. Buoyed by the hit singles "Help Is on Its Way" and "Happy Anniversary," the album peaked at number 49 in the U.S. and number two in Australia, eventually going gold in both countries. Just two years into their career, however, cracks in the lineup began to show, with Formosa and McLachlan replaced by David Briggs and George McArdle, respectively. Sleeper Catcher, again produced by Boylan, arrived in 1978 and became a major success in America, with the single "Reminiscing" hitting number three. By this point, Little River Band were on a roll and 1979's First Under the Wire was no exception, launching another pair of hits with "Cool Change" and "Lonesome Loser."
Time ExposureOver the next few years, the group straddled the two continents, renowned for their impeccable live performances and polished presence. Internally, relationships weren't so good. From their first album on, front-liners Shorrock, Birtles, and Goble recorded separately. On the road they traveled separately. Only on-stage were they together. The regular changes in the backline -- especially on bass -- only contributed to tensions. During one break between American tours, Goble started writing and producing an album for Australian pop legend John Farnham. After 1981's George Martin-produced Time Exposure, Shorrock was replaced on vocals by Farnham. Australia pricked up its ears, but America was in shock, as this still-successful band moved toward replacing the singer of all its big hits with someone who to them was an unknown. Nevertheless, the change was made and Farnham walked straight into the recording studio to make The Net. More lineup changes followed, including the departure of Birtles.
Playing to WinIn all, John Farnham recorded three albums with Little River Band over four years: The Net (1983), Playing to Win (1985), and No Reins (1986). Newcomers Stephen Housden (guitar, vocals) and Wayne Nelson (bass, vocals) became mainstays of this era, with only Goble left from the original frontline. Although the albums were a moderate success at home, America never quite took to Farnham, who soon took the initiative and started working on another solo release, 1986's Whispering Jack, an album that completely rehabilitated him as the biggest-selling artist in Australia. Little River Band regrouped in 1988 with new management and a new record label. Glenn Shorrock and Derek Pellicci rejoined Goble, Nelson, and Housden to record the Monsoon album, which went some way in returning the group's luster. This lineup issued one more release, 1990's Get Lucky, after which Goble departed. By 1996, Shorrock was also gone, and with Pellicci's 1998 departure went the group's last original member as well as the Little River Band trademark rights, which fell to Housden.
Cuts Like a DiamondAlthough the band as fans had known it called it day, Housden and Nelson picked up the torch and carried on as perennial touring act under the Little River Band name, coming under fire in 2002 from Birtles, Shorrock, and Goble, who were attempting a reunion tour playing the band's early hits and hoping to use some version of the group's name. The remainder of the 2000s was marred by a knotty confusion of lawsuits between the two parties, with Nelson ultimately retaining the trademark rights and continuing to tour his version of Little River Band into the next decade while the original members played the hits under their own names. A handful of new releases under the Little River Band banner appeared in the 2010 including the all-original Cuts Like a Diamond (2013) and The Hits: Revisited, a collection of their prime early material re-recorded by Nelson and his current lineup. The animosity remained, with the original members doing their best to sabotage major appearances and anniversary celebrations undertaken by the touring version.
Although the dramas and infighting of the group's latter years have taken their toll, the Little River Band legacy as a whole has fared well, and the group's induction into the ARIA Hall of Fame and the lasting power of now-classic hits like "Cool Change," "Reminiscing," and "Help Is on Its Way" continued to cement their reputation as one of Australia's most significant bands. As Nelson shepherded the group, they headed into another decade and continued to celebrate the breadth of their legacy. 2020's live album Black Tie featured Little River Band accompanied on-stage by an orchestra, playing early hits as well as some of their contemporary offerings like the record's patriotic single "The Lost and the Lonely," which originally appeared on 2013's Cuts Like a Diamond. (Timothy Monger, AMG)


Dieses Album enthält kein Booklet