---
Album Info
Album Veröffentlichung:
2021
HRA-Veröffentlichung:
28.01.2022
Das Album enthält Albumcover Booklet (PDF)
Johann Sebastian Bach (1685 - 1750): Suite No. 1 for Cello in G Major, BWV 1007:

1

Bach: Suite No. 1 for Cello in G Major, BWV 1007: I. Prelude

02:33

Airat Ichmouratov (b. 1973):

2

Ichmouratov: Praeludium for Cello in G Major, Op. 69

06:16

Johann Sebastian Bach: Suite No. 2 for Cello in D Minor, BWV 1008:

3

Bach: Suite No. 2 for Cello in D Minor, BWV 1008: I. Prelude

03:35

Gabriel Dharmoo:

4

Dharmoo: Sarasaraahat

06:32

Johann Sebastian Bach: Suite No. 3 for Cello in C Major, BWV 1009:

5

Bach: Suite No. 3 for Cello in C Major, BWV 1009: I. Prelude

03:48

Carmen Braden (b. 1985):

6

Braden: Play Time

07:25

Johann Sebastian Bach: Suite No. 4 for Cello in E-Flat Major, BWV 1010:

7

Bach: Suite No. 4 for Cello in E-Flat Major, BWV 1010: I. Prelude

03:56

Nicole Lizée (b. 1973):

8

Lizée: Prayers for Ruins

06:55

Johann Sebastian Bach: Suite No. 5 for Cello in C Minor, BWV 1011:

9

Bach: Suite No. 5 for Cello in C Minor, BWV 1011: I. Prelude

06:27

Cris Derksen:

10

Derksen: LAND BACH

06:36

Johann Sebastian Bach: Suite No. 6 for Cello in D Major, BWV 1012:

11

Bach: Suite No. 6 for Cello in D Major, BWV 1012: I. Prelude

04:51

Roy Johnstone:

12

Johnstone: No. 6 Post Bach

05:09

Total Runtime

01:04:03
Info zu Preludes
There is something deeply rewarding about having both old and new music on your music stand. By pretending that old music is new, it becomes easier to nd freedom from tradition and to discover fresh ideas and new meanings. By imagining that new music is old, a certain reverence set in, a trust in the composer, and a feeling of devotion to their intent.
But how to express on a single album one's roots in classical music, one's love of Bach, and simultaneously offer a sense of excitement for the music being written today? I remember fondly a performance at Juilliard given by Bonnie Hampton: she played the six Bach preludes interspersed with contemporary works for cello. I took my inspiration from her and, with the support of the Canada Council for the Arts, commissioned six Canadian composers to write pieces for solo cello in response to the preludes from the Bach Cello Suites.
It was thrilling to receive the new pieces, written by Airat Ichmouratov, Gabriel Dharmoo, Carmen Braden, Nicole Lizée, Cris Derksen, and Roy Johnstone. Their styles are completely different from one another, and their compositions cover a wide range of technical cellistic demands. If we hear our musical roots in Bach, then these composers' works grew from those roots, sprouting and shooting out in all sorts of wonderful directions!
Airat Ichmouratov's Praeludium in G Major for Cello Solo, Op. 69 is a neo-Romantic work, offering up great ocean-like swells in response to Bach's G-major prelude. He captures the lyrical aspects of the Bach by winding melodic lines out of the upper notes in the famous broken arpeggios and adds a fair dose of virtuosic intensity as well.
Gabriel Dharmoo, on his work sarasaraahat: "sarasaraahat, I hear them,vaguely ancestral ghosts, rustling, caught in mid-air, a static sway, murmured into an unknown vastness." Inspired by the D-minor Bach prelude and Indian Carnatic music, Dharmoo's piece explores the quietest range of the cello, spending long stretches of time at the very limit between pitch and white noise, making the eventual release onto a rich low D all the more poignant. There is a mysterious, hypnotic quality to sarasaraahat that leads naturally into the dark, exploratory tone of the D-minor prelude.
Carmen Braden writes in her score: "Play the score as if you just heard the Bach Cello Suite No. 3 for the first time, and now sit down to improvise, playful as a child." In fact, Braden initially gave me a score as void of markings as a Bach cello part, interested in matching the interpretive process itself to Bach, and curious about the decisions I would make without her specific guidance. Her piece marvels at the motifs and harmonies in the Bach the way a young child delights in the world around them.
In Prayers for Ruin, Nicole Lizée invites the cello into a marvellous, fantastical electronic world, singing expressively above it, weaving in and out of it, and chasing after it. She writes: "Relationships between the embedded voices are always front of mind when contemplating Bach's cello preludes. This became a jumping off point for the work as I ventured into an imagined hymnal or lounge music compendium. The title refers to urban exploration – or urbex – where adventurists explore ruins and decayed structures. The voices in this work are the decaying and faded remnants of lost melodies – the dangling threads of tattered textile inventions."
Cris Derksen writes: "LAND BACH is my response to Bach's 5th prelude for solo cello as an Indigenous composer and cellist." Cris's classical training and love of the rich, earthy sounds in the Bach are crystal clear in her work. She honours Bach's introduction and fugue structure, weaving her personal voice – furiously dramatic, earnest and gentle, and relentlessly rhythmic – compellingly around Bach's. Dersken breaks from the driving fugal section once for a gorgeous section of her characteristic looped rolled chords. 7
Roy Johnstone is a fiddler and composer from Prince Edward Island. He has a splendid fiddler's bow arm, and his music is a perfect dance partner for the gigue-like qualities of the D-major Bach prelude. No. 6 Post Bach is a take on a folk medley, moving seamlessly between several different dancing sections of music. A slowed-down, grumbly movement offers us a glimpse of the underworld, the murky place that gave rise to the motives that permeate Bach – and Johnstone.
My hope is that as you listen to this album, you will be drawn into the new music through its connection to Bach, and that you will hear Bach differently, as though past and present composers were having a conversation across the years, across the ocean.
Julia MacLaine, cello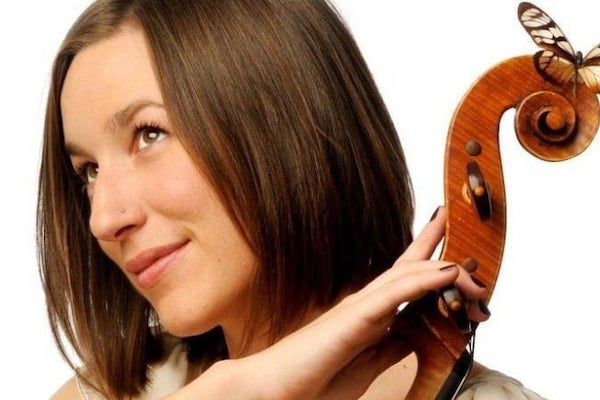 Julia MacLaine
Assistant principal cello of the National Arts Centre Orchestra since 2014, Julia MacLaine performs worldwide as a soloist, chamber, and orchestral musician in music ranging from classical to contemporary and from "world" to her own arrangements and compositions.
When not onstage with NACO, she performs regularly with her string quartet, Ironwood. Their programs combine classical warhorses (Beethoven, Ravel, Debussy) with very new music (works by Ana Sokolovic, Nicole Lizée, Bryce Dessner, Philip Glass, Esa‐Pekka Salonen) and occasionally veer off into their own arrangements of original songs and folk music.
During the 10 years she spent living in New York City, Julia collaborated frequently with composers, giving voice to new works for solo cello. Most notably, she has been a champion of Pedro Malpica's Pachamama's Catharsis. From 2005 to 2014, she was a member of the Brooklyn‐based chamber orchestra The Knights, with whom she performed the Schumann Cello Concerto in 2012 in Central Park.
Julia has performed at the Mecklenberg‐Vorpommern Festival in Germany, in Abu Dhabi, at Suntory Hall in Tokyo, and across the United States. She has also appeared at the Lanaudière, Bic, Mostly Mozart, Tanglewood, and Ravinia Festivals. Julia has performed with the Deutsche Kammerphilharmonie Bremen and Les Violons du Roy.
Originally from Prince Edward Island, Julia studied with Antonio Lysy at McGill University, with Timothy Eddy at the Mannes College of Music, and at The Juilliard School. Julia MacLaine performs on a 1840 Nicolas Vuillaume cello, generously made available to her by the National Arts Centre Foundation.


Booklet für Preludes