---
Album Info
Album Veröffentlichung:
2022
HRA-Veröffentlichung:
19.07.2022
Das Album enthält Albumcover Booklet (PDF)
George Frideric Handel (1685 - 1759): Sinfonia Concerto No. 2 in D Major, Op. 4:

1

Handel: Sinfonia Concerto No. 2 in D Major, Op. 4: Allegro assai – Allegretto – Allegro assai

05:27

Caio Fabbricio, Hwv A9, Act I:

2

Handel: Caio Fabbricio, Hwv A9, Act I: "popolo tarentino, qual'è cotesta"

00:38

3

Handel: Caio Fabbricio, Hwv A9, Act I: "in così lieto giorno" (After Johann Adolf Hasse)

04:00

4

Handel: Caio Fabbricio, Hwv A9, Act I: "quanto profondo il lusso, e quanto salde"

02:50

5

Handel: Caio Fabbricio, Hwv A9, Act I: "fissa ne' sguardi miei" (After Johann Adolf Hasse)

04:27

6

Handel: Caio Fabbricio, Hwv A9, Act I: "figlia, Volusio"

02:44

7

Handel: Caio Fabbricio, Hwv A9, Act I: "il trono, il regno" (After Johann Adolf Hasse)

03:57

8

Handel: Caio Fabbricio, Hwv A9, Act I: "tutte ella dunque … Vezzi, lusinghe e sguardi" (After Johann Adolf Hasse)

03:31

9

Handel: Caio Fabbricio, Hwv A9, Act I: "io vivo ancora, o Dèi Quirini, e vivo"

00:56

10

Handel: Caio Fabbricio, Hwv A9, Act I: "per amor se il cor sospira" (After Leonardo Vinci)

05:55

11

Handel: Caio Fabbricio, Hwv A9, Act I: "vien' Pirro, e seco il padre"

00:53

12

Handel: Caio Fabbricio, Hwv A9, Act I: "quando verrà quel giorno" (After Antonio Pollarolo)

06:20

13

Handel: Caio Fabbricio, Hwv A9, Act I: "pirro amante di Sestia!"

02:12

14

Handel: Caio Fabbricio, Hwv A9, Act I: "caro sposo, amato oggetto" (After Johann Adolf Hasse)

08:46

Caio Fabbricio, Hwv A9, Act Ii:

15

Handel: Caio Fabbricio, Hwv A9, Act Ii: "io Bircenna, io di Glaucia"

01:24

16

Handel: Caio Fabbricio, Hwv A9, Act Ii: "amore a lei giurasti" (After Johann Adolf Hasse)

04:00

17

Handel: Caio Fabbricio, Hwv A9, Act Ii: "inopportuno incontro! ... Non ha più pace l'amor geloso" (After Johann Adolf Hasse)

08:12

18

Handel: Caio Fabbricio, Hwv A9, Act Ii: "numidico lione, ircana tigre … Giovani cori amanti" (After Johann Adolf Hasse)

04:50

19

Handel: Caio Fabbricio, Hwv A9, Act Ii: "caro Volusio, o tu dei voti miei"

00:28

20

Handel: Caio Fabbricio, Hwv A9, Act Ii: "al legato roman Turio"

01:34

21

Handel: Caio Fabbricio, Hwv A9, Act Ii: "tanto, Volusio, temi l'aspetto mio?"

01:27

22

Handel: Caio Fabbricio, Hwv A9, Act Ii: "troppo fiere, disdegnose" (After Francesco Corselli)

04:40

23

Handel: Caio Fabbricio, Hwv A9, Act Ii: "che Volusio sia estinto"

02:49

24

Handel: Caio Fabbricio, Hwv A9, Act Ii: "al foco del mio amore" (After Tomaso Albinoni)

05:06

25

Handel: Caio Fabbricio, Hwv A9, Act Ii: "se in vani contrasti anco indugiate"

01:06

26

Handel: Caio Fabbricio, Hwv A9, Act Ii: "non mi chiamar crudele " (After Johann Adolf Hasse)

04:17

27

Handel: Caio Fabbricio, Hwv A9, Act Ii: "torna la speme in seno … Nocchier che teme assorto" (After Johann Adolf Hasse)

06:16

Caio Fabbricio, Hwv A9, Act Iii:

28

Handel: Caio Fabbricio, Hwv A9, Act Iii: "quanto ti deggio!"

00:45

29

Handel: Caio Fabbricio, Hwv A9, Act Iii: "è grande e bella quella mercede" (After Giuseppe Sellito)

05:02

30

Handel: Caio Fabbricio, Hwv A9, Act Iii: "principessa, nel tuo giusto dolor veggo il mio torto"

00:46

31

Handel: Caio Fabbricio, Hwv A9, Act Iii: "volgi a me gl'affetti tuoi" (After Johann Adolf Hasse)

04:14

32

Handel: Caio Fabbricio, Hwv A9, Act Iii: "sestia manca a la fede"

00:37

33

Handel: Caio Fabbricio, Hwv A9, Act Iii: "quella è mia figlia e'l mio" (After Johann Adolf Hasse)

03:00

34

Handel: Caio Fabbricio, Hwv A9, Act Iii: "poiché lunge è'l mio bene, nulla si tema"

01:52

35

Handel: Caio Fabbricio, Hwv A9, Act Iii: "vedrai morir costante" (After Johann Adolf Hasse)

05:15

36

Handel: Caio Fabbricio, Hwv A9, Act Iii: "giovane incauto"

01:56

37

Handel: Caio Fabbricio, Hwv A9, Act Iii: "volusio avverti che il giudice di Pirro in me ti ascolta"

00:54

38

Handel: Caio Fabbricio, Hwv A9, Act Iii: "lo sposo va a morte" (After Johann Adolf Hasse)

03:56

39

Handel: Caio Fabbricio, Hwv A9, Act Iii: "qualche a l'amor, qualche fiacchezza al sesso … Varcherò le flebil onde" (After Johann Adolf Hasse)

05:37

40

Handel: Caio Fabbricio, Hwv A9, Act Iii: "nel da me condannato Volusio"

01:50

41

Handel: Caio Fabbricio, Hwv A9, Act Iii: "teco morir vo' anch'io"

01:43

42

Handel: Caio Fabbricio, Hwv A9, Act Iii: "vorrei da lacci sciogliere" (After Leonardo Leo)

05:13

43

Handel: Caio Fabbricio, Hwv A9, Act Iii: "con la Pace, le Grazie e il Piacere" (After Francesco Ciampi)

00:47

Total Runtime

02:22:12
Info zu Handel: Caio Fabriccio, Hwv A9
The conductor and harpsichordist, Bridget Cunningham brings back to life Handel's pasticcio opera, Caio Fabbricio first performed in London in 1733 and based on an earlier opera by Johann Adolf Hasse (1732).
Caio Fabbricio is London Early Opera's eighth album in the prestigious Handel Series with Signum Records and is a pasticcio opera, a brilliant and well-considered collection of some of the finest 18th-century Neapolitan arias by different composers, including Leonardo Vinci and Leonardo Leo, selected and arranged by Handel who composed his own dramatic recitatives.
London Early Opera (LEO) is a vibrant, baroque group of instrumentalists, singers, music teachers, researchers, historians and musicologists on a voyage of rediscovery making glorious baroque music and opera relevant today.
As Artistic Director of London Early Opera, Bridget Cunningham is a leading exponent of baroque music and continues to create these outstanding recordings with Signum Records exploring Handel's colourful life, influences and experiences which inspired his magnificent musical legacy.
"Cunningham directs Caio Fabbricio brilliantly, leading from the harpsichord to energise the other players, and to give them space to exploit juicy passages. The singers' virtuosity and rich characterisations are delightful; particularly good are rising stars sopranos Miriam Allan and Anna Gorbachyova-Ogilvie and mezzosoprano Fleur Barron." (BBC Music Magazine)
Pirro Fleur Barron, mezzo-soprano
Caio Fabbricio Morgan Pearse, bass
Sestia Miriam Allan, soprano
Volusio Anna Gorbachyova-Ogilvie, soprano
Bircenna Hannah Poulsom, mezzo-soprano
Turio Helen Charlston, mezzo-soprano
Cinea Jess Dandy, alto
London Early Opera
Bridget Cunningham, conductor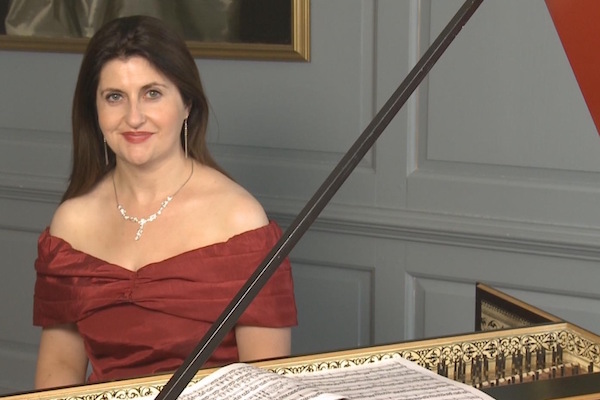 Bridget Cunningham
is an international opera conductor, prizewinning harpsichordist, presenter and musicologist who trained at the Royal College of Music. She has researched, conducted and produced this series of vocal and orchestral recordings of Handel with sopranos Sophie Bevan and Mary Bevan, baritone Benjamin Bevan, and London Early Opera with production by Grammy winning Chris Alder.
Bridget has conducted at venues such as St Martin-in-the Fields, Grosvenor Chapel, St James's Piccadilly and St John's Smith Square in London and at venues and festivals throughout Europe and her repertoire has included Magic Flute, Semele and Fairy Queen. She conducts several orchestras including London Early Opera, Music of the Spheres Ensemble and is associate conductor for the Schola Pietatis Antonio Vivaldi. She has a wide musical background as well as Early Music from performing Piazolla with the RTE Irish Chamber Orchestra live on Lyric Radio, to conducting recordings of early 20th Century English music composed by George Butterworth.
As a solo harpsichordist, Bridget has broadcast on Austria's National Radio Stephansdom with pianist Angela Hewitt, performed as a solo harpsichordist to Prince Charles and the Royal Family at Buckingham Palace and played at Château de Hautefort and Maison Hine as part of Festi Classique in France.
Bridget Cunningham has been supported by the Finzi Trust and the Worshipful Company of Musicians as a Junior Fellow of the Royal College of Music for her work in the Centre for Performance History where she researched Early Music and the collection of historic instruments and continues to coach singers. She regularly gives lecture recitals at National art galleries and has opened 'Watteau: The Drawings Exhibition' at the Royal Academy of Arts in London.
She has recorded and presented several programmes for SkyArts, RTE, Radio Stephansdom, Radio France and BBC television documentaries including Messiah and Vivaldi's Women. She has made a recent harpsichord video for the Handel House Museum, Brook Street, London and has recorded several radio broadcasts on Handel and the King James Bible for BBC Radio 3 and 4.
London Early Opera
has made an impact around the world for outstanding performances imaginative programmes, award winning research of baroque music, acclaimed CD recordings and for nurturing international singers and musicians in the baroque style.
Our Artistic Director, Bridget Cunningham coaches and directs from the harpsichord and researches the music with a group of leading historians and musicologists from around the world creating our own new editions and scores. Our emerging artists scheme The Handelians focuses on the development and education of exceptional singers and musicians inspiring the future generations – one of Handel's passions.
LEO is expanding its recording series with Signum Classics exploring Handel's colourful life, influences and experiences which inspired his magnificent musical legacy. Handel in Italy Volumes 1 & 2, Handel in Ireland, Handel at Vauxhall Volumes 1 & 2 and Handel's Queens LEO was shortlisted for nominations for Gramophone Music Award 2020:
"Handel has never sounded better" 2019 BBC Music Magazine 5 Stars *****
Since 2008 our diverse performances range from Handel's Semele, Acis and Galatea, Messiah, Bach's Easter Oratorio, Trafalgar Day Concert with Jamie Crick, a 400th Anniversary concert of Monteverdi's 1610 Vespers at Southwark Cathedral, Couperin's Leçons de ténèbres, several performances at the London Handel Festival, Handel Hendrix and the Foundling Museums, a recording for period instruments of the Shropshire Lad by George Butterworth and a live broadcast for BBC Radio 4 on the River Thames celebrating the 300th anniversary of Handel's Water Music with a world premiere BBC commission.


Booklet für Handel: Caio Fabriccio, Hwv A9