---
Biographie Green Mountain Project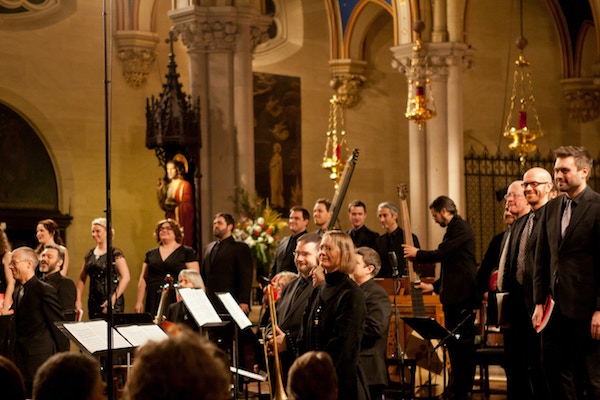 The Green Mountain Project
began with a 400th anniversary performance of Monteverdi's Vespers of 1610 on Sunday, January 3, 2010. It was a momentous occasion that brought together a cast of 29 musicians and 800 audience members at the Church of St. Mary the Virgin in New York City. Spearheaded by co-directors Jolle Greenleaf and Scott Metcalfe, the concert was offered free to the public, and received a rave review from The New York Times. Thus began the tradition of offering annual performances of works by Monteverdi and his contemporaries, and solidifying a place in the city's musical landscape.
In 2012, Jolle Greenleaf brought the Green Mountain Project under the institutional umbrella of TENET Vocal Artists to ensure the project had an organizational home and financial security. Under her artistic direction, TENET Vocal Artists has won acclaim for its innovative programming, virtuosic singing and command of repertoire that spans the Middle Ages to the present day. Highlights of recent seasons include performances of J.S. Bach's St. Matthew Passion, St. John Passion, Bach's motets, Handel's Messiah, a three-year cycle of Carlo Gesualdo's Tenebrae Responsories, regular performances of works by Purcell and his contemporaries celebrating St. Cecilia (music's patron saint), two medieval survey series (The Sounds of Time and The Cycle of Invention), and original theatrical performances highlighting works composed by, for, and about women in 17th century Italy. Renowned for their interpretations of Renaissance and Baroque repertoire, TENET Vocal Artists' distinguished soloists have been praised for their pristine one-voice-to-a-part singing "to an uncanny degree of precision" (The Boston Globe).
During the project's decade-long history, the Green Mountain Project performed Monteverdi's works in New York, Connecticut, and Massachusetts to glowing reviews, sold-out audiences, and in radio broadcasts. The cast of the Green Mountain Project includes America's best early music vocal and instrumental specialists, including Dark Horse Consort brass ensemble. In addition to performing Monteverdi's Vespers of 1610, the Green Mountain Project offered reconstructed Vespers by Scott Metcalfe. For the final offering in 2020, the Green Mountain Project performed Claudio Monteverdi's Vespers of 1610 in New York City, and for the first time in Venice, Italy, in homage to the location where Monteverdi lived and worked for thirty years, and was buried. TENET Vocal Artists and the Green Mountain Project wish to share their incredible gratitude to the musicians, supporters, fans, and patrons of the project as they all shared in the project's extraordinary journey.