---
Biographie The Fisherman's Friends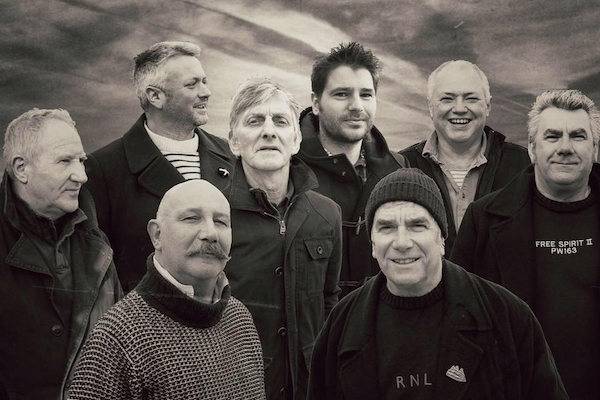 The Fisherman's Friends
Bound together by lifelong friendship and shared experience for more than 25 years the Fisherman's Friends have met on the Platt (harbour) in their native Port Isaac to raise money for charity, singing the traditional songs of the sea handed down to them by their forefathers.
In 2010 they signed a major record deal and their album "Port Isaac's Fisherman's Friends" went Gold as they became the first traditional folk act to land a UK top ten album. Since then they've been the subject of an ITV documentary, released the hit albums One and All (2013), Proper Job (2015) & Sole Mates (2018) and played to hundreds of thousands of fans at home and abroad.
They sang for HM The Queen at her Diamond Jubilee celebrations in 2012, they were selected to sing for Prince Charles & Camilla during their 2016 tour of Cornwall and were honoured with the Good Tradition Award at the prestigious BBC Radio 2 Folk Awards in 2011. 2019 saw the release of 'Fisherman's Friends' a movie based on the group's discovery and signing to a major record label. The film was an immediate hit, taking nearly 10 million at the box office. And this year sees the release of the second movie 'Fisherman's Friends One And All' this autumn.
Other standout performances include the Pyramid Stage at Glastonbury Festival, Twickenham Stadium during half-time of England v Australia (an intimate crowd of 81,275!!), Cambridge Folk Festival, Beautiful Days, Sidmouth Folk Week, Looe Music Festival, Costa del Folk in Portugal and the BBC Proms in the Park.
The Fisherman's Friends are: brothers John & Jeremy Brown, writer and moustachioed MC Jon Cleave, smallholder John 'Lefty' Lethbridge, builder John McDonnell, fisherman Jason Nicholas and film maker Toby Lobb. Despite their musical adventures, the band can still be found working their day-jobs and enjoying life on the North Cornish Coast.
The Fisherman's Friends are: lobster fisherman Jeremy Brown; writer/ shopkeeper Jon Cleave; smallholder and engineer John 'Lefty' Lethbridge; builder John McDonnell (a Yorkshireman who visited Port Isaac more than 30 years ago and never left); Padstow fisherman Jason Nicholas; film maker Toby Lobb and the new boy, former ambulance driver Pete Hicks.
The Fisherman's Friends have been widely credited with starting the revival of interest in shanty-style choral singing but a cornerstone of their success has been their constantly evolving and expanding repertoire. The strongest belief that the band have always held dear is that friendship will always come first, with music a very close second!!