---
State Choir Latvija & Maris Sirmais
---
Biographie State Choir Latvija & Maris Sirmais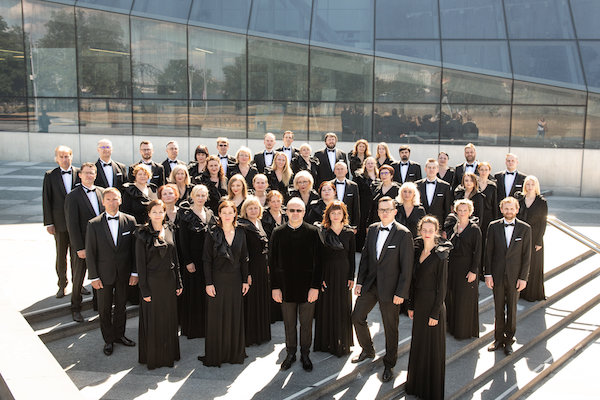 Māris Sirmais
is the Artistic Director of the State Choir LATVIA since 1997. An active supporter and developer of Latvian choral culture, he a charismatic conductor capable of inspiring both professional musicians and thousands of amateur singers at the National Song Festival. He is also noted as founder of one of the most important symbols of the Latvian choral culture, the Youth Choir Kamēr… . Along with his role as Associate Professor of Choir Conducting at the Jāzeps Vītols Latvian Academy of Music, Sirmais is frequently invited to adjudicate at international choral and conducting competitions. He has participated in many prestigious festivals worldwide with the State Choir LATVIA and Kamēr… , where he also has given master-classes.
Recognized as a leading generator of ideas which result in triumphant projects, he is also an ardent Latvian patriot of wide international scope when it comes to his work.
Having achieved a bachelor's and master's degree in choral conducting from Jāzeps Vītols Latvian Academy of Music, Sirmais later pursued studies in orchestra conducting at the College of Music and Performing Arts in Graz, Austria. He has received many awards for choral conducting and for contribution to the international cultural reputation of Latvia. Amongst these awards is the Order of the Three Stars, Latvia's highest civilian honour, and membership of the Latvian Academy of Sciences.
He has led concerts with the Berlin Radio Choir, MDR Leipzig Radio Choir, the Netherlands Chamber Choir, ONE Chamber Choir Singapore, Šiauliai State Chamber Choir Polifonija and many other choirs around the world. Sirmais has also collaborated with such acclaimed soloists as Maxim Rysanov, Iveta Apkalna, Kristīne Blaumane, Egils Siliņš, Aleksandrs Antoņenko, Julius Berger, Gidon Kremer, Nicolas Altstaedt, Douglas Webster, and others. He performs regularly with Latvian National Opera Orchestra, Liepāja Symphony Orchestra, Sinfonietta Rīga, Kremerata Baltica, Moscow chamber orchestra Musica Viva, Umeå Symphony Orchestra, and string orchestra Helsinki Strings.
The State Choir LATVIJA
is the largest professional choir in the Baltic States, and it is in regular demand for performances with the world's leading orchestras and conductors. The choir's artists are renowned for their musical intelligence and vocal skill, making this choir a unique instrument capable of performing everything from subtle a cappella works to dramatic vocal-symphonic masterworks.
With Māris Sirmais as Artistic Director and Māris Ošlejs as General Manager since 1997, the choir has collaborated with world-renowned symphony orchestras including the Royal Concertgebouw Orchestra, the Bavarian Radio Symphony Orchestra, the London Philharmonic Orchestra, the Hamburg Philharmonic State Orchestra, the Deutsche Kammerphilharmonie Bremen, Israel Philharmonic Orchestra, The Cadaqués Orchestra, The Hong Kong Philharmonic Orchestra, The Singapore Symphony Orchestra, and others. The State Choir LATVIJA has performed with such outstanding conductors as Mariss Jansons, Andris Nelsons, Zubin Mehta, Neeme Järvi, Jaap van Zweden, Paavo Järvi, Vladimir Ashkenazy, David Zinman, Valery Gergiev, Vladimir Fedoseyev, Simone Young, Tõnu Kaljuste, and others. These have included performances in such prestigious venues as the Elbphilharmonie, KKL Luzern, The Royal Concertgebouw, The National Music Auditorium Madrid, The Lincoln Centre, Shanghai Concert Hall, The Esplanade Singapore, and many others.
The State Choir LATVIJA is internationally acclaimed both for its academic excellence as well as its innovative projects. The choir has participated in recordings produced by Naxos, Warner Brothers, Harmonia Mundi, Wergo and Ondine, as well as numerous recording projects by both Latvian and foreign music publishers.
2022 will be the State Choir's LATVIJA 80th Anniversary year, while the International Sacred Music Festival, established by Māris Sirmais and Māris Ošlejs, will be held for the 25th year. The festival has gained international recognition for the long-lasting tradition of premiering new compositions by contemporary composers as well as collaborating with the world renowned composers, such as Krzysztof Penderecki, Arvo Pärt, Giya Kancheli, John Taverner, Sofia Gubaidulina, Valentyn Silvestrov and John Rutter.