---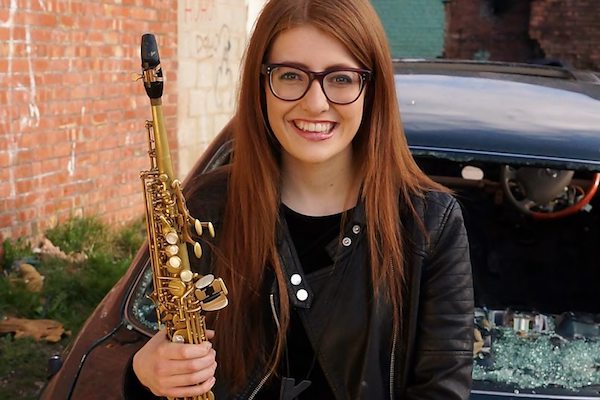 Jess Gillam
Im Jahr 2016, im Alter von 17 Jahren, schrieb Jess Gillam Geschichte, als sie als erste Saxophonistin das Holzbläser-Finale des BBC Young Musician of the Year gewann. Danach erreichte sie das große Finale in der Londoner Barbican Hall und spielte Michael Nymans Where the Bee Dances mit dem BBC Symphony Orchestra unter der Leitung von Mark Wigglesworth mit großem Erfolg.
Im Sommer 2017 gab Jess ihr Debüt bei BBC Proms in der Royal Albert Hall, wo sie als Solistin sowohl mit dem Royal Philharmonic Orchestra unter der Leitung von Jessica Cottis als auch mit dem BBC Concert Orchestra unter der Leitung von Keith Lockhart auftrat.
Zu den Höhepunkten ihrer Konzerttätigkeit zählen Auftritte mit Southbank Sinfonia, Royal Liverpool Philharmonic Orchestra und ein Showcase-Auftritt mit der Manchester Camerata sowie ein Konzert mit Sinfonia Cymru und Gábor Takács-Nagy. Sie gibt regelmäßig Liederabende in ganz Großbritannien. Letztes Jahr gab Jess die Uraufführung eines für sie geschriebenen Stücks von Jeremy Holland-Smith auf BBC Four's Choir of the Year und gastierte mit Jools Holland und seinem R&B Orchestra.
Jess studiert am Royal Northern College of Music mit einem ABRSM-Stipendium und wird von John Harle betreut. Sie trat bei BBC Radio 3, BBC Radio 4 (Woman's Hour), BBC Radio 2, BBC 6 Music und BBC Radio Cumbria auf, die eine Sendung über sie gemacht haben. Im Jahr 2015 wurde Jess bei den Cumbria Culture Awards als Musikerin des Jahres ausgezeichnet.
Jess wurde als Rising Star im BBC Music Magazine und als James Naughties Interviewpartnerin vorgestellt. Sie ist eine Künstlerin der Vandoren UK und wurde die jüngste Unterstützerin von Yanagisawa Saxophones im Alter von 13 Jahren. Jess ist Schirmherrin der Awards for Young Musicians und fördert ihre eigene Konzertreihe, die internationale Talente in ihre Heimatstadt Ulverston bringt.
Jess ist sehr dankbar für die Unterstützung, die sie vom Young Classical Artists Trust erhalten hat. Sie ist bei Harrison Parrott und Polyarts für das weltweite Management unter Vertrag.