---
Biographie Murcof & Vanessa Wagner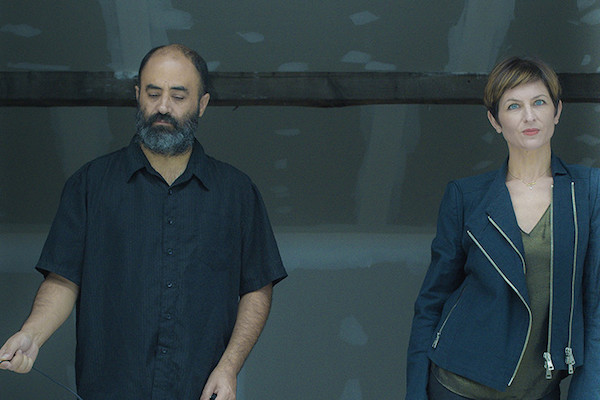 Vanessa Wagner
Guided by her natural curiosity the pianist Vanessa Wagner likes to travel through the vast repertoire of her instrument, from works written for the fortepiano (which she plays) to compositions of our own time, notably those of Pascal Dusapin and François Meimoun, who have dedicated several pieces to her.
Praised for her curiosity and electicism, she is much celebrated for her musical colors, the quality of her playing and her sensitive touch. With her sensitive and intelligent playing, her discreet personality and her eclectic and committed artistic choices she is a remarkable musician.
Vanessa Wagner studied the piano in D. Merlet's class at the Paris Conservatoire (CNSM), where she was awarded a Premier Prix at the age of seventeen, before going on to join J. F. Heisser's class for the advanced course.
Leon Fleisher spotted her and invited her to join the Cadenabbia Academy (Italy), where her teachers included, among others, Fleisher himself, D. Bashkirov, M. Perahia, Fou T'Song and A. Weissenberg.
In 1999 she received a "Victoire de la Musique" (French equivalent of the Grammy Awards) as the most promising young instrumental soloist. Since then she has appeared all over the world.
At the invitation of conductors such as C. Dutoit, M. Plasson, C. Warren-Green, L. Bringuier, A. Dumay, F. X. Roth, JC Casadesus, she appears as a soloist with, among others, the Orchestre National de France, Orchestre du Capitole de Toulouse, Orchestre Royal de Wallonie, Orchestre National de Lille, Orchestre "Les Siècles", the philharmonic orchestras of Munich, Osaka, Liège and Budapest, the SWR Baden Baden und Freiburg,...
She is billed at prestigious festivals such as La Roque d'Anthéron, Piano aux Jacobins, Folles Journées de Nantes, Saint-Denis, Sintra, Klavier Ruhr, Wiltz, Royaumont, Musica (Strasbourg), Colmar, Radio-France- Montpellier, Printemps des Arts (Monte-Carlo), and she also appears in major theatres and concert halls in Paris : Opéra Comique, Théâtre des Champs Élysées, Théâtre du Châtelet, Cité de la Musique, Les Bouffes du Nord, Salle Pleyel, Salle Gaveau, the Arsenal de Metz and elsewhere : Philharmonic Hall (Munich), Palais des Beaux-Arts (Brussels), Franz Liszt Academy and Opera House (Budapest), Oriental Art Centre (Shanghai), Symphony Hall (Osaka), Santa Cecilia Academy (Roma).
Greatly in demand as a chamber musician, she readily shares the stage with her musician friends, Augustin Dumay in particular.
Recently, she has played at La Roque d'Anthéron, Festival de Pâques in Aix, L'Esprit du Piano in Bordeaux, Rencontres Musicales d'Evian, Piano in Lyon, Lille Piano(s) Festival, and the festivals of Sceaux, Epau, Pontlevoy, Saintes, La Meije, Musique en Côte Basque, Musica in Strasbourg and also at the Auditorium de Radio France, Corum de Montpellier, Maison de la musique in Nanterre and at the Trident in Cherbourg.
She has also played in Rio, London, Tokyo, Singapour, Luxembourg.
Her flagship projects include the full Harmoniques poétiques et religieuses by Liszt, that she will play several times in concerts, the one around Amériques by Varèse for two pianos with M. Vermeulin, C. Tiberghien and W. Latchoumia, as well as her project with Murcof, famous electro musician, with whom she releases a disc in September 2016, followed by a serie of international concerts: Barbican in London, Jazzhouse in Copenhagen, Café de la Danse in Paris, TAP in Poitiers, Cultuurcentrum in Hasselt, Abbaye de Noirlac…
Among her upcoming dates in the 16-17 season, we can note, for example, concerts at the Philharmonie de Paris, Arsenal de Metz, Auditorium de Lyon, Théâtre des Bouffes du Nord in Paris, TAP in Poitiers, Auditorium de Bordeaux, Grand Théâtre d'Aix-en- Provence, Festival Solistes à Bagatelle, and with the orchestras of Bordeaux, Toulon, Avignon, Les Siècles, and also a Schumann tour with the choir Spirito.
In the frame of her new collaboration with the label La Dolce Volta, three recordings will be realised.
Her recordings of Rameau, Mozart, Haydn, Schumann, Brahms, Rachmaninov, Scriabin, Berio, Schubert, Dusapin and Ravel have received excellent reviews and numerous awards in France and abroad (5 Diapasons, FFFF Télérama, Recommanded by Classica…).
The magazine Classica awarded her a prize for her CD of music by Debussy, which, following a blind comparison, emerged as one of the finest recordings of that repertoire.
Vanessa Wagner is Kinght in the order 'des Arts et des Lettres' and the Artistic Director of the "Festival du Château de Chambord" since 2010.
Murcof
Murcof's music is sparse, minimalist, sample-based electronica. Although founded on complex, at times, abstract, glitchy electronic percussion, Corona's recordings are more melodic and traditionally structured than many contemporary electronic musicians. Many recordings feature orchestral strings sampled from recordings of works by modern composers such as Arvo Pärt.
Corona was born in 1970 in Tijuana, Mexico, and was raised in the mexican state of Baja California and southern California, USA. He was for a time a member of the Tijuana-based Nortec Collective of electronic musicians under the Terrestre project name. In 2000 he returned to Tijuana, but has since 2005 relocated to Barcelona, Spain.