---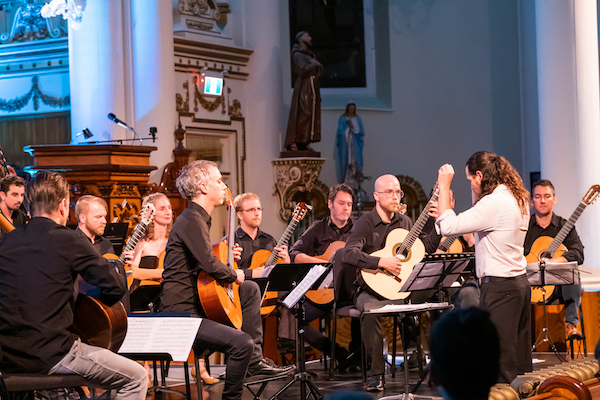 Forestare
Quebec-based Guitar ensemble Forestare, composed of 12 guitars, double bass and conductor, has been performing for 15 years. Since Forestare's inception, the ensemble has participated in the creation of close to 50 original works and has adapted nearly another 100 for its unique instrumentation. In doing so, the ensemble has created the largest repertoire of music for guitar ensemble in the world.
Forestare's performances are rooted in a deep commitment to environmentalism and community engagement. Their programme from Tree to Guitar celebrates the unique qualities of the guitar ensemble, with a mise-en-scène emphasizing their arboreal origins. From their sold-out concert halls to their work with students, communities, and causes, Forestare radiates joy and warmth in their activities on and off the concert stage.
The group has released three albums to date. The first two were released with the label, ATMA Classics. Both albums were welcomed to much acclaim from critics and audiences alike. The first self- titled release garnered a Félix in the category "Instrumental Album of the Year" in 2007. It also led them to being awarded the Bourse RIDEAU two times which permitted them to present their concert "De l'arbre à la guitare" in more than 50 concert halls throughout Québec, in several music festivals in France, Chili and in many reputable concert halls throughout Canada. Their second album Arauco received nominations for both a Félix and a Prix Opus and was highly praised by critics. The show based on the album has been performed in several concert halls in Québec.