---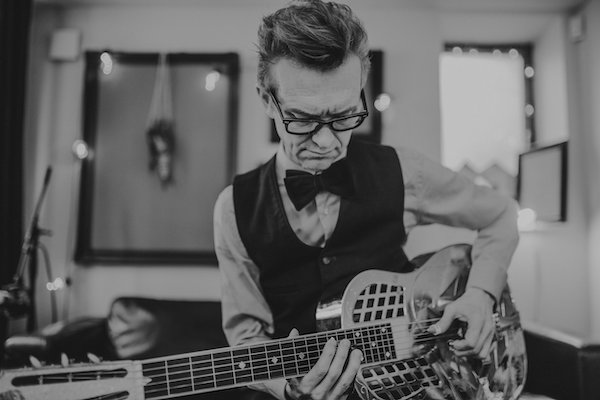 Geir Sundstøl
Guitarist and instrument collector Geir Sundstøl appeared on over 260 albums as a session player and sideman before he released his solo debut "Furulund" in 2015. After 27 years as a professional musician he finally took the big step, and was rewarded with glowing reviews and a Norwegian Grammy (Spellemannspris) nomination.
Mojo described Sundstøl's debut album as "a soothing series of languid guitar soundscapes that blend Cooderesque western warmth with a twilight Norwegian chill." The British magazine HiFi+ highlighted "the great choice of sounds" and the Norwegian music writer Terje Mosnes referred to the "musicianship that doesn't shout, but that wins the listener over through the subtle tonal diversity that gradually emerges, making each listen a new experience."
Now, three years later, with the acclaimed «Langen Ro» (2016) under his belt, Sundstøl is following up his success with a new album, Brødløs.
Ambient goes country and David Bowie and Brian Eno share a tune with John Coltrane in slide guitar maestro Geir Sundstol's astonishing cinematic travelogue. Tumbleweed blows across the widescreen desert vistas of a curiously Nordic western landscape; the melancholy-sounding scrape of a metal slide on bare steel wire is set to the same, slow, clip-clopping equestrian rhythms we hear in horse-drawn cultures from Texas to Outer Mongolia; what seem at first to be familiar musical textures drawn from ambient music, country rock or jazz are made strange through their juxtaposition with oddly clashing elements taken from totally different registers: Indian tabla drums with Mini-Moog, say, or the gated thwack and hiss of Eighties power-ballad drums next to an avant-garde electronic shimmer or Sneaky Pete-style pedal steel. It's a fascinating place where 'Paris, Texas' might meet 'Tubular Bells', Ennio Morricone can rub shoulders with Brian Eno, and David Bowie really does run into John Coltrane. This is 'Brødløs', the third solo album by the Norwegian composer, guitarist and multi-instrumentalist Geir Sundstøl.