---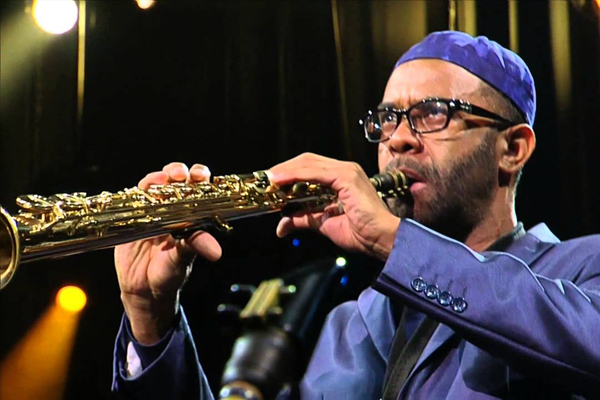 Kenny Garrett
Over the course of a stellar career that has spanned more than 30 years, saxophonist Kenny Garrett has become the preeminent alto saxophonist of his generation. From his first gig with the Duke Ellington Orchestra (led by Mercer Ellington) through his time spent with musicians such as Freddie Hubbard, Woody Shaw, Art Blakey & The Jazz Messengers and Miles Davis, Garrett has always brought a vigorous yet melodic, and truly distinctive, alto saxophone sound to each musical situation. As a bandleader for the last two decades, he has also continually grown as a composer. With his latest recording (and second for Mack Avenue Records), Seeds From The Underground, Garrett has given notice that these qualities have not only become more impressive, but have provided him with the platform to expand his horizons and communicate his musical vision clearly. Seeds From The Underground is a powerful return to the straight-ahead, acoustic and propulsive quartet format that showcases Garrett's extraordinary abilities.
For Garrett, Seeds From The Underground is a special recording. It once again consists of all original compositions, and is truly an homage to those who have inspired and influenced him, both personally and musically. "All of these songs are dedicated to someone," says Garrett. "And the 'seeds' have been planted, directly or indirectly, by people who have been instrumental in my development."
With Seeds From The Underground Garrett has crafted a project that offers his appreciation while always making the listener aware of his band's skillful approach to melody, harmony and rhythm. From personal nods such as the opening track "Boogety Boogety," dedicated to his memory of watching western films with his father (the title refers to the sound of a galloping horse); "Wiggins," which references his high school band director Bill Wiggins; and "Detroit," an evocative, reflective composition about his hometown, and a celebration of mentor Marcus Belgrave; to his appreciation of some of his musical heroes on "J Mac" (Jackie McLean); "Haynes Here" (Roy Haynes); and "Do Wo Mo" (Duke Ellington, Woody Shaw and Thelonious Monk).
Melody, as a matter of fact, was a key element for the saxophonist when writing for the recording. "I wanted to focus on the melody," Garrett reflects. "I want people to remember what the melody is before we start improvising…and on some songs I heard voices, the singing of the melody." This latter point is in evidence on the selections "Haynes Here," "Detroit" and "Welcome Earth Song."
Another notable component compositionally for Garrett on Seeds From The Underground is his approach to rhythm and meter. Over the past few years, one of the most popular and acclaimed groups that he has been a part of is the GRAMMY® award winning Five Peace Band, joining guitarist John McLaughlin, pianist Chick Corea, bassist Christian McBride, and drummers Vinnie Colaiuta and Brian Blade. His participation in that band led him to experiment with writing in different meters. "Some of these songs are in odd meters; in my experience with John, we played some songs in odd meters, so I thought, this is a different way of writing songs," Garrett states. "So there is some of that approach here." ....