---
Album info
Album including Album cover
I`m sorry!
Dear HIGHRESAUDIO Visitor,
due to territorial constraints and also different releases dates in each country you currently can`t purchase this album. We are updating our release dates twice a week. So, please feel free to check from time-to-time, if the album is available for your country.
We suggest, that you bookmark the album and use our Short List function.
Thank you for your understanding and patience.
Yours sincerely, HIGHRESAUDIO
1

Smalltown Boy (Classical 80s Dance Version)

03:27

2

Self Control

03:47

3

Never Gonna Give You Up

03:27

4

Never Ending Story

03:39

5

Don't Dream It's Over

03:18

6

Another Day In Paradise

03:38

7

Total Eclipse Of The Heart

03:40

8

Blue Monday

03:32

9

Voyage voyage

04:15

10

Hypnotic Tango (VIZE Edit)

03:32

11

Introperspective

00:39

12

Fade To Grey

03:40

13

Tainted Love

02:51

14

Killer

03:52

15

Sweet Dreams (Are Made Of This)

04:02

16

Words

03:03

17

Living On Video

02:40

18

Fotonovela

03:14

19

Slave To The 80s

01:36

Total Runtime

01:01:52
Info for Classical 80s Dance

Alex Christensen ist einer der erfolgreichsten Produzenten Deutschlands. Mit Singles wie "Das Boot" und "united" hat er die 90er entschieden mitgeprägt und den Dance- und Technoboom in Schwung gebracht. Mit der Reihe "Classical 90s Dance" brachte Alex Christensen dann gar Klassik und Dance Music zusammen. Wie gut das funktionierte, bewiesen nicht zuletzt 300.000 verkaufte Alben dieser Reihe. Auf seinem neuen Album "Classical 80s Dance" zollt Christensen nun mit namhaften Gästen jenem musikalischen Jahrzehnt Tribut, das die 90s erst möglich gemacht hat. Alex Christensen meint dazu: "Der Übergang zwischen der Freiheitsbewegung in den 80er-Jahren und unserer Techno-Bewegung in den 90s war fließend. Wir trieben die 80s auf die Spitze, denn bei uns war alles erlaubt: Love, Peace, Happiness." Sein neues Album feiere deshalb "die Songs mit denen ich aufwuchs, während ich die Musik des Folgejahrzehnts aktiv mitgestalteten konnte."
Alex Christensen und seine Gastsänger*innen zeigen ihre Dankbarkeit mit tollen Interpretationen bekannter Hits, die nun ganz frisch erklingen und manchmal sogar Generationen verbinden. So singt TikTok-Star Ana Kohler den Giorgio Moroder-Classic "Never Ending Story", Miss "Murder on the Dancefloor" Sophie Ellis-Bextor beweist die Zeitlosigkeit von "Self Control", das in den 80s vor allem in der Version von Laura Branigan berühmt wurde. Ronan Keating singt "Smalltown Boy" von Bronski Beat, während Christensen mit seinem Orchester dafür sorgt, dass die queere Freiheitshymne eine ganz neue Wärme ausstrahlt. Bonnie Tyler wiederum übernimmt es selbst, "Total Eclipse Of The Heart" ins Jetzt zu schmettern – mit einer Stimme, die immer noch Welten bewegen kann. Die ehemals bei Monrose singende Mandy Capristo wiederum schmiegt sich sanft an die betörende Coolness von "Fade To Grey", im Original von den britischen New-Wave-Pionieren Visage. Take That-Member und Solo-Star Gary Barlow beweist auf "Don't Dream It's Over" seines Sangesqualitäten – und seine Liebe zum Hit von Crowded House. Für das instrumentale Cover von "Tainted Love" von Soft Cell holt Alex Christensen einen weiteren Profi ins Boot, wenn es um die Verschmelzung von Klassik mit anderen Stilen geht: Hier spielt niemand Geringeres als David Garrett die erste Geige.
Alex Christensen beweist mit diesem Album, wieder einmal, dass er einst konkurrierende Stile und Zeiten in seinen Produktionen versöhnen und verschmelzen kann. Er selbst verweist auf seine Interpretation von "Voyage, Voyage", um zu beschreiben, wie er arbeitet: "Die Nummer ist ein gutes Beispiel für meinen Ansatz, Songs, die schon oft durchgekaut wurden, zu entstauben. Ist das geschafft, kann man sie ganz neu betrachten." Und neu lieben lernen.
Alex Christensen & The Berlin Orchestra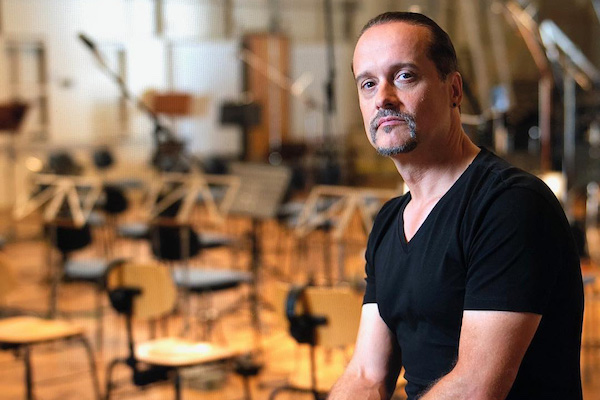 Alex Christensen
Music is like history. When the system goes through a change, the counterrevolution is usually not far behind. In the 1980s only high-earners could shape the future of music. Sampling was the word of the day and anyone who could spend half a million dollars could sample right along – using sluggish equipment that was already completely outdated. Young people, always the most important driving force behind pop music, couldn't boast a Trevor Horn because they couldn't operate the means of production.
At the change of decades revolution was in the air in the clubs when DJs changed the music to a persistent rapid beat. The tools were simple: catchy ideas, two turntables, samplers that were now affordable, a microphone, and haunting or original voices. Again, the hits came from the underground, from sweat-drenched fanatics mixing house beats with their own short, concise melodies. Techno dance, the youth and party culture whose offshoots persist to this day, permanently reoriented music perception.
Alex Christensen, a DJ of the first hour (long before there were USB sticks, by the way), set the tone when he helped get the techno dance and Euro-dance movement going. He first got Germany dancing, then Europe, and finally the whole world. Almost on his own. He penned Ritmo de la noche, the summer hit from 1990. Things then started happening in rapid succession for the self-described music maniac from Hamburg: the first gold record for Ritmo, constant inquiries for production jobs, every club wanted to book him as DJ to guarantee a full house.
Finally in 1991 he fired off a rocket of unimagined magnitude: Das Boot by U96 stayed at number one on the German singles charts for a full 13 weeks, caused an uproar throughout Europe, and single-handedly paved the way for the techno scene to enter the mainstream. Alex Christensen was everywhere: the cover of BRAVO, guest roles in Hollywood films and on the series Marienhof – the whole nine yards. What no one dreamed at the time is now a fact. The name Alex Christensen has become one of the few abiding brands of the international music scene.
His list of credits is as long as it is impressive. He's worked with Udo Lindenberg, Helene Fischer, Söhne Mannheims, Tom Jones, Paul Anka, Sarah Brightman, Mark Wahlberg aka Marky Mark. He's been a judge on Popstars, has had great success with his own songs time after time (Du hast den schönsten Arsch der Welt), and through it all has always been someone who prefers to remain backstage. Talk to him today and he'll call himself a "music-obsessed family man who can't leave well enough alone and is constantly challenging himself to explore new musical adventures."
He goes on to say that music brings out a downright childlike play instinct in him. Even now. After unknown thousands of hours in the studio, DJ booth, using analog equipment that would easily fill a truck. We can take his word for it. His range – the spectrum of musical styles that have given inspiration to his pop music for the past three decades – is unprecedented. Dance tracks, ballads, electronic excursions, classic singer-songwriter projects, flawless pop: under Alex Christensen's production everything sounds like it should sound, but never by accident. Alex Christensen's most extraordinary project to date is now finally approaching completion.
With Classical 90s Dance this reserved German has come full circle, as he puts it. "'Das Boot' was originally a piece for strings. But when we recorded it with U96 in 1991, I had neither the knowledge nor the tools to record with strings. The fact that I've now been able to combine orchestral music with my dance roots while recording Classical 90s Dance rounds out my entire oeuvre. People can finally understand why Christensen spent ten years on orchestral music." Alex Christensen created the 49-member Berlin Orchestra, a gathering of the capital's best orchestral musicians, specifically for this album. And he hired very young female vocalists exclusively, with the plan to revitalize a selection of the best techno dance tracks of the 90s with a modern sensibility.
Who could have been more predestined for this task than Alex Christensen? Under his direction Classical 90s Dance has become an extraordinary project, large and ambitious – much more than a remake or remix of early-90s hits. Together Christensen and the Berlin Orchestra rock the patina and mildew from the graceful contours of the 14 songs. "Once the pieces were freed from their admittedly antiquated-sounding gowns, I felt there were first-rate songs with wonderful structures hiding behind the dance costumes, if you will," Christensen rhapsodizes. "They have entered the DNA of people my age or 15 to 20 years younger. I'm sure a lot of people will revel in these songs again when they hear our modern versions. They sound like they've continued their logical development."
Rhythm Is A Dancer, Sonic Empire, Nessaja in the Scooter version, What Is Love, Redemption, and Children can be discovered and enjoyed differently in the new Classical 90s Dance versions: still danceable but no longer arranged primarily for dancing – not by a long shot. The Rise / No Limit even plays around with sumptuous Wagner references and so really has no limits any longer. "When I was selecting the songs for the album, of course I had a mountain of material to work with," recalls Alex Christensen. "However, quite a few things didn't make it to the final decision because they simply didn't move me. But all the songs that made it into the album have great emotional value. Classical 90s Dance could have a subtitle if it weren't so long: The evolution of dance tracks into songs whose emotional content is unconditionally moving."

This album contains no booklet.