---
Album info
Album including Album cover
1

Incoming Transmission

01:46

2

Holy Flaming Hammer of Unholy Cosmic Frost

04:35

3

Imperium Dundaxia

04:36

4

Wasteland Warrior Hoots Patrol

04:29

5

Brothers of Crail

04:16

6

Fife Eternal

03:05

7

Sword Lord of the Goblin Horde

05:26

8

Vorpal Laserblaster of Pittenweem

04:29

9

Keeper of the Celestial Flame of Abernethy

03:20

10

Maleficus Geminus (Colossus Matrix 38B - Ultimate Invocation of the Binary Thaumaturge)

12:10

Total Runtime

48:12
Info for Return to the Kingdom of Fife

Heroic Fantasy Power Metal Band by Chris Bowes from ALESTORM feat. EMERALD Singer Thomas Winkler. GLORYHAMMER is the new project of Christopher Bowes, the mastermind of the Pirate Metal sensation ALESTORM. "Tales from the Kingdom of Fife" is a concept album and tells the story of an alternate -history medieval Scotland, a realm of dragons, wizards, magic and dark sorcery. It is the legend of the glorious hero Angus McFife, who wages a long war against the evil wizard Zargothrax, in order to free the people of Dundee. GLORYHAMMER clads these stories in a symphonic Power Metal armor, which will take the listener by storm and will transport them right into the midst of an epic adventure. Pounding doublebass, enthralling riffs and bombastic orchestral parts turn songs like "The Quest for the Hammer of Glory" or "Angus McFife" into catchy songs that will leave you craving for more. GLORYHAMMER creates the perfect balance between in-your-face speed tracks and epic Metal hymns. A real highlight comes in the form of vocalist Thomas Winkler (EMERALD), whose magnificent voices guides you through the adventure. The album was recorded and produced by Lasse Lammert at the LSD Studios - the same studio that brought you the classic ALESTORM longplayers! Metal fans should make sure to enter the legendary world of Angus McFife and GLORYHAMMER! Prepare for epic battles!
Sozos Michael, vocals
Paul Templing, guitar
Michael Barber, keyboards
Ben Turk, drums
James Cartwright, bass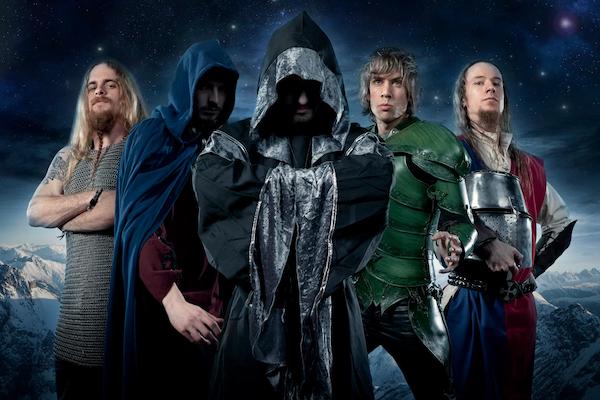 Gloryhammer
is one of those bands that really know how to spin a compelling narrative. In 2012 Alestorm mastermind/vocalist/keytar lover Christopher Bowes founded a new power metal band inspired by the mysterious and misty decor of the medieval Scottish Highlands.
On their 2013 debut, the concept album 'Tales from the Kingdom of Fife', Gloryhammer tells tales of epic battles, fiery dragons, witches and wizards, but always tongue-in-cheek. Their sophomore album 'Space 1992: Rise of the Chaos Wizards' (2015) added a sci-fi touch to the tales of its predecessor and clearly struck a nerve because it helped Gloryhammer outgrow the club circuit. They built an impressive legion of fans whose ranks continued to swell following the release of 'Legends from beyond the Galactic Terrorvortex' (2019). If you want to forget all about your worldly troubles for an hour or so and submerge yourself in an imaginary battle for the universe then answer the call and join the Gloryhammer ranks!

This album contains no booklet.