---
Album info
Album including Album cover
I`m sorry!
Dear HIGHRESAUDIO Visitor,
due to territorial constraints and also different releases dates in each country you currently can`t purchase this album. We are updating our release dates twice a week. So, please feel free to check from time-to-time, if the album is available for your country.
We suggest, that you bookmark the album and use our Short List function.
Thank you for your understanding and patience.
Yours sincerely, HIGHRESAUDIO
1

Paralysed (2021 Remaster)

03:28

2

What We All Want (2021 Remaster)

04:59

3

If I Could Keep It All For Myself (2021 Remaster)

04:08

4

Outside The Trains Don't Run On Time (2021 Remaster)

03:17

5

Why Theory (2021 Remaster)

02:34

6

Cheeseburger (2021 Remaster)

04:04

7

The Republic (2021 Remaster)

03:21

8

In The Ditch (2021 Remaster)

04:22

9

A Hole In The Wallet (2021 Remaster)

04:04

10

He'd Send In The Army (2021 Remaster)

04:26

Total Runtime

38:43
Info for Solid Gold (2021 Remaster)

Newly remastered (2020) reissue of the masterful second album from the highly-influential post punk men that are Gang Of Four. Originally released in 1981, contains the classic singles, Outside The Trains Don't Run On Time and He'd Send in The Army.
"Gang of Four's existence had as much to do with Slave and Chic as it did the Sex Pistols and the Stooges, which is something Solid Gold demonstrates more than Entertainment! Any smartypants can point out the irony of a band on Warner Bros. railing against systematic tools of control disguised as entertainment media, but Gang of Four were more observational than condescending. True, Jon King and Andy Gill might have been hooting and hollering in a semiviolent and discordant fashion, but they were saying "think about it" more than "you lot are a bunch of mindless puppets." Abrasiveness was a means to grab the listener, and it worked. Reciting Solid Gold's lyrics on a local neighborhood corner might get a couple interested souls to pay attention. It isn't poetry, and it's no fun; most within earshot would just continue power-walking or tune out while buffing the SUV. Solid Gold has that unholy racket going on beneath the lyrics, an unlikely mutation of catchiness and atonality that made ears perk and (oddly) posteriors shake. With its slightly ironic title, Solid Gold is more rhythmically grounded than the fractured nature of Entertainment!, a politically charged, more Teutonic take on funk. It's a form of release for paranoid accountants. Financial concerns form the basis of the subject matter; the hilarious but realistic "Cheeseburger" is a highlight with its thinly veiled snipe at America: "No classes in the U.S.A./Improve yourself, the choice is yours/Work at your job and make good pay/Make friends, great/Buy them a beer!" This is a nickel less spectacular than the debut, but owning one and not the other would be criminal." (Andy Kellman, AMG)
Dave Allen, bass, vocals
Hugo Burnham, drums, vocals
Andy Gill, guitar, vocals
Jon King, vocals
Digitally remastered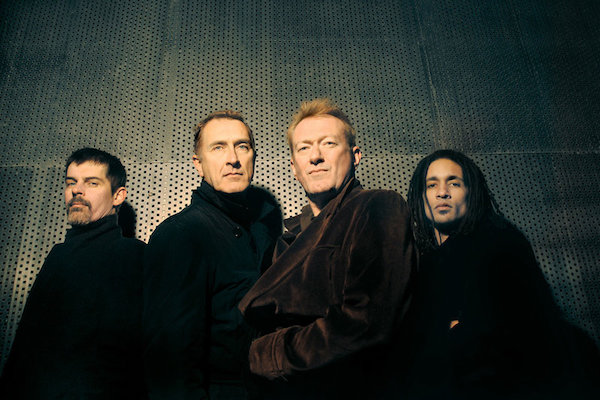 Gang Of Four
One of the most influential and groundbreaking bands to rise from the British punk scene in the late '70s, Gang of Four took the freedoms and possibilities presented by punk and brought them to wild and unexpected places, both musically and philosophically. Gang of Four's music fused tough funk rhythms, jagged shards of metallic guitar, and lyrics that filtered Marxist theory through the realities of daily life into a sound that bore little resemblance to any other group when they released their debut album, Entertainment!, in 1979. The LP received triumphant reviews from critics and was a surprise hit in the U.K., while their third album, 1982's Songs of the Free, gave them a commercial breakthrough in the United States as the single "I Love a Man in a Uniform" gained airplay on college radio and open-minded R&B stations. Gang of Four folded after 1983's Hard, but founders Andy Gill and Jon King periodically re-formed the band in the '80s, '90s, and 2000s for touring and recording projects that kept their singular sound alive. Gang of Four's music was a key influence on a diverse variety of musicians, including Fugazi, Franz Ferdinand, and Nirvana, while the ferocious but intelligent tone of their lyrics and their rejection of empty sloganeering would inform the outlook of any number of thoughtful post-punk groups.
Gang of Four guitarist Andy Gill and vocalist Jon King first met as teenagers while they were attending Sevenoaks School in Greater London; they were both keen on art studies and played music with friends, favoring reggae. In 1977, Gill and King were students at Leeds University, where a lively music scene had sprung up around groups like the Mekons and Delta 5. Eager to form a new band, they recruited fellow Leeds student Hugo Burnham to play drums, and found bassist Dave Allen through an ad they placed, describing themselves as a "fast R&B band." From the beginning, the band's sound was unusual, with Burnham and Allen playing a bruising variation on James Brown and Parliament-Funkadelic grooves and Gill chopping out staccato guitar patterns that incorporated clouds of noise and stark dynamics, while King's vocals dealt with the politics of daily lives, less concerned with slogans than with a clever but streetwise analysis of how systems and economics affected the lives of nearly everyone. Named after a faction of the Chinese Communist Party who were cited for their abuse of power during the Cultural Revolution, Gang of Four made their debut in 1977, and in June 1978 they recorded their first single, a three-song 7" released by the independent Fast Product label featuring the songs "Damaged Goods," "Love Like Anthrax," and "Armalite Rifle." The single received enthusiastic reviews when it was released late in the year, and major labels came calling, with EMI signing the band for the U.K. and Europe while Warner Bros. would handle their releases in North America.
EMI released Gang of Four's second single, "At Home He's a Tourist" b/w "It's Her Factory," in May 1979, and while the BBC banned it from airplay due to a lyrical reference to condoms (the band's refusal to change the lyrics also kept them off Top of the Pops), it still charted in the U.K. Top 60, and when their first full-length album, Entertainment!, appeared the following September, it rose to 45 in the U.K. album charts, an impressive showing given the uncompromising nature of their music. Critics on both sides of the Atlantic were impressed, and the group set out on well-received tours of North American, Britain, and Europe. In March 1981, Gang of Four released their second album, the more contemplative Solid Gold, which became their first LP to chart in the United States, peaking at 190 on the album charts, while the track "What We All Want" also appeared on the Club Play chart. By the time the album was released, Dave Allen had dropped out of the band (he would go on to form Shriekback); Busta Jones, who had previously worked with Talking Heads and George Clinton, briefly took over for live work before Sara Lee (who had worked with Robert Fripp's League of Gentlemen) became GoF's official bassist. Lee's first album with the band, 1982's Songs of the Free, was slightly more accessible than their previous work without robbing the sound of its power; one of the tracks, "I Love a Man in a Uniform," received extensive club and college radio play, and its slinky rhythms even led to it being played on commercial R&B radio. GoF toured extensively in support, and were the first act to take the stage at the 1982 Us Festival, a massive music and technology event financed by Apple Computers co-founder Steve Wozniak.
While Songs of the Free broke Gang of Four to a larger audience in the United States, it happened as friction arose within the group, and Hugo Burnham left the band in early 1983. For their fourth album, 1983's Hard, a drum machine took Burnham's place, while session musicians augmented GoF's lineup and Howard Albert and Ron Albert (who had previously worked with the Bee Gees) produced the sessions. Steve Goulding, who had kept time for Graham Parker & the Rumour, played drums on the band's subsequent tour, which was documented on the 1984 album At the Palace, which was not released in the United States. Shortly afterwards, Gang of Four called it quits. They didn't stay inactive for long; in 1987, Gill and King began making music together again, and in 1991 they released a Gang of Four album, Mall, a dance-friendly effort dominated by synthesizers and featuring Gail Ann Dorsey on bass. A variety of session musicians accompanied Gill and King on 1995's Shrinkwrapped, a more aggressive set than Mall; in 1997, they once again retired the Gang of Four banner, and King dropped out of the music business for a while.
In 1998, Rhino Records released 100 Flowers Bloom, a career-spanning two-CD anthology that was compiled and annotated with the participation of Andy Gill, Dave Allen, and Hugo Burnham. As more and more bands acknowledged Gang of Four's influence, interest in their music grew, and in 2004 the original lineup of Gill, King, Allen, and Burnham reunited for an international concert tour. Demand was such that they hit the road again in 2005, and later that year they signed with V2 Records and released Return the Gift, in which they re-recorded 14 songs from their first three albums (the musicians insisted they were never happy with the drum sounds on their early releases). In 2006, Burnham bowed out of Gang of Four, and Mark Heaney signed on as their drummer. Two years later, Dave Allen also left the lineup, with Thomas McNeice taking over on bass. The band returned to the recording studio, and 2011's Content became their first album of original material since Shrinkwrapped. The group toured extensively in support, but in 2012 King departed Gang of Four, and John "Gaoler" Sterry took over as lead vocalist. By the time the 2015 album What Happens Next was released, Mark Heaney was no longer working with Gang of Four, and Heaney and Jonny Finnegan both contributed drum tracks on the set. Alison Mosshart of the Kills and the Dead Weather, Robbie Furze of the Big Pink, and Gail Ann Dorsey all contributed vocals to the album. In April 2018, Gang of Four dropped a four-song EP, Complicit, produced by Ben Hillier; the EP included the topical track "Ivanka (Things You Can't Have)." A year later, the group released a full-length album, Happy Now, which included new drummer Tobias Humble. The release was followed by an extensive tour of North America. It turned out to be a last hurrah for Andy Gill, who died on February 1, 2020 after a brief respiratory illness. (Mark Deming, AMG)

This album contains no booklet.