---
Album info
Album including Album cover
1

Alexico

05:50

2

Monkey Face

06:00

3

Forethought

04:07

4

In A Sentimental Mood

05:17

5

How Can I Be Sure

06:11

6

Coruba

06:59

7

Spring Is Here

05:45

8

Apples & Oranges

05:07

9

Estaté

05:50

10

For Steve

05:33

Total Runtime

56:39
Info for Apples & Oranges

Saxophonist Doug Webb delivers the fruits of his labors in abundance with his latest release "Apples & Oranges.
Featuring a program of originals and a few familiar melodies, the album showcases strong showings by organist extraordinaire Brian Charette and drummer Andy Sanesi, who really keep the session in the pocket. These hard hitting tour de force performances affirm Webb s status as a saxophone colossus, and should encourage jazz enthusiasts to enjoy biting into "Apples & Oranges again and again with amazement and delight.
"If not for some surprisingly nondescript renderings of standards—"Spring Is Here," "In A Sentimental Mood," "Estaté"—Apples & Oranges would be a flawless harvest and essential listening for all students of swing." (Bob Doerschuk, DownBeat)
Doug Webb, tenor saxophone, soprano saxophone
Brian Charette, organ
Andy Sanesi, drums, percussion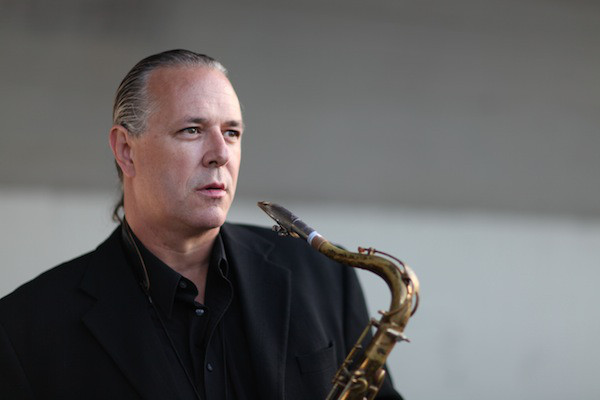 Doug Webb
was born in Chicago and moved to California at the age of 3. He is a graduate of Edison high school in Huntington Beach, CA and received a Bachelor of Music from Boston's Berklee College of Music. He began playing the clarinet at the age of 8 and added saxophone and flute at 15. He lives in Los Angeles with his beautiful wife Alex and his son, Ryan.
Over his career Webb has played and recorded with such notable talents as Horace Silver, Freddie Hubbard, Sal Marquez, Stanley Clarke, Quincy Jones, Mat Marucci, Kyle Eastwood, Billy Childs, Rod Stewart, Carly Simon, Art Davis, Kenny Rogers, Bonnie Raitt, Pancho Sanchez and Vikki Carr. He played with the house band for the Dennis Miller TV show, the Jimmy Cleveland orchestra and continues to tour with the Doc Severinsen big band. He has recorded music for hundreds of movies and television programs. He solos on the sound track for Mystic River, Million Dollar Baby and Jersey Boys. Webb has been featured on hundreds of recordings.
Doug plays.... soprillo, sopranino, C soprano, soprano, slide soprano, swanee, saxello, F mezzo soprano, alto, stritch, C melody, tenor, straight tenor, baritone, bass, cortrabass and tubax saxophones... piccolo, Eb, Db, C, G, bass and contrabass flutes..and almost every size ever made of every other woodwind listed in wikipedia under woodwinds...including sarrusophones and renaissance and baroque woodwinds, double reeds...14 sizes of clarinets...and ethnic woodwinds from every region of the world.

This album contains no booklet.