---
Album info
Album including Album cover Booklet (PDF)
Jean-Philippe Rameau (1683 - 1764): Le temple de la gloire, RCT 59, Prologue "L'Envie":

1

Ouverture (Live)

04:00

2

Profonds abîmes du Ténare (Live)

03:12

3

Notre gloire est de détruire (Live)

01:18

4

Renversez ces affreux monumens... Hâtez-vous, vengez mon outrage (Live)

00:37

5

Air pour les démons et les héros (Live)

02:01

6

Arrêtez, monstres furieux (Live)

01:30

7

Ce monstre toujours terrible (Live)

00:52

8

Vous, entre sa caverne horrible (Live)

02:34

9

Air pour les héros (Live)

01:46

10

Air pour les muses (Live)

04:27

11

Air pour les héros (Reprise) [Live]

01:39

12

Nous calmons les alarmes (Live)

02:08

13

Ouverture (Reprise) [Live]

01:18

Le temple de la gloire, RCT 59, Act I "Bélus":

14

Oui, parmi ces bergers aux muses consacrés (Live)

03:05

15

Ô muses, soyez mon appui (Live)

01:05

16

Musette en rondeau pour l'entrée des bergers et bergères (Live)

01:26

17

Venez, tendres bergers, vous qui plaignez mes larmes (Live)

02:07

18

Première et deuxième gavottes en musette pour les bergers et bergères (Live)

02:00

19

Vers ce temple, où la mémoire (Live)

00:36

20

La guerre sanglante (Live)

00:44

21

Quels sons affreux! Quel bruit sauvage! (Live)

00:40

22

Rois, qui redoutez ma vengeance (Live)

05:15

23

O muses, puissantes déesses (Live)

00:46

24

Nous adoucissons (Live)

01:11

25

Air pour les bergers et bergères (Live)

01:37

26

Vole, vole, charmant amour (Live)

03:29

27

Bélus rentre, suivi de ses guerriers (Live)

01:28

28

Quoi! Ce temple pour moi ne s'ouvre point encore? (Live)

03:01

29

Arrête, respecte les dieux (Live)

01:49

30

Non, je ne tremble point, je brave le tonnerre (Live)

00:47

31

Coeur implacable (Live)

01:04

32

Toi qui gémis d'un amour déplorable (Live)

01:58

Le temple de la gloire, RCT 59, Act II "Bacchus":

33

Ritournelle (Live)

00:33

34

Gloire enchanteresse (Live)

01:44

35

Venez, venez, accourez tous (Live)

00:44

36

Un guerrier de la suite de Bacchus (Live)

02:04

37

Entrée des suivants de Bacchus (Live)

00:58

38

Bacchus est en tous lieux notre guide invincible (Live)

00:56

39

Les tigres enchaînés conduisent sur la terre (Live)

01:02

40

On entend le bruit des trompettes... (Live)

01:14

41

Bacchus, Érigone (Live)

01:55

42

Air pour les suivants de Bacchus (Live)

01:43

43

Érigone, objet plein de charmes (Live)

01:27

44

Conservez-la plutôt pour augmenter vos feux (Live)

02:05

45

Que le thyrse règne toujours (Live)

02:58

46

Quel dieu de mon âme s'empare! (Live)

00:47

47

La gloire est en ces lieux, le seul dieu qu'on adore (Live)

01:10

48

Un si brillant hommage (Live)

01:36

49

Téméraire, arrête! (Live)

00:58

50

Eh quoi! Des ses présens la gloire est-elle avare (Live)

01:24

51

Venez, troupe aimable, volez, suivez-moi (Live)

02:22

52

Parcourons la terre (Live)

00:38

53

Forlane pour les suivants de Bacchus (Live)

01:15

54

Gavotte en rondeau pour les suivants de Bacchus (Live)

00:29

55

Bacchus, fer et doux vainqueur (Live)

01:01

56

Gavotte en rondeau pour les suivants de Bacchus (Reprise) [Live]

00:44

Le temple de la gloire, RCT 59, Act III "Trajan":

57

Reviens, divin Trajan, vainqueur doux et terrible (Live)

03:03

58

Dans ce climat barbare, au sein de l'Arménie (Live)

02:33

59

Enfin, je vous revois, le charme de ma vie (Live)

04:18

60

Je vais - Allez punir un barbare (Live)

01:05

61

Il est déjà loin de ces lieux (Live)

00:45

62

Fier Dieu des alarmes (Live)

01:51

63

Air pour les prêtres de Mars et prêtresses de Vénus (Live)

01:05

64

Dieux puissans, protégez votre vivante image (Live)

00:55

65

On entend un choeur de Romains qui avancent ensuite sur le théâtre (Live)

01:44

66

Charmant héros, qui pourra croire (Live)

01:06

67

Rois, qui redoutez ma vengeance (Live)

00:41

68

Ô grandeur! Ô clémence! (Live)

01:29

69

Vos vertus ont passé mon espérance même (Live)

01:01

70

Tu vois ta récompense (Live)

02:12

71

Entrée des suivants de la gloire (Live)

00:46

72

Le ciel nous seconde (Live)

01:27

73

Gigue pour les suivants de la gloire (Live)

02:16

74

Des honneurs si brillants, sont trop pour mon partage (Live)

01:46

75

Chantons dans ce jour solennel (Live)

01:35

76

Entrée des seigneurs romains et des dames romaines (Live)

02:00

77

Tout rang, tout sexe, tout âge (Live)

02:09

78

Entrée de bergers et bergères (Live)

01:00

79

Ici les plus brillantes fleurs (Live)

01:25

80

Loure grave pour une entrée brillante (Live)

01:50

81

Air pour les romains et romaines (Live)

00:46

82

Dans un jour si beau (Live)

01:44

83

Entrée de la jeunesse - Premier et deuxième passepieds (Live)

03:08

84

Toi que la victoire (Live)

00:23

85

O peuples de héros qui m'aimez et que j'aime (Live)

01:36

86

Suite de la passacaille (Live)

03:04

87

Air pour les romains et romaines (Reprise) [Live]

02:38

Total Runtime

02:26:38
Info for Rameau: Le temple de la gloire, RCT 59 (Live)

In a stunning world premiere recording, music director and conductor Nicholas McGegan, Philharmonia Baroque Orchestra & Chorale, and an international cast of French Baroque opera stars present Jean-Philippe Rameau's original 1745 version of Le Temple de la Gloire, with libretto by Voltaire. Presented as a fully staged opera in April 2017, the three sold out performances enjoyed universal critical acclaim from some of the world's leading publications. The original manuscript had not been performed since 1745 and is housed at U.C. Berkeley's Jean Gray Hargrove Music Library. Originally written to honour King Louis XV and commemorate the Battle of Fontenoy, the version of this ballet héroïque that has been heard up until now is the second version which was substantially changed by Rameau to appease the King and Parisian tastes. Voltaire's original libretto, used in these performances and recording, is a philosophical reform of opera: an allegory set around the idea of the temple of glory with moral and political overtones — making this original version not only more powerful but uniquely relevant …even today. In the words of Nicholas McGegan, 'It's extravagant, spectacular beyond description. It's a wonderful mix. Incredibly ornate music ... the whole kitchen sink of the orchestra, deliberately exotic and jangly, with trumpets, even bagpipes'.
Gabrielle Philiponet, soprano
Chantal Santon-Jeffery, soprano
Camille Ortiz, soprano
Jennifer Ashworth, soprano
Heidi Waterman, mezzo-soprano
Artavazd Sargsyan, tenor
Aaron Sheehan, tenor
Philippe-Nicolas Martin, baritone
Marc Labonnette, baritone
Tonia D'Amelio, soprano
Kevin Gibbs, tenor
David Kurtenbach, tenor
Philippe-Nicolas Martin, baritone
Tonia D'Amelio, soprano
Philharmonia Baroque Orchestra
Philharmonia Baroque Chorale
Nicholas McGegan, conductor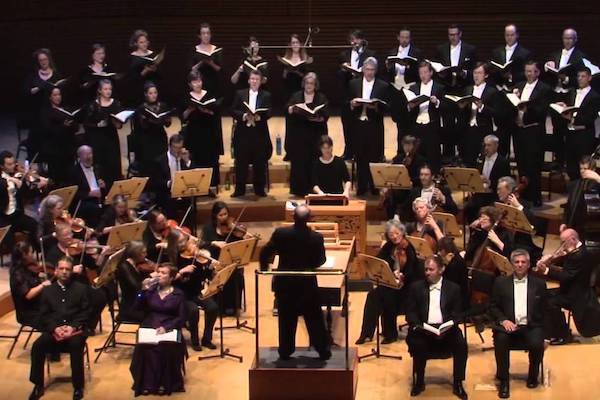 Philharmonia Baroque Orchestra & Chorale
Under the musical direction of Nicholas McGegan for the past 32 years, Philharmonia Baroque Orchestra & Chorale (PBO) is recognized as America's leading historically informed ensemble. Using authentic instruments and stylistic conventions of the Baroque to early-Romantic periods, the orchestra engages audiences through its signature Bay Area series, national tours, recordings, commissions, and education projects of the highest standard. Founded in the San Francisco Bay Area 37 years ago, the ensemble is the largest of its kind in the United States and is known for its versatility in programming and joyful performances.
PBO's musicians are among the best in the country and serve on the faculties of The Juilliard School, Harvard, and Stanford, among others. The Orchestra performs an annual subscription season in four venues throughout the San Francisco Bay Area as well as the orchestra's popular alternative concert series for younger and new audiences—PBO SESSIONS which has regularly sold out since its inception in 2014. In April 2017, PBO performed the modern-day premiere of Rameau's Le Temple de la Gloire. The fully-staged opera included an international cast of singers and dancers and celebrated sold-out audiences and critical acclaim from around the world.
Each season welcomes eminent guest artists such as mezzo-sopranos Susan Graham and Anne Sofie von Otter, countertenor David Daniels, violoncellist Steven Isserlis, fortepianist Emanuel Ax, and maestro Richard Egarr. The Orchestra enjoys numerous collaborations, including a regular partnership with the Mark Morris Dance Group and tours regularly to venues such as Carnegie Hall, Lincoln Center, Walt Disney Concert Hall, Tanglewood, and Weill Hall at the Green Music Center. In July 2017, PBO co-produced the critically-acclaimed modern adaptation of Aci, Galatea e Polifemo in partnership with Anthony Roth Costanzo and National Sawdust in Brooklyn.
Among the most recorded orchestras in the world, PBO boasts a discography of more than 40 recordings and launched its own label in 2011, on which it has released ten recordings, including a coveted archival performance of mezzo-soprano Lorraine Hunt Lieberson in Berlioz's Les Nuits D'été, and a Grammy-nominated recording of Haydn symphonies. The orchestra released a recording of its modern North American premiere of Alessandro Scarlatti's La Gloria di Primavera, which coincided with a tour in May 2016 and released the world premiere recording of the original version of Rameau's Le Temple de la Gloire with the unedited libretto by Voltaire in July 2018.
In 2015, Philharmonia launched its Jews & Music Initiative – a permanent effort to explore and understand the relationship between Jews and music from the 17th to the 21st centuries. The initiative brings Jewish historical context to classical music and provides opportunities for significant collaboration with SFJCC, the Jewish Contemporary Museum, Oshman JCC, and The Magnes Collection at UC Berkeley, among others. In 2016, Harvard and Yale universities invited PBO to present "Jews of the 17th Century Italian Jewish Ghetto" featuring works by Salomone Rossi and Monteverdi. The program was reprised at the University of Chicago in April 2018 and was deemed "shimmering….stylish, precise and expressive" by the Chicago Times.
PBO launched its New Music for Old Instruments initiative in 2016 as an effort to commission and perform new works written expressly for period instruments. Recent commissions include a co-commission with London's Orchestra of the Age of Enlightenment with composer Sally Beamish, two works by Pulitzer Prize-winning composer Caroline Shaw, the first for mezzo-soprano Anne-Sofie von Otter that enjoyed its world premiere at Walt Disney Concert Hall in April 2016 followed by the second piece in the song cycle for soprano Dominique Labelle in 2017. A third piece will be premiered at Lincoln Center in 2019. Additionally, PBO commissioned To Hell and Back by Guggenheim Fellow Jake Heggie. Future seasons will bring new commissions by Caroline Shaw, Matthew Aucoin, and Mason Bates.
PBO's Education Program has been a leading force in early music education since 1989. Through partnerships with institutions such as The Juilliard School, Stanford University, Yale University, Harvard University, San Francisco Conservatory of music, and the University of California at Berkeley, the Orchestra inspires and helps train a new generation of young artists. Reaching over 4,000 students of all ages annually, the program has enriched the Bay Area's cultural community through free public masterclasses, symposia, school residencies, community chamber music workshops, full Orchestra concerts for students and teachers, numerous lecture series for adults, and family concerts.
Philharmonia Baroque Orchestra was founded by harpsichordist and early music pioneer Laurette Goldberg.
Nicholas McGegan
As he embarks on his fifth decade on the podium, Nicholas McGegan — long hailed as "one of the finest baroque conductors of his generation" (London Independent) and "an expert in 18th-century style" (The New Yorker) — is recognized for his probing and revelatory explorations of music of all periods. The 2018/19 season marks his 33rd year as music director of Philharmonia Baroque Orchestra and Chorale and he is also Principal Guest Conductor of the Pasadena Symphony.
McGegan has established the San Francisco-based Philharmonia as one of the world's leading period-performance ensembles, with notable appearances at Carnegie Hall, Lincoln Center, the London Proms, the Amsterdam Concertgebouw, and the International Handel Festival, Göttingen. One of their greatest successes was the recent fully-staged modern-day premiere of Jean-Philippe Rameau's 1745 opera-ballet Le Temple de la Gloire.
PBO's 2018/19 season promises an eclectic array of sound experiences, with sacred vocal works by Bach, Mozart and Pärt, virtuosic concerti by Vivaldi and Geminiani, and Handel's Saul. Pulitzer Prize-winning composer Caroline Shaw will complete her PBO-commissioned song cycle for a world-premiere at Lincoln Center and guest artists mezzo-soprano Anne Sofie von Otter and violinist Rachel Barton Pine join McGegan and the Orchestra for some boundary-pushing experiences.
Throughout his career, McGegan has defined an approach to period style that sets the current standard: intelligent, infused with joy, and never dogmatic. Under his leadership Philharmonia continues to expand its repertoire into the Romantic Era and beyond. Calling the group's recent recording of the Brahms Serenades "a truly treasurable disc," James R. Oestreich in The New York Times made special note of the performance's "energy and spirit." The recording, said Voix des Arts, offers "evidence that 'period' instruments are in no way inhibited in terms of tonal amplitude and beauty. These are … exceptionally beautifully played performances."
McGegan's ability to engage players and audiences alike has made him a pioneer in broadening the reach of historically informed practice beyond the world of period ensembles to conventional symphonic forces. His guest-conducting appearances with major orchestras — including the New York, Los Angeles, and Hong Kong Philharmonics; the Chicago, Milwaukee, St. Louis, Toronto, Sydney, and New Zealand Symphonies; the Cleveland and the Philadelphia Orchestras; and the Royal Northern Sinfonia and Scottish Chamber Orchestra — often feature Baroque repertoire alongside Classical, Romantic, 20th-century and even brand-new works: Mendelssohn, Sibelius, Britten, Bach and Handel with the Utah Symphony; Poulenc and Mozart with the City of Birmingham Symphony Orchestra; Mahler and Mozart with the Pasadena Symphony Orchestra; and the premiere of Stephen Hough's Missa Mirabilis with the Indianapolis Symphony Orchestra, paired with Haydn, Brahms and Mendelssohn. His position in Pasadena provides the opportunity to conduct a wider range of his favorite repertoire, including Dvořák, Britten, Elgar, Mahler, Brahms and Wagner.
His 17/18 guest appearances include his return to the Los Angeles Philharmonic at the Hollywood Bowl for two programs (his 21st consecutive appearance at the Hollywood Bowl); Cleveland and Philadelphia Orchestras; and the Pasadena, Dallas, Nashville (Haydn's Creation), St. Louis (all-Vivaldi), Indianapolis, and New Jersey Symphony Orchestras. A residency at the Juilliard School this fall will lead to performances in New York and a side-by-side with Philharmonia Baroque Orchestra and Juilliard415 on the West Coast. He will make his annual return to The Aspen Music Festival as well. Abroad, he appears at Casa da Musica (Portugal) and with SWR Sinfonieorchester, Gottingen Symphonieorchester, and Jerusalem Symphony. In the summer of 2017, McGegan conducted the Royal Northern Sinfonia for the BBC Proms in Hull, marking 300 years since Handel's Water Music was first famously performed on the River Thames. It was the first time since the 1930s a festival performance had been moved outside London.
Active in opera as well as the concert hall, McGegan was principal conductor of Sweden's perfectly preserved 18th-century Drottningholm Theater from 1993 to 1996, Artistic Director and conductor at the Göttingen Handel Festival for 20 years (1991-2011), and Principal Guest Conductor at Scottish Opera in the 1990s. Guest appearances have brought him to the podium at Covent Garden, San Francisco, Santa Fe, and Washington. Mr. McGegan has enjoyed a long collaboration with groundbreaking choreographer Mark Morris, notably the premiere performances of Morris's production of Rameau's Platée at the Edinburgh Festival, and Handel's Acis and Galatea and L'Allegro at venues including the Ravinia Festival, the Mostly Mozart Festival in New York, and Cal Performances in Berkeley.
McGegan's prolific discography includes more than 100 releases spanning five decades. Having recorded over 50 albums of of Handel, McGegan has explored the depths of the composer's output with a dozen oratorios and close to twenty of his operas. Under its own label, Philharmonia Baroque Productions (PBP), Philharmonia has recently released almost a dozen acclaimed albums of Handel, Scarlatti, Vivaldi, Brahms, Haydn, Beethoven, and the first-ever recording of the recently rediscovered 300-year-old work La Gloria di Primavera by Alessandro Scarlatti, recorded live at the U.S. premiere. McGegan's most recent recording with PBO is the modern-day premiere of the original version of Rameau's Le Temple de la Gloire from the critically acclaimed fully staged production at Zellerbach Hall in April 2017. Since the 1980s, Nic has released more than 20 recordings with Hungary's Capella Savaria on the Hungaroton label, including groundbreaking opera and oratorio recordings of repertoire by Handel, Monteverdi, Scarlatti, Telemann, and Vivaldi. Most recently, the collaboration has produced releases of Haydn, Kraus, Mendelssohn, Schubert, and a 2-CD set of the complete Mozart violin concerti. Grammy nominations include Handel's Susanna for Best Choral Performance and Haydn's Symphonies 104, 88 & 101 for Best Orchestral Performance, both with Philharmonia Baroque Orchestra.
Mr. McGegan is committed to the next generation of musicians, frequently conducting and coaching students in residencies and engagements at Yale University, the Juilliard School, Harvard University, the Colburn School, Aspen Music Festival and School, Sarasota Music Festival, and the Music Academy of the West. In 2013 he was awarded the honorary degree of Doctor of Music by the San Francisco Conservatory of Music, and in 2016 was the Christoph Wolff Distinguished Visiting Scholar at Harvard. McGegan's fun and informative lectures have delighted audiences at Juilliard, Yale Center for British Arts, American Handel Society, and San Francisco Conservatory.
Born in England, Nicholas McGegan was educated at Cambridge and Oxford and taught at the Royal College of Music, London. He was made an Officer of the Most Excellent Order of the British Empire (OBE) in the Queen's Birthday Honours for 2010 "for services to music overseas." Most recently, he was invited to join the board of Early Music America. His awards also include the Halle Handel Prize; an honorary professorship at Georg-August University, Göttingen; the Order of Merit of the State of Lower Saxony (Germany); the Medal of Honour of the City of Göttingen; and an official Nicholas McGegan Day, declared by the Mayor of San Francisco in recognition of his distinguished work with Philharmonia.

Booklet for Rameau: Le temple de la gloire, RCT 59 (Live)