---
Album info
Album including Album cover Booklet (PDF)
Gian Francesco Malipiero (1882 - 1973):

1

Malipiero: Canto crepuscolare

04:55

Helmut Rogl (b. 1960):

2

Rogl: Nocturne for Violin & Piano, Op. 11 "A Dream at Midnight"

05:16

Alfred Huber (b. 1962): Incubus, Fantasy for Violin, Piano & Electronics, Op. 36:

3

Huber: Incubus, Fantasy for Violin, Piano & Electronics, Op. 36: I. Adagio

04:06

4

Huber: Incubus, Fantasy for Violin, Piano & Electronics, Op. 36: II. Adagio

04:48

5

Huber: Incubus, Fantasy for Violin, Piano & Electronics, Op. 36: III. Presto

05:19

Michael Colina (b. 1948):

6

Colina: Notturno for Violin & Piano

11:22

Dieter Kaufmann (b. 1941):

7

Kaufmann: Through the Night for Violin & Prerecorded Electroacoustics, Op. 219

05:00

John Cage (1912 - 1992):

8

Cage: Nocturne for Violin & Piano

04:28

Oscar Jockel (b. 1995): All the Darkness We Can Hear – All the Silence We Can See:

9

Jockel: All the Darkness We Can Hear – All the Silence We Can See: I. —

03:19

10

Jockel: All the Darkness We Can Hear – All the Silence We Can See: II. —

02:18

11

Jockel: All the Darkness We Can Hear – All the Silence We Can See: III. —

03:24

12

Jockel: All the Darkness We Can Hear – All the Silence We Can See: IV. —

02:30

13

Jockel: All the Darkness We Can Hear – All the Silence We Can See: V. —

03:13

Total Runtime

59:58
Info for A New Night Music

No time of day has presumably been set to music more often than the nighttime. On this album violinist Elena Denisova and pianist Alexei Kornienko are featuring nocturnal works of the 20th and 21st century. Canto crepuscolare by Gian Francesco Malipiero, dating from 1908, is still a playful impressionist composition, while the Nocturne for violin and piano by John Cage (1947) rather revels the silence. A calm and melancholic vision is painted by Helmut Rogls Ein Traum zur halben Nacht (A Dream at Midnight, 1986), whereas Notturno (2007) by Michael Colina and Incubus, Fantasy for violin, piano and electronics (2020/21) by Alfred Huber depict the eerie and scary traits of nighttime. Like the work by Huber, Durch die Nacht (Through the Night) for violin and pre-recorded electroacoustics by Dieter Kaufmann (2020/21) as well as all the darkness we can hear - all the silence we can see (2020/21) by Oscar Jockel are world premiere recordings.
Elena Denisova, piano
Alexei Kornienko, piano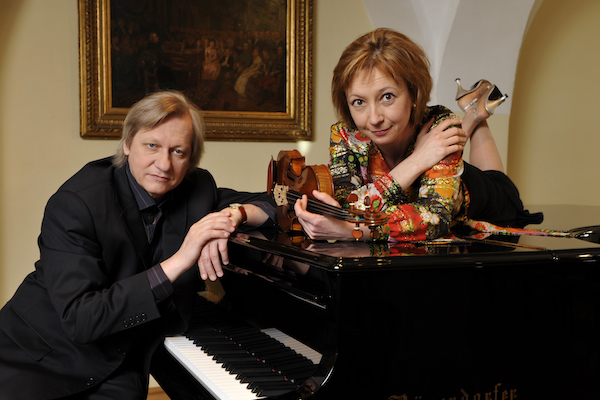 Elena Denisova
Als Botschafterin der Klangsinnlichkeit zählt Elena Denisova zu den charismatischen Persönlichkeiten der internationalen Geigerelite. Wo immer sie auftritt, werden ihr von Presse und Publikum höchste musikalische Reife, absolut individuelle Interpretation und überlegene Virtuosität bescheinigt.
Sie versteht sich als leidenschaftliche "Botschafterin der Klangmagie" und stellt dieses Motto allen Interpretationen von Werken der Klassik, aber auch der Moderne voran. Zahlreiche Werke wurden ihr von zeitgenössischen Komponisten gewidmet; etliche davon sind auf CDs verewigt.
Denisova studierte bei den Oistrach-Lieblingsschülern Valery Klimov und Oleg Kagan und startete seit 1990 ihre erstaunliche Karriere, die sie mit bekannten Orchestern (u.a. Royal Philharmonic Orchestra Lodon), zahlreichen Festivals (u.a. Salzburger Festspiele) und renommierten Konzertreihen (u.a. Wiener Musikverein) zusammenführte.
Sie gründete die Österreichische Gustav Mahler Vereinigung, das Gustav Mahler Ensemble, das Streichorchester Collegium Musicum Carinthia und die Classic Etcetera Musikvereinigung, und ist seit 2002 Intendantin des von ihr ins Leben gerufenen WoertherSee Classics Festivals, das auch international eine sehr hohe Reputation erringen konnte.
Wo Denisova hinkommt, berührt und fasziniert sie das Publikum und Kritik: "Absolument remarquable!", jubelte beispielsweise die französische Zeitung Le Courier Picard; "Unglaublich, diese Denisova!", hieß es in der Hamburger Die Zeit; "Worthy of serious investigation!", befand das Fachmagazin The Strad über die immer authentische, bei all ihrer Ausstrahlung sympathische und bescheidene Künstlerin.
Alexei Kornienko
Er ist ein exzellenter Musiker mit bedingungsloser Textfreude und Mut zur Interpretation. Dieser scheinbare Widerspruch kommt dem österreichischen Dirigenten Alexei Kornienko immer wieder zugute. Bewundert man ihn als profunden Pianisten der russischen Schule mit geradezu enormer Kenntnis des klassisch-romantischen Repertoires, so wurde nun auch seine Dirigententätigkeit in den letzten Jahren immer umfangreicher.
Der gebürtige Moskauer erhielt schon mit fünf Jahren seinen ersten Musikunterricht, studierte am Tschaikowsky-Konservatorium in Moskau (Klavierklasse Zak) und in Charkow (Dirigentenklasse Jordania) und war Preisträger beim Internationalen Rachmaninow-Klavierwettbewerb im Moskau. Seit seiner Übersiedlung nach Österreich (1990) machte sich Kornienko auch als weithin bekannter Wettbewerbs-Juror und als Pädagoge am Kärntner Landeskonservatorium einen Namen. Er war Mitbegründer des Gustav Mahler Ensembles und ist Mitglied des Bösendorfer Artistic Clubs
Alexei Kornienko teilt seine Karriere zwischen Klavier und Dirigentenpult. Er beschäftigt sich mit seiner Frau, der Geigerin Elena Denisova, zudem um die Wiederentdeckung von Trouvaillen aus der klassisch-romantischen Kammermusik: Beide feierten mit ihrer CD "Vienna 1900" (Gramola Vienna) mit Stücken von Robert Fuchs, Pavel Singer und Alexander von Zemlinsky international große Erfolge.
2009 nahmen beide in Wien erneut eine Welt-Premiere auf: Joseph Haydns Violinsonaten (für Gramola Vienna). Bei den ebenfalls in Europa und Japan von der Kritik akklamierten Vier Jahreszeiten von Vivaldi (mit Elena Denisova an vier Referenzgeigen aus Cremona; DEKA) in der seltenen Kammermusikfassung lässt sich Kornienko als profunder Cembalist hören.
Kornienko gilt als außergewöhnlich dynamischer Interpret der Werke Beethovens und Brahms', aber auch der Moderne. Künstlerische Herausforderungen meister er mit Bravour, weshalb er ein – für Uraufführungen komplizierter Partituren – weithin gefragter Ansprechpartner ist. Er arbeitete mit vielen renommierten Orchestern, wie zum Beispiel dem Royal Philharmonic Orchestra London, der Moskauer Philharmonie, dem George Ernescu Philharmonie und mit dem Moscow Radio and TV Symphony Orchestra erntete er bei einer USA-Tournee ethusiastische Kritiken. Von 2009 bis 2011 war er Chef Dirigent bei dem Sofia Philharmonic Orchestra und hat wesentlich zum internationalen Ruf und Anerkennung des Orchesters beigetragen.
Seit dem Jahr 2002 ist er als Künstlerischer Leiter des "Wörthersee Classics Festivals" um hochwertige programmatische Inhalte bemüht.

Booklet for A New Night Music