---
Album info
Album including Album cover
Johann Sebastian Bach (1685 - 1750): h-moll-Messe, BWV 232:

1

h-moll-Messe, BWV 232: I. Kyrie eleison

10:28

2

h-moll-Messe, BWV 232: II. Christe eleison

04:24

3

h-moll-Messe, BWV 232: III. Kyrie eleison

03:12

4

h-moll Messe, BWV 232: IVa. Gloria in excelsis

01:41

5

h-moll-Messe, BWV 232: IVb. Et in terra pax

04:09

6

h-moll-Messe, BWV 232: V. Laudamus te

03:51

7

h-moll-Messe, BWV 232: VI. Gratias agimus tibi

02:16

8

h-moll-Messe, BWV 232: VIIa. Domine Deus

05:21

9

h-moll-Messe, BWV 232: VIIb. Qui tollis peccata mundi

03:11

10

h-moll-Messe, BWV 232: VIII. Qui sedes ad dextram Patris

04:09

11

h-moll-Messe, BWV 232: IXa. Quoniam tu solus sanctus

04:01

12

h-moll-Messe, BWV 232: IXb. Cum Sancto Spiritu

03:46

13

h-moll-Messe, BWV 232: X. Credo in unum Deum

01:45

14

h-moll-Messe, BWV 232: XI. Patrem omnipotentem

01:49

15

h-moll-Messe, BWV 232: XII. Et in unum Dominum

04:12

16

h-moll-Messe, BWV 232: XIII. Et incarnatus est

03:15

17

h-moll-Messe, BWV 232: XIV. Crucifixus

03:38

18

h-moll-Messe, BWV 232: XV. Et resurrexit

03:44

19

h-moll-Messe, BWV 232: XVI. Et in Spiritum sanctum Dominum

04:30

20

h-moll-Messe, BWV 232: XVIIa. Confiteor

03:39

21

h-moll-Messe, BWV 232: XVIIb. Et expecto

02:04

22

h-moll-Messe, BWV 232: XVIIIa. Sanctus

02:39

23

h-moll-Messe, BWV 232: XVIIIb. Pleni sunt coeli

02:07

24

h-moll-Messe, BWV 232: XIX. Osanna in excelsis

02:27

25

h-moll-Messe, BWV 232: XX. Benedictus

04:34

26

h-moll-Messe, BWV 232: XXI. Osanna in excelsis

02:29

27

h-moll-Messe, BWV 232: XXII. Agnus Dei

05:13

28

h-moll-Messe, BWV 232: XXIII. Dona nobis pacem

02:38

Total Runtime

01:41:12
Info for Bach: h-moll Messe, BWV 232

The Mass in B minor holds a very special place in J.S. Bach's output: a work of grandeur, an opus ultimum, it was not composed as such but is the result of an assembly of pieces written at different times and for different circumstances. Bach worked on it during the years 1748-1749, until his eyesight, which had gradually deteriorated, was completely lost - a letter of recommendation for his son Johann Christoph Friedrich, dated 17 December 1749, was written by Anna Magdalena, who imitated his signature. It was rumoured in Leipzig that the cantor's health had deteriorated to such an extent that the city council, on the orders of the all-powerful minister of Saxony, auditioned a conductor from Dresden on 8 June 1749, who had been recommended to him for "the future post of cantor of St. Thomas if the director musices Sebastian Bach should pass away". By this time Bach was working on his Mass, which was larger than anything that had ever been conceived before[1]. His rather pale successor had to wait another year to replace him, Bach having died on 28 July 1750.
The idea of bringing together pieces drawn essentially from the vast corpus of cantatas was not unusual; a similar approach was taken by several of his contemporaries, such as Handel, and Bach himself had done so for the short masses he composed in the late 1730s[2]. These were called parodies. Moving from the German text of the cantatas to the Latin text of the masses meant adapting the vocal lines, with additions and deletions, polyphonic and harmonic enrichments, and changes in instrumentation. Throughout his life, Bach never ceased to revisit his works with a view to improving them.
Imagining the production of a monumental Mass, which can be seen as a musical testament to him, Bach began by exploring the repertoire of his own music, while studying various Masses by other composers that were available to him (and among the scores he studied was Pergolesi's Stabat mater, which he himself had adapted). He decided above all to use a mass (Missa in Lutheran language) composed in 1733 after the death on February 1 of Augustus the Strong, ruler of Lutheran Saxony, on which Leipzig and Catholic Poland depended. It consisted, as was the case with the Lutheran masses, of the Kyrie and the Gloria, the music of which was largely original (only four of the nine pieces in the Gloria come from earlier compositions). But Bach wanted to compose a Mass with the different parts of the Catholic Ordinary, with the Credo, Sanctus, Benedictus and Agnus Dei. Faced with the magnitude of the two movements of the Missa, each as impressive as the other, Bach was compelled to write a large Credo.
The 1733 Kyrie was conceived as a tribute to the deceased, with the Gloria celebrating his successor, who was none other than his own son (they were both great advocates of the arts). It is not known whether the work was performed in Leipzig, or whether it was created in the capital of Saxony. Apparently not, no document mentions it. In any case, the score was sent to the new ruler at the end of July, with the separate parts that several members of the Bach family had hastily copied; it was accompanied by a request in which the cantor complained of the "affronts" suffered in Leipzig, hoping to strengthen his position by obtaining a position as court composer, a purely honorary position that carried no obligation. A month earlier he had had his eldest son, Wilhelm Friedemann, appointed as organist of St. Sophia Cathedral in Dresden. However, Frederick Augustus II was then caught up in the war of succession for the Polish throne, which was being contested. Bach's request, reiterated three years later, came to fruition as he was battling with the new rector of St. Thomas and the Leipzig Council, whom the sovereign ultimately ordered that Bach be allowed to exercise his musical authority.
Gli Angeli Genève
Stephan MacLeod, direction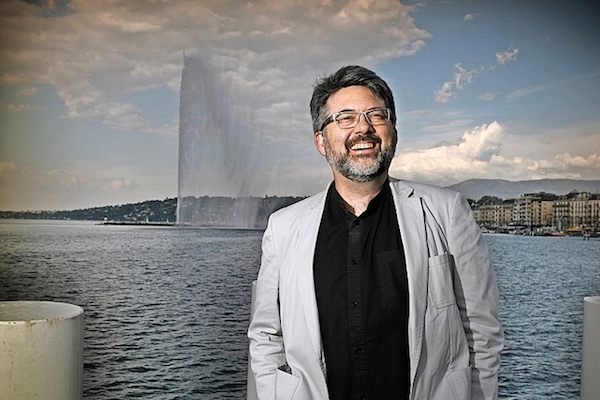 Gli Angeli Genève
was founded by Stephan MacLeod in 2005 and is an ensemble of varying composition that performs vocal and instrumental repertoire of the renaissance, baroque and classical periods. It is made up of musicians who either have solo careers of their own or who are chamber recitalists in the field of Baroque music but who are not exclusively active in this clearly defined area: in other words, they perform more than just early music, their eclecticism guaranteeing their enthusiasm and the sincerity of their research. While performing the complete Bach cantatas, Gli Angeli Genève is also seeking to introduce younger audiences to music in the form of a teaching programme based around Bach and period instruments. Children are able to attend their rehearsals and to take part in demonstrations, becoming familiar with the different families of instruments over the centuries, meeting the members of the ensemble and singing with them at school concerts. A part from all Bach Cantatas in their own series in Geneva, Gli Angeli Genève is initiating a new adventure in September 2017 with the start of the performing of all Haydn Symphonies in concert in Geneva over a decade. The ensemble is regularly invited in leading festivals and concert venues all around the world.
Stephan MacLeod
Born in Geneva, Stephan MacLeod first played the violin and the piano and then studied singing with Kurt Moll in Cologne and with Gary Magby in Lausanne. Active all over the world as a renowned concert singer since his early twenties, his desire to conduct started together with his singing career and he finally founded eleven years ago his own ensemble, Gli Angeli Genève, where he both sings and leads. Gli Angeli Genève is giving its season of concerts in Geneva since 2005, and is now regularly invited in most European concert halls and leading festivals for ancient music. As a singer, his career started through an intense collaboration with Reinhard Goebel and Musica Antiqua Köln when he was 20 years old. He's been particularly active in the oratorio repertoire since, particularly under Philippe Herreweghe, Gustav Leonhardt(†), Franz Brüggen(†), Masaaki Suzuki (Bach Collegium Japan), Jordi Savall, Philippe Pierlot (Ricercar Consort), Michel Corboz, Daniel Harding, Vaclav Luks, Sigiswald Kuijken, Konrad Junghänel (Cantus Cölln), Christophe Coin, Helmut Rilling, Frieder Bernius, Jos Van Immerseel, Jésus López-Cobos, Hervé Niquet, Paul Van Nevel (Huelgas Ensemble), and with such ensembles as the Akademie für Alte Musik Berlin, Musica Antiqua Köln, the Freiburger Barockorchester, Tafelmusik or the RIAS-Kammerchor. He has been heard as a concert soloist and in recitals in most of the main music centers and festivals in Europe, as well as in the USA, Canada, South America or China, and is a frequent visitor to Japan. His work has been documented on more than 75 CD's, many of which have won awards in the press. He teaches in Switzerland, where he holds a professorship in singing at the Haute Ecole de Musique of Lausanne. He is singing and conducting all over the world.

This album contains no booklet.