---
Album info
Album including Album cover
I`m sorry!
Dear HIGHRESAUDIO Visitor,
due to territorial constraints and also different releases dates in each country you currently can`t purchase this album. We are updating our release dates twice a week. So, please feel free to check from time-to-time, if the album is available for your country.
We suggest, that you bookmark the album and use our Short List function.
Thank you for your understanding and patience.
Yours sincerely, HIGHRESAUDIO
1

De Novo Adagio (Intro)

01:19

2

Brand New Me

03:53

3

When It's All Over

04:34

4

Listen to Your Heart

03:46

5

New Day

04:02

6

Girl On Fire (Inferno Version)

04:30

7

Fire We Make

05:21

8

Tears Always Win

03:59

9

Not Even the King

03:07

10

That's When I Knew

04:05

11

Limitedless

03:57

12

One Thing

04:08

13

101

06:27

Total Runtime

53:08
Info for Girl On Fire

Fifth studio album by the American artist. Featuring the singles 'Girl on Fire' and 'Brand New Life' and duets with Maxwell and Nicki Minaj, the follow up album to 2009's 'The Element of Freedom' has been well-received and critically-acclaimed.
The songs on Girl On Fire are anchored by Keys' powerful vocals and trademark piano, but are sonically broadened by heavy drums, electric sounds, reggae and future soul, which gives the album an evolved, modern-day feel while simultaneously sounding like a classic body of timeless music.
The title track has nearly reached 1 million single sales for the multi-platinum-selling Keys, winner of 14 Grammy awards. In addition, it is No. 3 on the digital singles sales chart, as it swiftly moves up the 40 radio charts. "Brand New Me," the first track on the album, is now the most introduced at urban radio formats. On top of all of this, "Girl on Fire" is the fourth album by Keys to debut at No. 1 on the Billboard 200 chart, making Keys the first female R&B artist to have three consecutive No. 1 LP debuts on the Billboard 200 album chart.
"Girl on Fire" introduces a new stage in Keys' personal and professional life. Her maturity is obvious on the album, which is vibrantly colored with themes of life, love, hope, wisdom and empowerment. On a personal level, it speaks of a unique, talented female who has come into bloom. As she shares with her fans in the sleeve notes, "This is the most inspiring time of my life! There has been so much growth and so many experiences that have pushed me to become the woman I am today."
The album is the masterwork of a musician blessed with a gift that she, in turn, has nurtured. It is also that of a skilled songwriter who has keenly observed humanity, and in so doing, has written some of the most honest and graceful lyrics that speak to everyone. All the songs on "Girl on Fire" are exceptional musically and vocally, and every track is a lesson in Keys' creative prowess. The album is a great study of a master artiste at the top of her game, as the following four songs from the 12-track album demonstrate.
On the powerful anthem "Girl on Fire," an eight-bar intro of rap music over a big-sounding drum kit introduces Nicki Minaj's evocative rap. The haunting lyrics instantly pull listeners into Keys' dramatic world. The engaging build-up continues with 16 bars of synthesized emulation of the 1960s Mellotron keyboard. During the second half of the 16, Keys' signature piano sound (which has been sampled and sold and used by musicians on many records) is allowed to sit on top of the synthesizer, supporting as well as doubling its pattern, resulting in a retro yet current sound--and it is wicked!
Alicia Keys, lead & background vocals
Jeff Bhasker, CP-70 piano, organ
Salaam Remi, drum-programming
Dylan Wissing, drums
Recorded at Jungle City Studios (NYC), Oven Studios (NYC) & The Record Plant (Los Angeles, CA)
Produced by Alicia Keys, Jeff Bhasker, Salaam Remi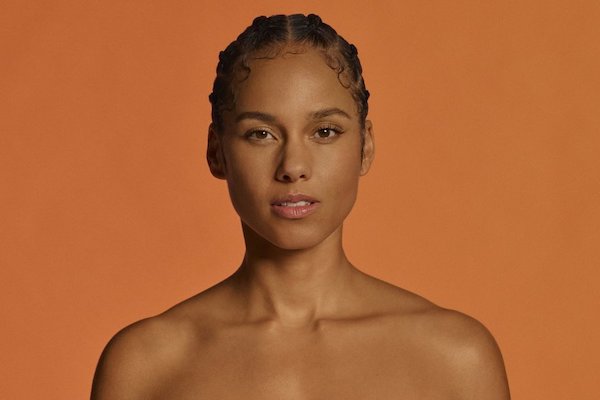 Alicia Keys
Alicia Keys was born in New York in a musical environment dominated by stars like Biggie and Jay Z. The natural talent of the young Alicia Keys was soon transformed into an explosive mixture of hip-hop and soul, with an incredible ability to create good songs as a composer, showing a maturity that one would expect in a young age. If we add all the vocal strength of Alice, his heartfelt live performances and his experience as a classical pianist, is easy to think that Alicia Keys has a good chance of becoming the new Roberta Flack of our generation.
From the beginning, Alicia Keys has been the subject of genuine dispute between some of the major record companies in the world, in their desire to incorporate into its catalog of artists to a star with so much future. Finally, Alicia Keys has signed its first contract with Arista Records in 1998. With a talent similar to that of artists like D'Angelo or Prince, continued to develop the writing, producing and recording his first album, an album in which he began working at age 14.
In late 1999, Alicia Keys followed the footsteps of Clive Davis when he created his own label, J Records, distributed by Arista, where he continued to shape its anticipated debut album. The themes show the unmistakable symptoms of finding a star of critics and audiences, through songs melodic, deep and full of content that allow us to discover in all its glory Alicia musical. Most of the songs on the album, including a composition as bright as Fallin 'Troubles shocking or have been written and produced by herself. In addition, Alicia Keys has worked with Jermaine Dupri and Isaac Hayes Girlfriend in Rock wit U, an issue that was included in the soundtrack to the film Shaft (2000).
Alicia Keys won five Grammys in 2001, including Best New Artist and Song of the Year (for the track Fallin ').
In 2003, he presented his second paper, "The Diary of Alicia Keys", an album that takes as its inspiration the American music of the seventies. Through this work, Alicia Keys got eight more nominations for a Grammy.Alicia Keys.
In 2005 appears "Unplugged", the acoustic MTV dedicated to the artist and debuted at number one in sales in the United States. With this album, Alicia Keys got four new Grammy Award nominations.
Published in 2007 Alicia Keys 'As I Am', her third studio album after the successful 'The Diary of Alicia Keys', published in 2003. With the song 'No One', as the first single, reached No. 1 on Billboard's list of only ten hours after it began to sound in the U.S. radio. Alicia defined as 'an encounter between Janis Joplin and Aretha Franklin', 'As I Am' shows his talent for composition and production. and the situation as one of the few artists able to capture the spirit of the old school and update. In late 2009 Alicia Keys releases her fifth album, entitled "The Element Of Freedom", which includes a duet with Beyonce and a DVD with an intimate live recording of three of the most representative of the album, and their great success and No One Does not Mean Anything music video.

This album contains no booklet.