---
Album info
Album including Album cover Booklet (PDF)
Du, du liegst mir im Herzen (Arr. S. König for Voice & Orchestra):

1

Traditional: Du, du liegst mir im Herzen (Arr. S. König for Voice & Orchestra)

02:58

Friedrich Silcher (1789 - 1860): Volkslieder, gesammelt und für vier Männerstimmen gesetzt (Excerpts Arr. S. König for Voice & Orchestra):

2

Silcher: Volkslieder, gesammelt und für vier Männerstimmen gesetzt (Excerpts Arr. S. König for Voice & Orchestra): No. 4, Ännchen von Tharau

04:33

Alexander Ernst Fesca (1820 - 1849): An der Saale hellem Strande (Arr. S. König for Voice & Orchestra):

3

Fesca: An der Saale hellem Strande (Arr. S. König for Voice & Orchestra)

02:52

Horch, was kommt von draußen rein (Arr. S. König for Voice & Orchestra):

4

Traditional: Horch, was kommt von draußen rein (Arr. S. König for Voice & Orchestra)

02:25

Es waren zwei Königskinder (Arr. S. König for Voice & Orchestra):

5

Traditional: Es waren zwei Königskinder (Arr. S. König for Voice & Orchestra)

05:38

Felix Mendelssohn (1809 - 1847): Leise zieht durch mein Gemüt, Op. 19a No. 5, MWV K 71 (Arr. S. König for Voice & Orchestra):

6

Mendelssohn: Leise zieht durch mein Gemüt, Op. 19a No. 5, MWV K 71 (Arr. S. König for Voice & Orchestra)

02:02

Wolfgang Amadeus Mozart (1756 - 1791): Sehnsucht nach dem Frühling, K. 596 (Arr. S. König for Voice & Orchestra):

7

Mozart: Sehnsucht nach dem Frühling, K. 596 (Arr. S. König for Voice & Orchestra)

03:00

Heinrich Werner (1800 - 1833): Sah ein Knab' ein Röslein stehn (Arr. S. König for Voice & Orchestra):

8

Werner: Sah ein Knab' ein Röslein stehn (Arr. S. König for Voice & Orchestra)

02:45

Franz Schubert (1797 - 1828): Winterreise, Op. 89, D. 911:

9

Schubert: Winterreise, Op. 89, D. 911: No. 5, Der Lindenbaum (Arr. S. König for Voice & Orchestra)

04:02

Heinz Höhne (1926 - 2010): Hoch auf dem gelben Wagen (Arr. S. König for Voice & Orchestra):

10

Höhne: Hoch auf dem gelben Wagen (Arr. S. König for Voice & Orchestra)

02:34

Im schönsten Wiesengrunde (Arr. S. König for Voice & Orchestra):

11

Traditional: Im schönsten Wiesengrunde (Arr. S. König for Voice & Orchestra)

04:43

Friedrich Silcher (1789 - 1860): Volkslieder, gesammelt und für vier Männerstimmen gesetzt (Excerpts Arr. S. König for Voice & Orchestra):

12

Silcher: Volkslieder, gesammelt und für vier Männerstimmen gesetzt (Excerpts Arr. S. König for Voice & Orchestra): No. 78, Die Loreley

04:18

13

Silcher: Volkslieder, gesammelt und für vier Männerstimmen gesetzt (Excerpts Arr. S. König for Voice & Orchestra): No. 118, Wenn alle Brünnlein fließen

03:00

14

Silcher: Volkslieder, gesammelt und für vier Männerstimmen gesetzt (Excerpts Arr. S. König for Voice & Orchestra): No. 81, Morgen muss ich fort von hier

05:41

Friedrich Glück (1792 - 1840): In einem kühlen Grunde (Arr. S. König for Voice & Orchestra):

15

Glück: In einem kühlen Grunde (Arr. S. König for Voice & Orchestra)

03:13

Anton Wilhelm Florentin von Zuccalmaglio (1803 - 1869): Kein schöner Land in dieser Zeit (Arr. S. König for Voice & Orchestra):

16

Zuccalmaglio: Kein schöner Land in dieser Zeit (Arr. S. König for Voice & Orchestra)

02:16

Es zogen auf sonnigen Wegen (Arr. S. König for Voice & Orchestra):

17

Traditional: Es zogen auf sonnigen Wegen (Arr. S. König for Voice & Orchestra)

02:57

Guter Mond, du gehst so stille (Arr. S. König for Voice & Orchestra):

18

Traditional: Guter Mond, du gehst so stille (Arr. S. König for Voice & Orchestra)

03:59

Johann Abraham Peter Schulz (1747 - 1800): Der Mond ist aufgegangen (Arr. S. König for Voice & Orchestra):

19

Schulz: Der Mond ist aufgegangen (Arr. S. König for Voice & Orchestra)

04:20

Es dunkelt schon in der Heide (Arr. S. König for Voice & Orchestra):

20

Traditional: Es dunkelt schon in der Heide (Arr. S. König for Voice & Orchestra)

03:53

Johannes Brahms (1833 - 1897): Wiegenlied, Op. 49 No. 4 (Arr. S. König for Voice & Orchestra):

21

Brahms: Wiegenlied, Op. 49 No. 4 (Arr. S. König for Voice & Orchestra)

02:41

Total Runtime

01:13:50
Info for Im schönsten Wiesengrunde

What inexhaustible richness: the baritone Daniel Blumenschein, together with the Leipzig Symphony Orchestra under its conductor Robbert van Steijn, opens the door to a vast musical land. On their new GENUIN Album, they embark on a journey through the most beautiful German folk songs in colorful new orchestral arrangements by Stephan König. The track list includes, for example, Komm, lieber Mai und mache (Come, dear May and make), Kein schöner Land (No fairer land) and, of course, the titular Im schönsten Wiesengrunde (In the most beautiful meadow grounds). With a well-balanced mixture of tradition and modernity, the album knows how to capture the musical language of the recorded songs in ever new ways and transport them into the present time. As a result, we experience what is seemingly familiar completely anew!
Leipziger Symphonieorchester
Robbert van Steijn, conductor
Daniel Blumenschein, baritone
Stephan König, arrangements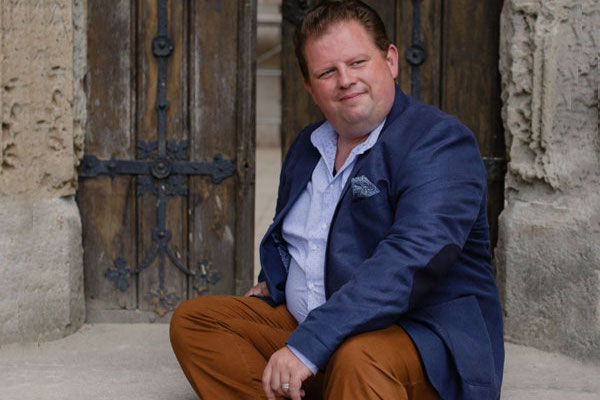 The Leipziger Symphonieorchester (LSO)
was founded in 1963, initially under the name State Orchestra of the District of Leipzig. This was followed by a succession of names, which led to the current name in 2011. The Orchestra is a non-profit limited liability company and the only professional orchestra of the districts of Leipzig and Northern Saxony with a classical symphonic instrumentation. The orchestra is based in Böhlen, a town on the outskirts of Leipzig, institutionally supported by the Zweckverband Kulturraum Leipziger Raum and the Free State of Saxony. Its home concert and rehearsal venue is the Kulturhaus Böhlen with its ideal spatial and acoustic conditions.
The repertoire of the orchestra includes all genres of music literature up to chamber music in various formations. Recently, the LSO has also earned special attention with crossover projects featuring world stars such as Albert Hammond, Johnny Logan, The Italian Tenors, Queenz of Piano, and others. New and old venues are constantly being opened up and enlivened with different programs and formats. The NeuSeenLand Musikfest Zwenkau and the legendary Volksplatz in Borna have found their audience. A traditionally close cooperation connects the musicians with the music academies in Leipzig, Weimar, and Dresden. For many years the orchestra has hosted master classes with Kurt Masur, Kenneth Kiesler, Vladimir Ponkin, and others. But young instrumentalists and singers also find an understanding and open-minded partner in the LSO.
A dedicated travel schedule, numerous guest performances and tours to Hungary, Great Britain, Italy, Ireland, the Netherlands, Switzerland, South Korea, China, and Mexico, among others, and numerous CD recordings round out the orchestra's artistic commitment. With more than 100 concerts a year, the LSO makes an important contribution to the cultivation and development of the musical tradition in Central Germany and is, in the best sense of the word, a cultural ambassador of the Free State of Saxony.
Daniel Blumenschein
is a baritone with heart and soul. Growing up in Handel's hometown of Halle (Saale), he felt the musical energy there and was inspired by the power of music from an early age. It is thus not surprising that he captivates audiences with his soulful voice and his stage presence. Repertoire and genre boundaries are just as foreign to Blumenschein as are fixed roles. His musical activity ranges from Bach's complete œuvre to compositions from the Romantic period to the era of modern symphonic music.
He is equally at home in opera houses, on concert stages, in churches, and at other venues. He has long dedicated himself to the classic German folk song, as he sees this as an important "treasure" that needs to be preserved and passed on to future generations. He has devoted himself to this song tradition alone in over 500 concerts. It thus fills him with immense gratitude to have recorded this folk song album together with the Leipziger Symphonieorchester.
In his productions, Blumenschein collaborates with many national and international ensembles, including the Thomanerchor Leipzig, Gewandhaus Choir, MDR Symphony Orchestra, Staatskapelle Weimar, Staatskapelle Halle, Hamburg Symphony Orchestra, L'Arco Baroque Orchestra from Hanover, and Collegium Musicum Salzburg. He has performed in the Berlin Philharmonie, the Gewandhaus in Leipzig, the Opéra de Nice, and at many other international concert halls. Thanks to his wide ranging repertoire, he has made guest appearances at numerous festivals, including the Leipzig Bach Festival, Handel Festival Halle, Kunstfest Weimar, and the opera festivals in Peralada and San Sebastián.
Daniel Blumenschein studied lied, concert and opera singing at the University of Music and Theater "Felix Mendelssohn Bartholdy" in Leipzig with Hermann Christian Polster. Numerous CD recordings round out his artistic work.

Booklet for Im schönsten Wiesengrunde