---
Album info
Album including Album cover Booklet (PDF)
1

Es war einmal

03:09

2

The Empty House

04:52

3

Christophs Tanz

03:24

4

Born An Angel

04:52

5

Ton Double Fisel - Gavotte pour Soig

02:49

6

Lights on the Ocean

03:18

7

Kühe!

03:02

8

Regenreise

07:05

9

Monday Wedding - The Mistaken Wheelchair

04:37

10

The Humours of Stockfisch

03:40

11

Come Again

02:28

12

Castle in the Moonlight

04:00

13

Lass nun ruhig los das Ruder

04:07

14

The Bride's Wedding Dress - Schottische

04:15

15

The Morning Star

03:31

Total Runtime

59:09
Info for Stringed

Once upon a time... - Fairy tales usually begin with this well-known and familiar phrase. Only fairy tales? It can't be a coincidence that Jens Kommnick put the piece Es war einmal (Once Upon a Time) at the beginning of his new solo album Stringed. "Seemingly by chance," Jens Kommnick reveals, "this piece came to my mind about 10 years ago, and I always think it sounds like the atmospheric beginning of a fairy tale." The composition is more than that: it is the magical prelude to a very special album....
In the lovingly designed booklet, the touching story of the little boy who was given a songbook by his mother to learn how to play the guitar also reads like a fairy tale. The boy summoned up his courage, wrote to the author of all the songs and asked him for an autograph. "For Jens," the latter wrote on a card, not suspecting "that this would be the beginning of a wonderful friendship." The little boy was Jens Kommnick, the later friend Reinhard Mey, who now remembers the providence many years ago with warm-hearted words in the booklet. In a touching way, Jens Kommnick brings Reinhard Mey's song Lass nun ruhig los to the rudder on Stringed.
On his unique way to becoming one of the most remarkable and popular guitarists and instrumentalists in this country, Jens Kommnick developed his very own and unmistakable style on the guitar, somewhere between "Celtic Fingerstyle Guitar", classical, jazz and folk. The new album Stringed - surprisingly only his fourth solo album - marks a special station on the impressive musical journey of the 56-year-old. Not least the intoxicating composition The Humours of Stockfisch tells of this journey, which has now taken him to the legendary Stockfisch Studios. The piece came to him "spontaneously" - one rubs one's eyes and ears in amazement! - during a recording break in front of the microphone. You can hear a "baritone guitar", guitar fans will hear and love such details.
Jens Kommnick is a fascinated and intriguing multi-instrumentalist, for his new album Stringed he has - the title says it all - put all kinds of stringed instruments in the center of attention; among them, of course, his "Redwood", a Lowden guitar whose warm and brilliant sound finds its way directly into the soul.
It is the lightness in The Bride's Wedding Dress / The Wedding Schottische, it is the gentle sounds in Born an Angel, but it is also the surprising turns in Regenreise (The Journey of Rain) and the breathtaking runs in Ton Double Fisel / Gavotte pour Soïg that touch and amaze on the new album. Above all, however, the compositions on the new album make one thing perceptible and audible: it is Jens Kommnick himself who animates the compositions with his human warmth. The loving notes in the booklet about the creation of the pieces show this warmth, be it the touching story of The Empty House or the loving memory of Christoph's dance (Christoph's Dance).
Once upon a time... - Fairy tales usually bring a smile to the faces of those who read them - we all remember - in the end. In a fairy-tale way, Jens Kommnick also succeeds with his new solo album Stringed, brilliantly recorded at Stockfisch Studios.
Jens Kommnick, guitar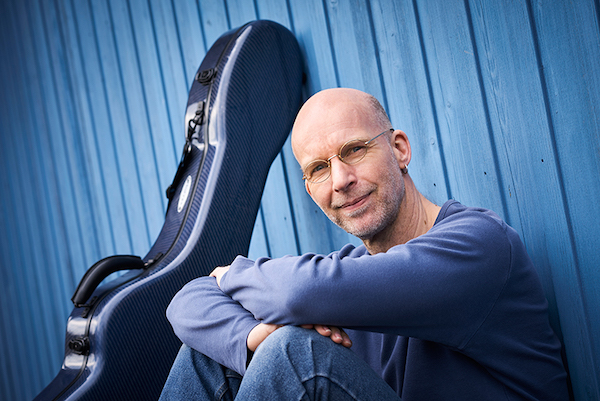 Jens Kommnick
At the age of 17 Jens first experienced music of Irish and Scottish musicians and has been hooked on Celtic music ever since. Although most of the instruments Jens plays were self taught, he did study classical guitar and church organ in Cologne. During this period he became more and more enthralled by Irish Music but also became involved in the local jazz scene, and it was this combination of circumstances that lead him to develop the style that he plays today.
Jens has been involved in many projects both on stage and in the recording studio not only in Germany, but throughout Europe. These include groups such as Iontach, Limerick Junction and Lá Lugh and with solo artists such as Reinhard Mey, Gerry O'Connor, Brendan Power, Allan Taylor, Tom McConville, Helmut Debus, Siobhán Kennedy, Brian McNamara, Brendan McGlinchey, Mick O'Brien, Charlie McGettigan, Peter Kerlin or Frank Bode.
In 2012 Jens became the first and only German musician ever to win the "All Ireland Championships", not only once, but twice, both as a solist and an accompanist.
Also his brand new album redwood (© 2015) evoked enthusiastic reactions at home and abroad, including the highly renowned Preis der deutschen Schallplattenkritik (German Record Critics' Award)!
Jens plays on over 80 CDs, covering Traditional and Contemporary Irish Music, Singer-Songwriter Music and also Music for Children. He is probably the most sought after studio musician of his genre in Germany.
In addition, Jens also teaches guitar, bouzouki and tin-whistle at various workshops throughout the country and abroad.

Booklet for Stringed