---
Album info
Album including Album cover
1

Pray To

04:56

2

Get Up And Go

04:24

3

The River That Sings

03:44

4

Hold On For Home

04:33

5

Lonely Boy

03:49

6

Until We Meet Again

03:40

7

Don't Make Mama Cry

04:15

8

Standing Tall

04:09

9

I Gotta Be Me

04:19

10

Get The Jack From The Bottle

03:47

11

One More Fight - Bonus

04:59

Total Runtime

46:35
Info for Until We Meet Again

When she sings, Kaz Hawkins takes us into her vast and colourful universe, simple words express the strong emotions she writes about in an artistic universe that matches her endearing and free personality.
Kaz Hawkins has never made a secret of her painful past, but her story has become her strength in writing soulful lyrics and singing with a rare sincerity and intensity.
Performing other people's music for 20 years, Kaz discovered her talent as a songwriter in poems she had written in secret. These poems then became lyrics when she began to put the melodies she had in mind within her own words.
Known mostly for her ballads like "Because You Love Me" and "Lipstick and Cocaine" (later renamed "One More Fight") these songs were born and immediately found their audience. An eclectic audience: young, old, male, female, English-speaking and non-English-speaking... Everyone is affected by these songs, which are the trademark of this unique Northern Irish artist. Kaz's world is also made of great blues and soul references, guitar riffs and iconic performances on stage. She thus imposed her name and voice on the Irish scene, then on the European scene by winning the European Blues Challenge in 2017.
Approached by the French record label Dixiefrog, Kaz Hawkins presented "My Life and I" in 2022. An anthology of 17 tracks that introduced Kaz to the French public, who adopted her since 2018 through a series of concerts and festivals.
In January 2023, Kaz Hawkins turned 50, an age she never thought she would reach so she wanted to make this year a great celebration, an exceptional event in an exceptional life. What could be more exceptional than the release of a new album with new compositions. This is how "Until We Meet Again" came about, an album in the image of its creator, full of bright colours and positive vibes, created for anyone struggling to help them find the strength to fight and survive.
An unclassifiable work with moving ballads, gospel songs, rock guitar solos and even a nod to Kaz's homeland as she added some Irish sounds to the mix.
Kaz Hawkins, vocals, acoustic guitar, bodhrán drum, backing vocals
Cédric Le Goff, backing vocals
Stef Paglia, backing vocals
Julien Boisseau, backing vocals
Amaury Blanchard, drums, percussion, hand pan, congas, backing vocals (track 1)
Aurelie Roquet, backing vocals (track 1)
Julien Boisseau, bass
Cédric Le Goff, piano, Fender Rhodes, Hammond
Stef Paglia, lead, rhythm and acoustic guitar
Benoit Gaudiche, trumpet
Guillaume Sené, tenor saxophone, baritone saxophone
Anne Andlauer, strings (tracks 8, 9)
Hélène Brissieux, strings (tracks 8, 9)
Claire Le Gall, strings (tracks 8, 9)
Stéphane Charles, strings (tracks 8, 9)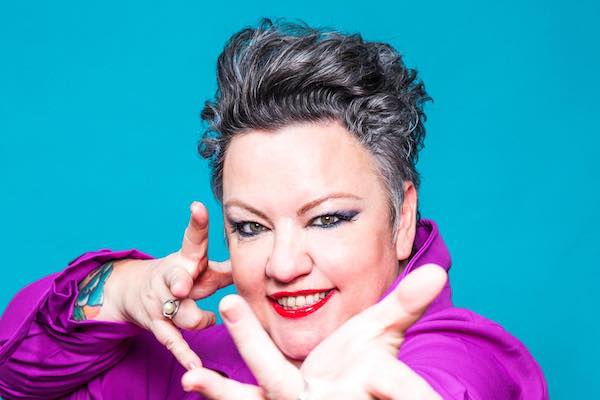 Kaz Hawkins
Multi award winning Kaz Hawkins is Northern Ireland's very own blues and soul darling. The Belfast born singer-songwriter is fast becoming a performing icon across UK & Europe & the United States. Her high energy, original shows with her 1950s style swing-dress-meets-Dr Martens look and ability to closely connect with her public contribute to make Kaz one of today's most popular independent artists in the UK and Ireland, as she continues to play to full houses. Kaz has been compared to Etta James & Janis Joplin to name but a few. Mixing through the genres of music for over 20 years, she finally found her niche in roots and blues, bringing a fun, inspiring & hopeful message with her new debut album Get Ready self-released in August 2014, featuring Kaz's deep, powerful voice, original song-writing and soulful tracks, Get Ready wooed both the public and the critics, winning the Blues Matters Magazine' Writers Poll Best Studio Album of 2015 in September. In a hat trick feat during the same month, Kaz accepted the prestigious Barry Middleton Award for Emerging Artist at the British Blues Awards (the first ever Northern Ireland recipient) and also received the Pure M Award for 2015 All-Ireland Best Female Act at a ceremony in Dublin. The success continued in 2016 with her band album Feelin' Good which was the IBBA album of the year beating Joe Bonamassa. KHB won the right to represent United Kingdom at the IBC in Memphis and EBC in Denmark in 2017. The band went down a storm in Memphis and returned home proud as semi-finalists. They now head to Horsen's in April to challenge for the European title.
Kaz will be venturing outside her band in 2017 with more American visits and a brand new piano & voice album and tour. Kaz will be releasing a charity single from the album to increase awareness for depression and will be donating a percentage of album sales at her album launch at Belfast Cathedral on 22nd July 2017 to help Aware NI, the charity she is ambassador for.
Kaz's stellar rise to success will be no surprise to the Northern Ireland's music fiends and blues fans over the world she has been wooing for years with her deep, powerful voice, original song writing and soulful tracks. No mean feat for the 43 year-old funky grandma, who owes surviving a life of physical and emotional hardship to music and a larger-than-life personality that doesn't take setbacks lying down! Kaz has worked tirelessly for different charities and is Arts Ambassador for EastSide Arts in which she lectured students at Boston University on how she used music to used music to survive trauma. Kaz will be returning to Boston University in March 2017 again, continuing the Belfast/Boston friendship that has been created. Kaz is also an Honorary Member of the UKBlues Federation.

This album contains no booklet.