---
I`m sorry!
Dear HIGHRESAUDIO Visitor,
due to territorial constraints and also different releases dates in each country you currently can`t purchase this album. We are updating our release dates twice a week. So, please feel free to check from time-to-time, if the album is available for your country.
We suggest, that you bookmark the album and use our Short List function.
Thank you for your understanding and patience.
Yours sincerely, HIGHRESAUDIO
1

Snake Eyes

04:08

2

Wheels Of Fire

04:33

3

Howling Days

04:46

4

Roaring Vortex

05:58

5

Blood Brothers

04:26

6

Master Of Disaster

04:33

7

Void Ark

04:18

8

Faster

05:22

9

Burning Down The Wall

04:22

10

Mystic Echoes

05:56

11

Danger Flight

04:13

Total Runtime

52:35
Info for Crimson & Jet Black

Four years after the world-wide released and critically acclaimed album Nucleus in 2019 (a re-recording of their classic hits with English lyrics), leading Japanese Heavy Metal band, Anthem have used the pandemic downtime wisely and are now ready to unleash their studio album called Crimson & Jet Black. All songs are once again performed in English, and the album will see a global release. Originally scheduled to be completed in the Spring of 2022, the band's leader Naoto Shibata, being the perfectionist that he is, decided to enrich the songs' quality even more and pushed back the recording schedule to Summer / Autumn, so that pure brilliance may unfold. Just like on past albums, Naoto is the main producer of the album, but this time renowned Swedish producer Jens Bogren, (known for his work with the likes of Arch Enemy, Amon Amarth, Dimmu Borgir and Opeth, to name but a few) who had previously mixed and mastered "Nucleus", is credited as a co-producer.
ANTHEM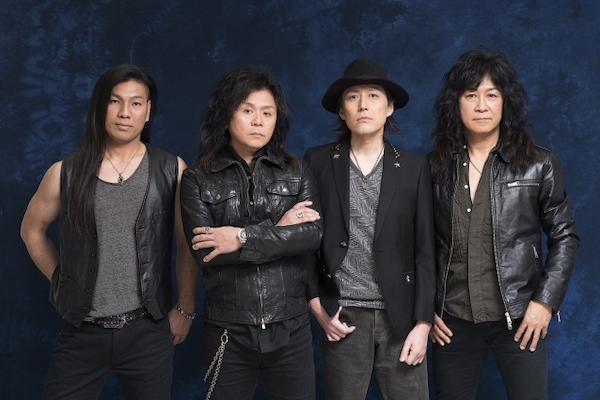 Anthem
Considered to be one of the earliest pioneering bands of Japanese heavy metal alongside Loudness and Earthshaker, Anthem formed in 1981 as a quartet of singer Toshihito Maeda, guitarist Akifumi Koyanagi, bass player Naoto "Ski" Shibata and drummer Takamasa Ohuchi.
Koyanagi left in late 1983 to be replaced by Hiroya Fukuda. In December 1984 vocalist Toshihito Maeda also left. He appeared as Anthem's vocalist on the first "Heavy Metal Force" compilation and sings the song "Warning Action". Anthem then drafted vocalist Eizo Sakamoto for their debut eponymous album issued in July 1985 by Nexus and licensed to Europe via Roadrunner Records. This was followed by a string of successful albums including "Tightrope", "Bound to Break", and the band's most successful album; "Gypsy Ways" which featured Yukio Morikawa on vocals instead of Sakamoto. Morikawa at the time was often compared in terms of vocal skill, range, and ability to Graham Bonnet, who would ironically join the band in 2000. Within this successful span in the mid 80's, the band experienced perhaps their greatest highlight, a North American tour in which they were the headlining act supported by Racer X, and Commander.
In the early 90s, Anthem experienced more lineup changes with the departure of Hiroya Fukuda, followed by his replacement Hideaki Nakama. Akio Shimizu was finally hired after many auditions and the band released "Domestic Booty", but with the drop of popularity that plagued most Heavy Metal bands in the 90s, as well as the rise of the Visual Kei movement led by bands such as X Japan, Dead End, and D'erlanger among many others, they were left with no choice but to put the band on hold. Anthem played one final tour and disbanded in late 1992, this would be the last time they would perform for another 8 years.
Finally, in 2000, Anthem made their triumphant return to the Japanese music scene, releasing "Heavy Metal Anthem" featuring Hirotsugu Homma of Loudness as well as Graham Bonnet of Rainbow, and Alcatrazz fame. Anthem have since brought back Eizo Sakamoto on vocals and are still recording and touring to this day.
In January 2013, band leader Naoto Shibata was diagnosed with Stomach Cancer after which the band immediately went on hiatus. The cancer was discovered early and the band returned to touring by April.
Anthem are credited as the first band to have a song used as promotion for a video game in their single "Xanadu" released in 1986 promoting Nihon Falcom's computer RPG "Dragon Slayer II: Xanadu". Additionally the song, "Show Must Go On!" (from Bound to Break) appeared in the anime series OAV Devil Man: The Genesis, Part One near the end of the episode, when Akira Fudou first becomes Devil Man. It appears in a scene in a club where people are partying in order to become possessed by devils.
Naoto "Ski" Shibata has orchestrated and released an album of hard rock versions of classic themes from the Castlevania video games via Konami, entitled Konami Kukeiha Club: Dracula Battle Perfect Selection.
Vocalist Yukio Morikawa is working with Akira Kajiyama on their project named Goldbrick.

This album contains no booklet.