---
Album info
Album including Album cover Booklet (PDF)
Celso Machado (b. 1953): Sambamar:

1

Machado: Sambamar: No. 1, Chorinho pra loria

03:19

2

Machado: Sambamar: No. 2, Sambamar

03:52

3

Machado: Sambamar: No. 3, Chôro sem lágrimas

02:57

4

Machado: Sambamar: No. 4, Vamo Nessa

04:00

5

Machado: Sambamar: No. 5, São Paulo à noite

02:10

6

Machado: Sambamar: No. 6, Frevando na Rua

03:09

Girolamo Frescobaldi (1583 - 1643): Canzona No. 2, F 8.02a "La Bernardinia" (Arr. for Flute & Guitar):

7

Frescobaldi: Canzona No. 2, F 8.02a "La Bernardinia" (Arr. for Flute & Guitar)

10:39

Wilhelmine von Bayreuth (1711 - 1758): Sonata in A Minor (Arr. for Flute & Guitar):

8

Bayreuth: Sonata in A Minor (Arr. for Flute & Guitar): I. Affettuoso

03:51

9

Bayreuth: Sonata in A Minor (Arr. for Flute & Guitar): II. Presto

02:50

10

Bayreuth: Sonata in A Minor (Arr. for Flute & Guitar): III. Allegro

01:56

Derek Charke (b. 1974): The Equation of Time:

11

Charke: The Equation of Time: I. Slow-Slow Music

05:34

12

Charke: The Equation of Time: II. Fast-Slow Music

04:02

13

Charke: The Equation of Time: III. Slow-Fast Music

02:16

14

Charke: The Equation of Time: IV. Fast-Fast Music

07:08

Total Runtime

57:43
Info for Equation of Time

"The Equation of Time" is the Charke-Cormier Duo's third album and their second to feature recital programming that spans various genres and styles. Like their first album, Ex Tempore, it showcases their shared aspiration to play music both old and new, original works and arrangements, to explore the stunning timbral combination of flute and guitar. Although both the album and its titular work were planned long before coronavirus became a household name, it is uncanny yet fitting that this recording project took place amid the COVID-19 pandemic, an event that has greatly disrupted our sense of time. The Equation of Time exemplifies how truly special art can result when the artists are given the time and space to communicate and create.
The concept of time is fascinating. All music exists in a linear dimension. The Equation of Time takes this fundamental aspect of music and explores four perspectives on how time flows: Movement 1, Slow-Slow Music, explores a slow tempo and slow material. Movement 2, Fast-Slow Music, explores a quick tempo with slow changing and static material. Movement 3, Slow-Fast Music, explores very fast ornamentation, but moving slowly through a cycle of pitches at a steady rate. And Movement 4, Fast-Fast Music, explores both fast tempi and fast material. Improvisation is important to this work. As such there are many ad libitum gestures. Movement 3 is left mostly to the imagination—reading through a sequence of pitches, performers are instructed to weave intricate ornamentations. Other improvisatory material is interwoven throughout the score.
Derek Charke, flutes
Eugene Cormier, guitar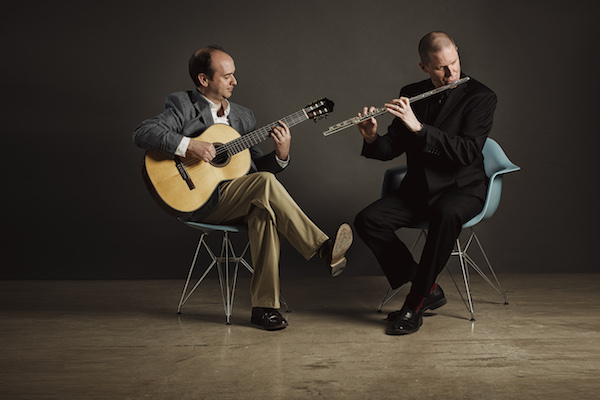 Charke-Cormier Duo
Derek Charke (flutes) and Eugene Cormier (guitar) formed the Charke~Cormier Duo several years ago culminating in a debut recital at the KC Irving Centre in Wolfville, Nova Scotia. This sonorous union of flute and guitar continues to charm audiences across the Maritimes. Their repertoire includes many of the most important works for this pairing of instruments, and creates a sonic journey for audiences from the street corners of Argentina to the halls of Europe, as well as introducing fresh new works created today. Both performers are highly accomplished musicians who are on the teaching faculty at Acadia University's School of Music.
"The Cormier~Charke Duo played in our Neil-Michaud hall last week and this was one of the most interesting concerts of this year's series. The repertoire, the sound quality, the complicity of the artists were just awesome. This duo is dynamite, the music flows easily and vividly, the whole concert passed as in a few minutes, keeping the audience intent and watchful : the best feeling one wishes to have when attending a concert. Our Dept. of music can't wait for their next show"
Eugene Cormier
is an award-winning classical guitarist, a dedicated educator and an avid computer programmer. Eugene lives in Wolfville,Nova Scotia where he is currently a full-time instructor of classical guitar, music technology, theory and rock history at Acadia University. A frequent adjudicator at music competitions such as The Montreal International Guitar Competition and the Canadian National Music Festival, Eugene is in demand as a solo performer, chamber musician, accompanist and studio musician.
Spending his formative years in Corner Brook, Newfoundland, Eugene first discovered his love of the guitar from his father. He went on to study classical guitar with Ken Davidson at Acadia before continuing under world-renown pedagogue Eli Kassner in Toronto. After this Eugene spent his summers traveling to guitar festivals where he had the opportunity to learn from some of the finest players in the world.
Eugene enjoys music typesetting and currently serves as the musical engraver for Soundboard, the quarterly magazine published by the Guitar Foundation of America. A fanatical vinyl collector, Eugene has well over 15,000 records.
Derek Charke
is a JUNO and ECMA award-winning composer and flutist. Derek has a growing catalogue of high-profile commissions and performances, including several by Canada's major symphony orchestras, as well as an impressive list of other performers and organizations.
Derek is currently a professor of composition at Acadia University in Wolfville, Nova Scotia, he is co-director of the Acadia New Music Society, and he continues to actively perform as a soloist and new music improviser on the flute. Equally at home performing cutting-edge contemporary music or participating in free improvisation as he is performing Bach or Vivaldi, Derek received a Masters degree in flute performance from SUNY Buffalo where he studied with the late Cheryl Gobbetti Hoffman.
Derek has performed as a soloist with the Slee Sinfonietta (Buffalo, NY) and GroundSwell (Winnipeg, MB), amongst others. He currently performs in the Charke-Cormier Duo. He is also a member of the resident Acadia New Music Ensemble WIRED! which released its first album Live Wired! in 2015. His Kitchen Party CD with percussionist Mark Adam won the 2015 East Coast Music Award for Classical Recording of the Year.

Booklet for Equation of Time