---
Album info
Label: Naxos
Genre: Classical
Subgenre: Instrumental
Artist: Guitarra a Seis
Composer: Johann Sebastian Bach (1685-1750), Marco de Biasi (1977), Gioacchino Rossini (1792-1868), Atanas Ourkouzonov (1970), Maurice Ravel (1875-1937), Tobias Krebs (1993), Sergio Assad (1952)
Album including Album cover Booklet (PDF)
Johann Sebastian Bach (1685 - 1750): Brandenburg Concerto No. 3 in G Major, BWV 1048 (Arr. H. Stampa & J. Stibal for Guitar Sextet):

1

Bach: Brandenburg Concerto No. 3 in G Major, BWV 1048 (Arr. H. Stampa & J. Stibal for Guitar Sextet): I. —

05:38

2

Bach: Brandenburg Concerto No. 3 in G Major, BWV 1048 (Arr. H. Stampa & J. Stibal for Guitar Sextet): II. Adagio

00:42

3

Bach: Brandenburg Concerto No. 3 in G Major, BWV 1048 (Arr. H. Stampa & J. Stibal for Guitar Sextet): III. Allegro

05:31

Marco De Biasi (b. 1977): Ipercubo, Op. 18:

4

Biasi: Ipercubo, Op. 18

09:49

Gioacchino Rossini (1792 - 1868): L'ltaliana in Algeri:

5

Rossini: L'ltaliana in Algeri: Ouverture (Arr. C. Marchione for Guitar Sextet)

08:45

Atanas Ourkouzounov (b. 1970): Codex Bulgaricus for Guitar Sextet:

6

Ourkouzounov: Codex Bulgaricus for Guitar Sextet

06:43

Maurice Ravel (1875 - 1937): Ma mère l'oye, M. 77 (Arr. C. Marchione for Guitar Sextet):

7

Ravel: Ma mère l'oye, M. 77 (Arr. C. Marchione for Guitar Sextet): I. Pavane de la belle au bois dormant

01:52

8

Ravel: Ma mère l'oye, M. 77 (Arr. C. Marchione for Guitar Sextet): II. Petit poucet

03:06

9

Ravel: Ma mère l'oye, M. 77 (Arr. C. Marchione for Guitar Sextet): III. Laideronnette, impératrice des pagodes

03:25

10

Ravel: Ma mère l'oye, M. 77 (Arr. C. Marchione for Guitar Sextet): IV. Les entretiens de la belle et de la bête

04:17

11

Ravel: Ma mère l'oye, M. 77 (Arr. C. Marchione for Guitar Sextet): V. Le jardin féerique

03:05

Tobias Krebs (b. 1993): Suite panamericana:

12

Krebs: Suite panamericana: I. Kind of Swing

04:42

13

Krebs: Suite panamericana: II. Kind of Blues

06:12

14

Krebs: Suite panamericana: III. Kind of Latin

05:05

Sérgio Assad (b. 1952): Juan Sebastian's Bar for Guitar Sextet:

15

Assad: Juan Sebastian's Bar for Guitar Sextet

04:29

Total Runtime

01:13:21
Info for Works for Guitar Sextet

With specially made instruments and a range that can emulate that of a whole orchestra, the acclaimed Guitarra a Seis bring us a colourful programme that includes works written specially for the ensemble. Opening with a real feast for the ears in Bach's lively Brandenburg Concerto No. 3, we further encounter the magical moods of Ravel's Ma mère l'Oye, a blend of Bulgarian folk and modern music from Atanas Ourkouzounov, Tobias Krebs' jazz-infused Suite Panamericana, and Sérgio Assad's humorous Juan Sebastian's Bar, which alludes to Bach and Beethoven but is Brazilian through and through. The guitar sextet Guitarra a Seis was founded in Zurich in 2012. The founder members include the three German guitarists Jens Stibal, Harald Stampa and Matthias Kläger as well as the Brazilian guitarist Edmauro de Oliveira. The Polish guitarist Adam Oleńczak joined in 2016, followed by the Swiss guitarist and composer Tobias Krebs in 2019. This is Guitarra a Seis' debut on the Naxos label, but this is an ensemble that has already established European renown in the guitar world and beyond for its innovative approach to performing and its imaginative programming of arrangements and original works.
Guitarra a Seis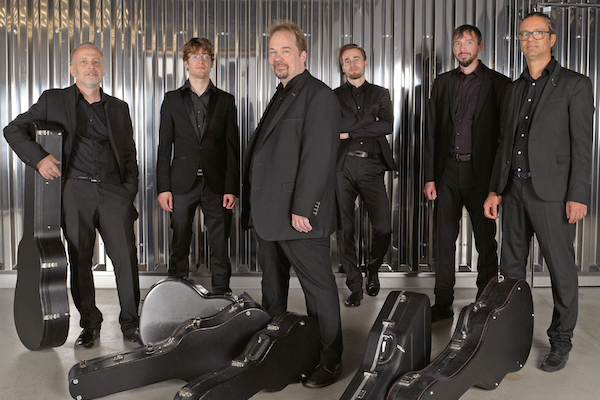 Guitarra a Seis
The ensemble Guitarra a Seis (Portuguese: guitar for six) was founded in 2011. Six renowned soloists from Switzerland, Germany, Poland and Brazil, who have won numerous prizes at international competitions, joined forces to discover new worlds of sound for the guitar.
With the instruments, some specially developed for them, they reach a range of five and a half octaves. This gives the ensemble the opportunity to play even orchestral works without octaves. The cast is supplemented by various percussion instruments.
The musicians play their own arrangements from Bach to Frank Zappa, Sergio Assad also wrote the piece "Juan Sebastian's Bar", Tobias Krebs the "Swinging Sextet" and Atanas Ourkouzounov the "Codex Bulgaricus" for Guitarra a Seis, the Italian virtuoso and arranger Carlo Marchione made arrangements of Rossini's overture "L'Italiana in Algeri" and the orchestral work "Ma mère l'oye" by Maurice Ravel for the ensemble.

Booklet for Works for Guitar Sextet