---
Album info
Album including Album cover Booklet (PDF)
I`m sorry!
Dear HIGHRESAUDIO Visitor,
due to territorial constraints and also different releases dates in each country you currently can`t purchase this album. We are updating our release dates twice a week. So, please feel free to check from time-to-time, if the album is available for your country.
We suggest, that you bookmark the album and use our Short List function.
Thank you for your understanding and patience.
Yours sincerely, HIGHRESAUDIO
1

Bedouins

09:23

2

Mirages

07:39

3

Desert's Cry

05:58

4

Dance

08:26

5

Colors of Nothingness

06:46

6

Condor

04:12

7

Oasis

04:59

8

Dust Storm

08:32

9

Desert Remained

05:29

10

Garden of Eden

05:29

11

Sands

07:30

Total Runtime

01:14:23
Info for Desert

It takes a discerning eye, or in this case ear, to envision the desert as more than a vast, arid wasteland. Pianist/composer Yelena Eckemoff succeeds in musically portraying many of this daunting environment's mysteries and its boundless allure on her new recording, "Desert", to be released May 4 on her imprint L&H Production. The quartet outing, the latest in the impressive series of concept albums at the core of the prolific Russian-born, North Carolina-based keyboard virtuoso's catalog, reunites her with Norwegian bassist Arild Andersen and internationally acclaimed drummer Peter Erskine and features Oregon co-founder Paul McCandless on oboe, English horn, soprano saxophone, and bass clarinet.
Each of "Desert"'s 11 thematically linked compositions, given such descriptive titles as "Bedouins," "Mirages," "Condor," "Oasis," "Dust Storm," and "Sands," showcase Eckemoff's distinctive style that blends classical music with jazz improvisation to create works that range from the ethereal to the mercurial to the dissonant.
Yet Eckemoff's music is infused with her Russian soul, vivid memories of picture books she entertained herself with as an only child, and what she calls the "sinuous" nature of her personal narrative which includes having emigrated from the former Soviet Union to the U.S. with her husband in 1991. With her modern, sometimes free-leaning approach and the weight and intensity her composing and playing attains, she and her music are strikingly original. "I'm a very emotional person," she says. "So many things have vanished from my life. When you express these things in your music, when you share your experiences, you compensate for your losses. Music makes you whole again."
What is remarkable about Eckemoff, who released numerous albums, some of them classical, before making her bona fide jazz debut in 2010 with the release of the winter-themed trio recording Cold Sun, is that you never know in which direction she's heading. One key to her artistry is her dedication to music that has many intertwined threads. "I haven't composed much for solo piano," she says. "I'm always hearing instruments and the ways they go together."
For "Desert," Eckemoff read extensively about the subject, including several books about Bedouins. "I wanted to know what kind of people they are," she says. "How is it that they've managed to change with the times, finding freedom in such harsh conditions. I wanted to capture the true soul of Bedouins."
In envisioning the recording, Eckemoff says, "I thought of Paul and his oboe, on which he is so expressive, and decided this is the sound I wanted. Peter helped me connect with Paul, who really is the reason for this group. As for Arild and Peter, they had just the right voices for my melodies and compositions. I feel like when I have these guys around, I can do anything."
Born in Moscow, Yelena Eckemoff has been composing since she was four years old, her musical impressions taken from her mother, a pianist and teacher. Years of academic studies at Gnessins School for musically gifted children, followed by the Moscow Conservatory, provided a solid foundation in classical music. But as she grew into her teens she developed an interest in other musical styles, like pop, rock, and jazz, and this was a time when jazz recordings were so hard to come by in Russia. In 1987, in a pivotal moment for Eckemoff and many other Russian musicians, she attended Dave Brubeck's legendary concert in Moscow. Though she had already started playing jazz before seeing Brubeck, mainly traditional styles and bebop, this was one of the first jazz concerts she had attended, and she was so impressed she formed her own band and "tried to play jazz." But her songs proved too complicated for her fellow musicians (and have gotten no easier, as McCandless, Andersen, and Erskine all attest in a videotaped interview after recording "Desert").
Alluding to such styles as blues, jazz-rock fusion, and the occasional funk, Eckemoff's albums have ranged far and wide while continuing to deal in high concepts. "Glass Song" (2013), the first of her albums to team Andersen and Erskine (who surprisingly had never previously played together), is an environmental treat boasting songs about rain, melting ice, and clouds. "A Touch of Radiance" (2014), dedicated to happiness, features Mark Turner, Joe Locke, George Mraz, and Billy Hart while "Lions" (2015), featuring Andersen and Hart, captures life in the savanna with songs about those majestic animals and their cubs as well as migrating birds and tropical rains.
Yelena Eckemoff, piano
Paul McCandless, oboe, English horn, soprano saxophone, bass clarinet
Arild Andersen, contrabass
Peter Erskine, drums, percussion
Recorded on December 8 - 9, 2015, at Conway Studios, Hollywood, CA
Recording, mixing and mastering engineer by Rich Breen
Produced by Yelena Eckemoff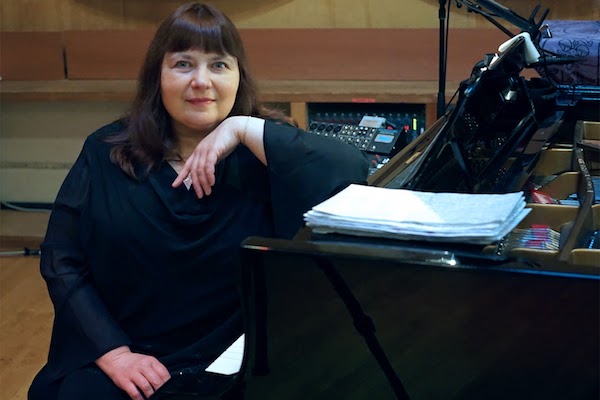 Yelena Eckemoff
was born in Moscow, Russia, in the Soviet Union. Her parents noticed that she had musical talent when she started to play piano by ear at the age of four. Yelena's mother, Olga, a professional pianist, became her first piano teacher. At the age of seven Yelena was accepted into an elite Gnessins School for musically gifted children where, in addition to common school subjects, she received extensive training in piano, music theory, music literature, solfeggio, harmony, analysis of musical forms, conducting, composing, and other musical subjects. She was fortunate to study piano with Anna Pavlovna Kantor, who also trained one of today's most celebrated pianists, Evgeny Kissin. Later Yelena studied piano with Galina Nikolaevna Egiazarova at the Moscow State Conservatory. Upon graduation with Master's Degree in piano performance and pedagogy, she worked as a piano teacher in one of Moscow music schools, gave solo concerts, attended courses at the Moscow Jazz Studio, played in an experimental jazz-rock band, and composed a lot of instrumental and vocal music.
In 1991, with her husband, Yelena emigrated to the United States. While assimilating and surviving in a new country and raising children, she had to put her musical career on hold. During these years Yelena experimented with synthesizer and MIDI sequencer in her little home studio, then founded an ensemble of local musicians. She self-released albums in various genres including classical, vocal, folk, Christian, and her original music.
She recorded her first jazz album, COLD SUN, in 2009, accompanied by drummer Peter Erskine and Danish bassist Mads Vinding, which proved to be the major turning point in her jazz career. Cold Sun was names one of 15 best jazz CD releases of 2010 by Warren Allen (AAJ) and drew comparisons to the stark music of ECM Records.
From that point on, Eckemoff churned out compelling and focused jazz albums at an astounding pace; she recorded and released four more piano trio records in less than four years engaging such notable jazz musicians as Mads Vinding, Morten Lund, Mats Eilertsen, Marilyn Mazur, Darek Olezskiewicz, Peter Erskine, and Arild Andersen. FORGET-ME-NOT (L & H, 2012) was in the best 10 on CMJ charts for over 10 weeks. "Themes of nature, sounds of isolation, stark settings, and blurred lines between compositional and improvisational elements are visible on all of Eckemoff's trio dates, but no two records sound exactly the same." (John Kelman)
For GLASS SONG (L&H, 2013), she reenlisted Erskine and brought bassist Arild Andersen into the fold for the first time. Surprisingly, neither veteran had ever recorded together, but you would never know it. "Eckemoff, Andersen and Erskine create music that's focused, yet free floating, and open, yet never nebulous. Pure melody is of less importance than the greater narrative in each number, but the music still sings out with melodic grace. While Manfred Eicher and his storied label have nothing to do with this record, Glass Song has that "ECM sound," if ever it existed. Mystery, blooming musical thoughts and vaguely haunting notions are at the heart of this captivating album." (Dan Bilawsky)
Yelena Eckemoff 's Lions (L&H 2015), with bassist Arild Andersen and drummer Billy Hart is a long but comprehensive look at animals in the wild with human touches, a classical-jazz soundtrack that goes beyond the superficial, intermission grabs for attention and seeks out the feelings beneath the eerily accurate movements.
"EVERBLUE (L&H, 2015) has Arild Andersen, saxophonist Tore Brunborg and drummer Jon Christensen. This Norwegian all-star contingent fits beautifully into Eckemoff's aesthetic: Andersen with his looming pronouncements like final summations; Christensen with his suggestive rhythmic ambiguity; Brunborg with his clear, clean sound and respect for space. Glass Song, Lions and Everblue contain some of the most powerful, poetic work of Andersen's long career." (Thomas Conrad)
"LEAVING EVERYTHING BEHIND (L&H, 2016) is united around themes of departure and loss. Yelena wrote a poem for each piece and made the cover art. She is accompanied by violinist Mark Feldman, whose background is in classical and country music. Several of compositions date from the 1980s; a time when she was just beginning her exploration into jazz. These pieces seem highly refined, replete with airy, vague harmonies that refer equally to Bill Evans and Claude Debussy." (Mark Sullivan)
BLOOMING TALL PHLOX (L&H, 2017) is intended to evoke different scents that Yelena Eckemoff recalls from her childhood in Russia. These powerful smells trigger a myriad of magical memories, each of which somehow, is transformed into a moveable feast of sounds – melodies set free by Yelena Eckemoff on a gloriously tuned piano and harmonized by Verneri Pohjola, a Finnish horn player, together with Panu Savolainen on vibraphone, Antti Lötjönen on bass and the percussionist colorist Olavi Louhivuori.
Although jazz is associated with improvisation, Eckemoff often writes her tunes out. Her music has been described as classical chamber music in the context of improvisational jazz. She developed a highly acclaimed jazz style that incorporates her classical technique and influences very effectively. With each new record Eckemoff's distinctive, recognizable approach to melody becomes even more prominent. Yelena Eckemoff uses life and nature's bouquets as her muse to create the body of work that blends post-modern abstraction, classical thought, and jazz language into a seamless whole. True to her classical-jazz impressionism, Eckemoff sees humanity in nature.
A band leader, producer and co-founder of L & H Production record label, Yelena also gives piano lessons. She had served as a church musician and choir director for over 22 years, until she got too busy with her recording and performing schedule. Yelena believes in hard work, God's guidance, humanism, and eternal love.

Booklet for Desert