---
Album info
Label: Accentus Music
Genre: Classical
Subgenre: Chamber Music
Artist: Trio Agora
Composer: Richard Galliano (1950), Carlos Gardel (1890-1935), Alberto Ginastera (1916-83), Joel Hoffman (1953), Antonio Lauro (1917-1986), Ernesto Lecuona (1896-1963), Rosendo Mendizábal (1868-1913), Astor Piazzólla (1921-1992), Maurice Ravel (1875-1937), Igor Stravinsky (1882-1971)
Album including Album cover Booklet (PDF)
Astor Piazzolla (1921 - 1992): Verano porteño (arr. Žilvinas Brazauskas):

1

Piazzolla: Verano porteño (arr. Žilvinas Brazauskas)

07:36

Otoño porteño (arr. Žilvinas Brazauskas):

2

Piazzolla: Otoño porteño (arr. Žilvinas Brazauskas)

06:55

Invierno porteño (arr. Žilvinas Brazauskas):

3

Piazzolla: Invierno porteño (arr. Žilvinas Brazauskas)

08:57

Primavera porteña (arr. Žilvinas Brazauskas):

4

Piazzolla: Primavera porteña (arr. Žilvinas Brazauskas)

06:59

Igor Stravinsky (1882 - 1971): Tango:

5

Stravinsky: Tango

02:58

Di Martino (b. 1959): Monterosano Mazurka (arr. Joel Hoffman):

6

Martino: Monterosano Mazurka (arr. Joel Hoffman)

03:26

Maurice Ravel (1875 - 1937): Pièce en forme de Habanera (arr. Paul Bazelaire):

7

Ravel: Pièce en forme de Habanera (arr. Paul Bazelaire)

03:01

Antonio Lauro (1917 - 1986): 4 Valses Venezolanos – III. Natalia, "Vals criollo" (arr. Paquito D'Rivera):

8

Lauro: 4 Valses Venezolanos – III. Natalia, "Vals criollo" (arr. Paquito D'Rivera)

01:22

Richard Galliano (b. 1950): La Valse à Margaux (arr. Žilvinas Brazauskas):

9

Galliano: La Valse à Margaux (arr. Žilvinas Brazauskas)

04:20

Ernesto Lecuona (1895 - 1963): La comparsa (arr. Mindaugas Stumbras):

10

Lecuona: La comparsa (arr. Mindaugas Stumbras)

04:40

Anonymous: San Pascual Bailón (arr. Joel Hoffman):

11

Anonymous: San Pascual Bailón (arr. Joel Hoffman)

02:51

Rosendo Mendizábal (1868 - 1913): El entrerriano (arr. Žilvinas Brazauskas):

12

Mendizábal: El entrerriano (arr. Žilvinas Brazauskas)

02:52

Carlos Gardel (1890 - 1935): El día que me quieras (arr. Karolis Šarkus):

13

Gardel: El día que me quieras (arr. Karolis Šarkus)

04:27

Alberto Ginastera (1916 - 1983): Danzas Argentinas, op. 2 – III. "Danza del gaucho matrero" (arr. Ulrich Büsing):

14

Ginastera: Danzas Argentinas, op. 2 – III. "Danza del gaucho matrero" (arr. Ulrich Büsing)

03:22

Joel Hoffman (b. 1953): Foxtrot Romeo Juliett Hotel Tango:

15

Hoffman: Foxtrot Romeo Juliett Hotel Tango

07:57

Total Runtime

01:11:43
Info for Hotel Tango

With their highly anticipated album "Hotel Tango" Trio Agora invites us on a journey through the history and development of the tango. From its roots to its manifold manifestations worldwide, the trio presents tango as a unique mixture of European, South American and African idioms. With arrangements and dedicated compositions, the trio explores the genre from a personal perspective. Look forward to a reimagined version of Astor Piazzolla's "Las cuatro estaciones porteñas," works of Stravinsky, Gardel, Ravel, Ginastera and more.
Trio Agora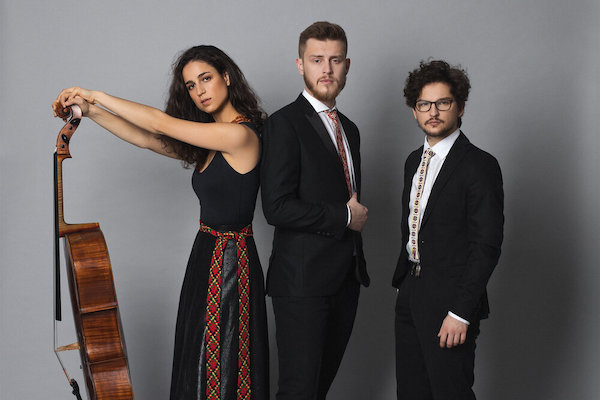 Trio Agora
is a dynamic ensemble quickly establishing itself as a leader in its genre. Praised for its innovation and enthusiasm, Trio Agora was the 1st prize winner of the 2018 Rubinstein chamber music competition in Düsseldorf, Germany. The trio regularly commissions new works and performs self-made transcriptions, in addition to bringing the standard repertoire to stages around Europe.
The ensemble seeks interaction with its audience, reviving the dialogue, creativity, and interpersonal connection at the origin of chamber music.
Its first CD, "Youth," was released in 2017. This recording focused on early works of Beethoven, Rachmaninoff, Mendelssohn, and Debussy. A second CD, "Sounds of Lithuania," is currently being recorded, with sponsorship by the AGATA Foundation and an anonymous donor.
Dedicated to pedagogy, the Trio was Ensemble in Residence at the National Students' Academy (NMA) in Nida, Lithuania in 2018 and will return in 2020, working closely with Mirga Gražynitė-Tyla, Algirdas Biveinis, and Gabrielė Biveiniene.
The ensemble performs regularly in Lithuania, Germany, Italy, Holland, Belgium, Hungary, and Russia in music series such as Amici della Musica Firenze and Le Strade D'Europa, performing halls such as the Kaunas Philharmonic hall and the Budapest Music Center. Season highlights include performances at Auditorium del Parco (L'Aquila, Italy), the Auditorium der Haniel Akademie (Duisburg, Germany), and at the Queen Elisabeth Music Chapelle (Waterloo, Belgium).
Based in Berlin, Trio Agora is currently studying at the Hanns Eisler conservatory with Eberhard Feltz and Martin Spangenberg. Previous mentors include Heime Müller and Sabine Meyer.

Booklet for Hotel Tango