---
J.S. Bach The Complete Works for Keyboard, Vol. 5, Toccata & Weimar 1708-1717 Benjamin Alard
Album info
Album including Album cover Booklet (PDF)
Johann Sebastian Bach (1685 - 1750):

1

Bach: Toccata in D Minor, BWV 565

07:39

2

Bach: "Wo Gott der Herr nicht bei uns hält", BWV 1128 (Chorale Prelude)

05:11

3

Bach: "Liebster Jesu, wird sind hier", BWV 731 (Chorale Prelude)

01:54

4

Bach: "Liebster Jesu, wird sind hier", BWV 730 (Chorale Prelude)

01:18

5

Bach: Prelude and fugue in C Major, BWV 545a (Early version)

05:24

6

Bach: "Jesu, meine Freude", BWV 713 (Chorale Prelude)

04:59

7

Bach: "Christus, der uns selig macht", BWV 747 (Chorale Prelude)

03:58

8

Bach: "Herzlich tut mich verlangen", BWV 727 (Chorale Prelude)

01:46

9

Bach: "Liebster Jesu, wird sind hier", BWV 706 (Chorale Prelude)

02:14

10

Bach: Prelude and Fugue in A Minor, BWV 543 (Early version BWV 543/1a for the Prelude)

09:04

11

Bach: Fantasia super "Christ lag in Todesbanden", BWV 695

03:28

12

Bach: Trio in D Minor, BWV 528/2a (Early version)

04:25

13

Bach: Toccata and Fugue in F Major, BWV 540

13:16

14

Bach: Toccata in C Minor, BWV 911

11:04

15

Bach: Prelude and Fugue in A Major, BWV 536a

06:51

16

Bach: Fantasia and Fugue in A Minor, BWV 904

07:58

17

Bach: Toccata in F-Sharp Minor, BWV 910

11:25

18

Bach: "Sei gegrüsset, Jesu gütig", BWV 768 (Chorale Partita)

10:25

19

Bach: Toccata and Fugue in D Minor, BWV 538

12:41

20

Bach: Toccata in G Major, BWV 916

08:52

Concerto in G Minor, BWV 985 (After Violin Concerto by Georg Philipp Telemann):

21

Bach: Concerto in G Minor, BWV 985 (After Violin Concerto by Georg Philipp Telemann): I. Allegro

02:54

22

Bach: Concerto in G Minor, BWV 985 (After Violin Concerto by Georg Philipp Telemann): II. Adagio

02:02

23

Bach: Concerto in G Minor, BWV 985 (After Violin Concerto by Georg Philipp Telemann): III. Allegro

02:16

Johann Sebastian Bach:

24

Bach: Nun komm, der Heiden Heiland, BWV 699 (Fughetta)

01:13

25

Bach: Vom Himmel hoch, da komm ich her, BWV 701 (Fughetta)

01:15

26

Bach: Gelobet seist du, Jesu Christ, BWV 697 (Fughetta)

00:58

27

Bach: Das Jesulein soll doch mein Trost, BWV 702 (Fughetta)

01:45

28

Bach: Gottes Sohn ist kommen, BWV 703 (Fughetta)

00:42

29

Bach: Lob sei dem allmächtigen Gott, BWV 704 (Fughetta)

00:55

30

Bach: Christum wir sollen loben schon, BWV 696 (Fughetta)

01:20

31

Bach: Herr Christ, der einig Gottes Sohn, BWV 698 (Fughetta)

01:15

Concerto in B-Flat Major, BWV 982 (After Johann Ernst of Saxe-Weimar's Violin Concerto, Op. 1 No. 1):

32

Bach: Concerto in B-Flat Major, BWV 982 (After Johann Ernst of Saxe-Weimar's Violin Concerto, Op. 1 No. 1): I. Allegro

02:24

33

Bach: Concerto in B-Flat Major, BWV 982 (After Johann Ernst of Saxe-Weimar's Violin Concerto, Op. 1 No. 1): II. Adagio - Allegro

03:45

34

Bach: Concerto in B-Flat Major, BWV 982 (After Johann Ernst of Saxe-Weimar's Violin Concerto, Op. 1 No. 1): III. Allegro

01:54

Concerto in D Minor, BWV 987 (After Johann Ernst of Saxe-Weimar's Concerto, Op. 1 No. 4):

35

Bach: Concerto in D Minor, BWV 987 (After Johann Ernst of Saxe-Weimar's Concerto, Op. 1 No. 4): I. Adagio - Presto - Adagio - Presto - Grave

02:05

36

Bach: Concerto in D Minor, BWV 987 (After Johann Ernst of Saxe-Weimar's Concerto, Op. 1 No. 4): II. Un poco allegro

02:19

37

Bach: Concerto in D Minor, BWV 987 (After Johann Ernst of Saxe-Weimar's Concerto, Op. 1 No. 4): III. Adagio

00:31

38

Bach: Concerto in D Minor, BWV 987 (After Johann Ernst of Saxe-Weimar's Concerto, Op. 1 No. 4): IV. Vivace

01:24

Johann Sebastian Bach:

39

Bach: Gelobet seist du, Jesu Christ, BWV 722 (Passaggio Chorale)

01:09

40

Bach: Lobt Gott, ihr Christen, allzugleich, BWV 732 (Passaggio Chorale)

01:10

41

Bach: In dulci jubilo, BWV 729 (Passaggio Chorale)

02:24

42

Bach: Vom Himmel hoch, da komm ich her, BWV 738a (Early version) (Passaggio Chorale)

01:02

43

Bach: Prelude and Fugue in A Minor, BWV 895

03:05

Concerto in C Minor, BWV 981 (After Benedetto Marcello's Concerto, Op. 1 No. 2):

44

Bach: Concerto in C Minor, BWV 981 (After Benedetto Marcello's Concerto, Op. 1 No. 2): I. Adagio

02:03

45

Bach: Concerto in C Minor, BWV 981 (After Benedetto Marcello's Concerto, Op. 1 No. 2): II. Vivace

02:06

46

Bach: Concerto in C Minor, BWV 981 (After Benedetto Marcello's Concerto, Op. 1 No. 2): III. Adagio

02:04

47

Bach: Concerto in C Minor, BWV 981 (After Benedetto Marcello's Concerto, Op. 1 No. 2): IV. Prestissimo

05:08

Total Runtime

03:05:00
Info for J.S. Bach The Complete Works for Keyboard, Vol. 5, Toccata & Weimar 1708-1717

With Volume 5, Benjamin Alard closes the trilogy dedicated to the Weimar period.
Here we reach the toccatas, preludes, fantasies and fugues that show the extent to which Bach now mastered French and Italian influences, only to emancipate himself from them and compose in complete freedom.
An unexpected instrument makes its first appearance in this complete recording played on the finest historical keyboards: the clavichord, perfectly at home alongside the organ and the harpsichord.
Benjamin Alard, organ, harpsichord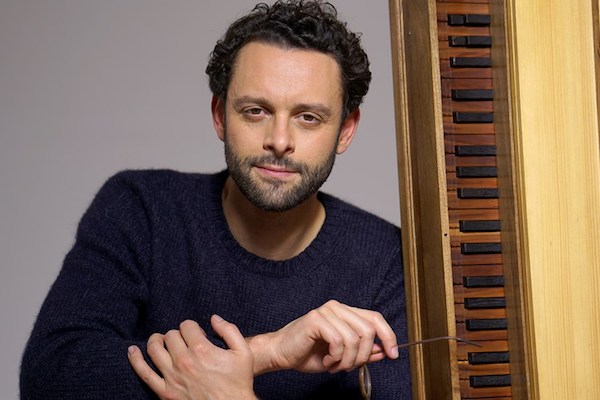 Benjamin Alard
Benjamin's principal passion has always been the music of J.S. Bach and it was for his interpretation of this great composer that he was awarded first prize in the 2004 International Harpsichord Competition in Bruges.
While still quite young he began studying music in his hometown in Dieppe, France. He was soon drawn to the organ and entered the Conservatory of Rouen where he studied with Louis Thiry and François Ménissier.
He was first introduced to the harpsichord by Elizabeth Joyé, with whom he studied in Paris before going on, in 2003, to the Schola Cantorum in Basel to work with Jorg-Andreas Botticher, Jean-Claude Zehnder and Andrea Marcon.
Since 2005 he has been organist of the Bernard-Aubertin organ in the church of Saint-Louis-en-l'Ile where each season he gives concerts about the music of Bach.
Today Benjamin Alard divides his time between performing recitals and chamber music on both the harpsichord and organ. He often performs repertoire for two harpsichords, in duo with the violinist Francois Fernandez and in various formations with the brothers Barthold, Sigiswald and Wieland Kuijken. He is regularly invited to perform as soloist in music series in Europe, Japan and North America.
Since 2005 he has been a member of La Petite Bande, an ensemble founded in 1973 by Gustav Leonhardt and Sigiswald Kuijken, often, in the last few years, conducting the group from the harpsichord.
Benjamin Alard has recorded for the label Hortus and has made several recordings of works by J. S. Bach for Alpha. His recordings have consistently received high praise from the press and have been awarded multiple prizes.
He will now devote himself to the complete works for harpsichord and organ solo of Johann Sebastian Bach for harmonia mundi. The first box will be released in Spring 2018.

Booklet for J.S. Bach The Complete Works for Keyboard, Vol. 5, Toccata & Weimar 1708-1717