---
Album info
Album including Album cover Booklet (PDF)
1

Morón en la Frontera

05:34

2

Plegaria

03:33

3

Agua Brava

03:25

4

Medina Sidonia

05:11

5

Puente Romaní

03:22

6

Caleras del Prado

03:17

7

Zambra Gitana

04:03

8

A la Orilla de la Caleta

03:25

9

Por una Cabeza

04:28

10

Hermano Santo

04:25

Total Runtime

40:43
Info for Flamenco: Pasado y Presente

Ignacio Lusardi Monteverde explores the historical and musical interactions of various travelling groups, and how they have influenced the different toques heard today in flamenco music. While exploring the origins of these different styles, and how they have been established, developed, and transmitted over the centuries, he crafts his own beautiful avant-garde compositions.
Flamenco is a time-honoured practice that encompasses a wide range of artistic styles and emotions. Vocal expressions of deep joy or heartache are conveyed through cante (song), which often include poetic lyrics. The dance form of flamenco known as baile communicates heartfelt passion and engaging romances – all entwined with emotions from ecstaticity to sadness. And then there is El toque, the art of playing the flamenco guitar via the many diverse rhythmic forms used in the genre. The term toque derives from the Spanish word tocar, meaning 'to touch' or 'to hit' the guitar. El toque has evolved from its original role as an accompaniment to become its own artform, accompanied by hand-clapping, foot-stomping and castanets. And now, as heard here with Ignacio's compositions, accompanied by bass, cajón, caxixi and South Indian and Middle Eastern drums.
Pinpointing the exact origins of flamenco is as difficult as identifying that first spark in a passionate romance. It kindled around the 11th century when nomadic groups from the Rajasthan and Punjab regions of India travelled to the Iberian Peninsula. Their unique style of folk music, song and dance united effortlessly with the local Andalusian folk music – already a beautiful amalgamation of Byzantine, Moorish and Jewish traditions. It was this worldwide matrimony that initially sparked the flamenco genre that we know today. Flamenco's long-sustained cultural significance was highlighted in 2010, when it was inscribed on UNESCO's Representative List of the Intangible Cultural Heritage of Humanity.
Unearthing these historical influences, Ignacio explores the musical interactions of these various cultures, and their effects on the numerous toques heard today. Within his own compositions, inspired by his travels around the Andalusian provinces, India and the Middle-East, he embraces the original modes, melodic phrases, specific tempos and rhythms that have been developed and passed down over the centuries.
Ignacio Lusardi Monteverde, classical guitar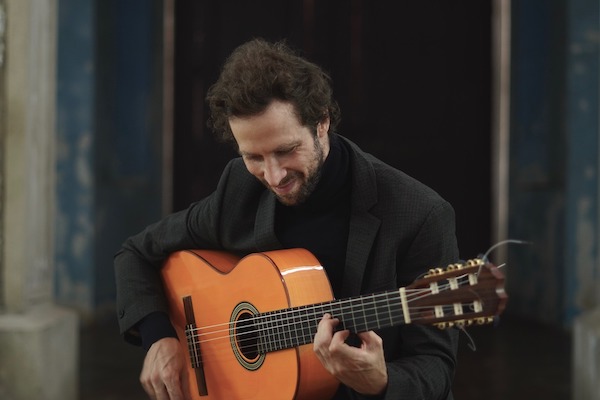 Ignacio Lusardi Monteverde
Born and raised in Buenos Aires, into an Argentinian/Italian family, Ignacio started playing the guitar aged six. Inspired by his cultural surroundings, he played with his siblings as a family pastime, learning Argentinian folk songs and tango music.
His passion for flamenco started, aged nine, when he discovered the works of the Spanish flamenco guitarist Paco de Lucia. His desire to pursue the flamenco genre eventually took him to London in 2013, where he became musically connected with Spain and the rest of the world.
Ignacio is now an acclaimed London-based flamenco guitarist, producer and recording engineer. He graduated as a choir master at Buenos Aires Conservatoire in 2013, and has since collaborated with several performers including Ahmed Mukhtar, Baluji Shrivastav OBE and Eduardo Niebla. He has featured in live appearances at BBC Radio 3, London Festival of Baroque Music, Indian National Theatre and the Iraq Babylon Great Theatre, amongst others.
In 2019, he was awarded the LATIN UK AWARDS for Musician of the Year, and, in 2020, was assigned as a member of the Guild of Musicians & Singers. This same year he was awarded by the North & Midlands School of Music with an Honorary Fellowship, and, in 2021, with the honorary degree of Doctor of the University by JH Pestalozzi University. This was for his outstanding contribution to world music, both as performer and audio engineer.
Ignacio has produced an extensive array of recordings, including multiple albums at the iconic Abbey Roads Studios, in collaboration with the British Museum, Royal College of Music, and the Guildhall School of Music and Drama.
He has previously worked with the Latin American Baroque Festival of Buenos Aires and other festivals such as Ketevan World Sacred Music Festival (India) and London Strings Festival (UK).

Booklet for Flamenco: Pasado y Presente