---
Album info
Label: Warner Classics
Genre: Classical
Subgenre: Vocal
Artist: Michael Spyres, Il pomo d'oro & Francesco Corti
Composer: Jean-Baptiste Lully (1632-1687), Georg Friedrich Händel (1685-1759), Antonio Vivaldi (1678-1741), Leonardo Vinci (1690-1730), Nicola Antonio Porpora (1686-1768), Domenico Sarro (1679-1744), Baldassare Galuppi (1706-1785), Gaetano Latilla (1711-1788), Johann Adolph Hasse (1699-1783), Jean Philippe Rameau (1683-1764), Antonio Mazzoni (1717-1785), Christoph Willibald Gluck (1714-1787)
Album including Album cover Booklet (PDF)
I`m sorry!
Dear HIGHRESAUDIO Visitor,
due to territorial constraints and also different releases dates in each country you currently can`t purchase this album. We are updating our release dates twice a week. So, please feel free to check from time-to-time, if the album is available for your country.
We suggest, that you bookmark the album and use our Short List function.
Thank you for your understanding and patience.
Yours sincerely, HIGHRESAUDIO
Jean-Baptiste Lully (1632 - 1687): Persée, LWV 60, Act 5:

1

Lully: Persée, LWV 60, Act 5: "Cessons de redouter la fortune cruelle" (Persée)

01:26

2

Lully: Persée, LWV 60, Act 5: Passacaille

02:45

George Frideric Handel (1685 - 1759): Tamerlano, HWV 18, Act 3:

3

Handel: Tamerlano, HWV 18, Act 3: "E il soffrirete, d'onestade, oh Numi?" - "Empio, per farti guerra" (Bajazet)

04:25

Antonio Vivaldi (1678 - 1741): Artabano, re de' parti, RV 701, Act 3:

4

Vivaldi: Artabano, re de' parti, RV 701, Act 3: "Cada pur sul capo audace" (Artabano)

04:00

Leonardo Vinci (1452 - 1519): Catone in Utica, Act 1:

5

Vinci: Catone in Utica, Act 1: "Si sgomenti alle sue pene" (Catone)

03:38

Nicola Porpora (1686 - 1768): Germanico in Germania, Act 1:

6

Porpora: Germanico in Germania, Act 1: "Nocchier, che mai non vide l'orror della tempesta" (Segeste)

03:53

Domenico Sarro (1679 - 1744): Achille in Sciro, Act 1:

7

Sarro: Achille in Sciro, Act 1: "Fra l'ombre un lampo solo" (Ulisse)

08:16

Baldassare Galuppi (1706 - 1785): Alessandro nell'Indie, Act 1:

8

Galuppi: Alessandro nell'Indie, Act 1: "Vil trofeo dun alma imbelle" (Alessandro)

08:21

Gaetano Latilla (1711 - 1788): Siroe, re di Persia, Act 1:

9

Latilla: Siroe, re di Persia, Act 1: "Se il mio paterno amore" (Cosroe)

06:12

Johann Adolf Hasse (1699 - 1783): Arminio, Act 1:

10

Hasse: Arminio, Act 1: "Solcar pensa un mar sicuro" (Segeste)

05:11

Jean-Philippe Rameau (1683 - 1764): Naïs, Act 3:

11

Rameau: Naïs, Act 3: "Cessez de ravager la terre" (Neptune)

03:15

Antonio Maria Mazzoni (1717 - 1785): Antigono, Act 1:

12

Mazzoni: Antigono, Act 1: "Tu m'involasti un regno" (Antigono)

06:15

Christoph Willibald Gluck (1714 - 1787): Orphée et Eurydice Wq. 41, Act 4:

13

Gluck: Orphée et Eurydice Wq. 41, Act 4: "J'ai perdu mon Euridyce" (Orphée)

04:38

Wolfgang Amadeus Mozart (1756 - 1791): Mitridate, rè di Ponto, K. 87, Act 1:

14

Mozart: Mitridate, rè di Ponto, K. 87, Act 1: "Se di lauri" (Mitridate)

05:18

Niccolò Piccinni (1728 - 1800): Roland, Act 1:

15

Piccinni: Roland, Act 1: "En butte aux fureurs de l'orage" (Médor)

05:15

Total Runtime

01:12:48
Info for Contra-Tenor

With Contra-Tenor, Michael Spyres challenges perceptions of the tenor in the Baroque era, often seen as the age of the castrato. In the company of Il Pomo d'Oro and conductor Francesco Corti, he explores the period from the late 17th century to the 1770s, tracing the course of opera in both the French and Italian styles. The 15 arias range from Lully to early Mozart by way of Handel, Vivaldi, Rameau, Gluck and composers such as Hasse, Galuppi and Latilla (represented by world premiere recordings), and Mazzoni and Sarro (represented by first studio recordings). Spyres' exceptional credentials for this virtuoso repertoire have been summed up by Gramophone magazine: a "superb artist whose voice [is] perfectly equalised over more than two-and-a-half octaves," notable for "exceptional artistry, formidable technique and seemingly limitless understanding of style."
Michael Spyres, tenor
il Pomo d'Oro
Francesco Corti, conductor, harpsichord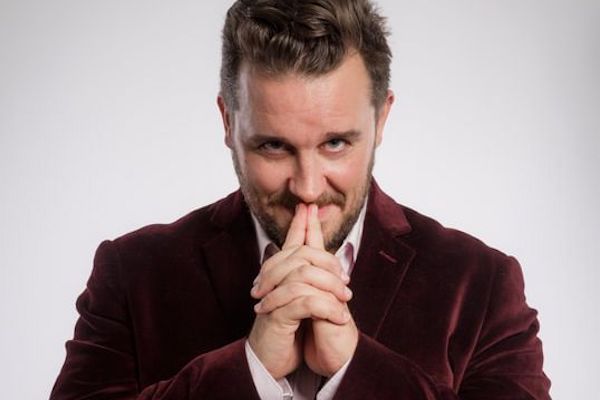 Michael Spyres
was born and raised in the Ozarks and grew up in an extremely musical family. Mr. Spyres is one of the most sought-after Tenors of his generation with 8 DVD's and 25 cd's to his name, he has been celebrated on the world's most prestigious international opera houses, festivals and concert halls. Accomplished and acclaimed in the widest range of repertoire, his unique career has taken him from every genre from Baroque to Classical to 20th century, while firmly establishing himself as an expert within the Bel Canto repertoire as well as within Rossini and French Grand Opera.
The 2021/2022 season sees Michael's solo album debut, BariTenor, for Warners/Erato with the Strasbourg Philharmonie under the baton of Marko Letonja as well as his return to the stage in an incredibly wide range of repertoire from Lieder to BelCanto and Wagner to French Grand Opera and Verismo. This exciting season will see his return as Florestan in Fidelio with Raphael Pichon and Pygmalion at Opera Comique de Paris, his role debut as Wagner's Tristan in a concert version of Act 2 with Opera de Lyon, his role debut as Canio in Leoncavallo's Pagliacci with the OLOpera, his return as Romeo to the Houston Grand Opera, as well as his anticipated debut in the title role of Mozart's Idomeneo in Baden-Baden. In addition to the opera stage he will make his recital debut with Mathieu Pordoy in Atelier Lyrique deTourcoing, Theatre du Capital Toulouse, Festival Les Volques, as well as two separate recitals in Paris. On the concert stage Michael will star with the Ravello Festival, Opera Philadelphia, Strasbourg Philharmonie, Accademia Nazionale di Santa Cecilia , Gran Theatre de Liceu, Theater an der Wien, Theatre des Champs Elysees, and Teatro alla Scala.
Since 2015 Michael has had the honor to be the only International Opera Star who is not just a performer but also an impresario. Mr. Spyres has been the Artistic Director of his hometown opera company, the Ozarks Lyric Opera and has been involved in every aspect of the renaissance of his regional company. In addition to being the active Artistic Director he has translated libretti and actively teaches masterclasses while guiding young artists careers. The last years have seen him produce numerous events as well as 5 operas and gala concerts. For the 2019/2020 season Michael wrote/produced the 40th anniversary gala as well as an original pastiche on the life of Handel. This season will see his return to the OLOpera's main stage in over 10 years to star in his original vaudeville pastiche coupled with his role debut as Canio in his original concept of Leoncavallo's Pagliacci.
Michael has worked with some of the world's most renowned conductors such as Riccardo Muti, Sir John Eliot Gardiner, Sir Mark Elder, Valery Gergiev, Emmannuelle Haim, Sir Andrew Davis, Fabio Luisi, Michele Mariotti, Alberto Zedda, and John Nelson. In his meteoric rise Michael has quickly established himself as one of the greatest singers of his generation and has already sung at many of the world's most prestigious Opera houses and festivals worldwide such as Teatro San Carlo, Teatro dell'Opera di Roma, Teatro alla Scala, Teatro Comunale di Bologna, Aix en Provence Festival, Opera National de Bordeaux, Opera Comique, Théâtre des Champs Elysées, Covent Garden, English National Opera, Nederlands National Opera, Deutsche Oper Berlin, Berliner Festspiele, Opera Theatre Saint Louis, Chicago Lyric Opera, Houston Grand Opera, Metropolitan Opera, Gran Teatre del Liceu, ABAO Bilbao Opera, Teatro Real de Madrid, Wiener Staatsoper, and the Salzburger Festspiele.
In addition to his operatic career Mr. Spyres is equally accomplished within the concert world and has given concerts and recitals in Moscow, Saint Petersburg, Prague, Pesaro, Bologna, Napoli, Sao Paulo, A Coruna, Tokyo, Cape Town, Shanghai, Vienna, Dresden, Berlin, Munich, Lyon, Paris, Amsterdam, New York, Los Angeles, and Chicago.
This and future seasons will see him star at the Metropolitan Opera New York, Theater an der Wien, Gran Teatro de Liceu, as well as his return to the Theater an der Wien, Opéra National of Paris, Théatre Champs Elysée, Opéra Comique, Opera de Lyon, Houston Grand Opera, Opera Philadelphia, and his hometown opera, the OLOpera in Springfield, MO, USA.

Booklet for Contra-Tenor