---
Album info
Label: Deutsche Grammophon (DG)
Genre: Classical
Subgenre: Concertos
Artist: Camille Thomas
Composer: Fazil Say (1970), Maurice Ravel (1875-1937), Christoph Willibald Gluck (1714-1787), Max Bruch (1838-1920), Richard Wagner (1813-1883), Antonin Dvorak (1841-1904), Jules Massenet (1842-1912), Gaetano Donizetti (1797-1848), Giacomo Puccini (1858-1924), John Williams (1932)
Album including Album cover
I`m sorry!
Dear HIGHRESAUDIO Visitor,
due to territorial constraints and also different releases dates in each country you currently can`t purchase this album. We are updating our release dates twice a week. So, please feel free to check from time-to-time, if the album is available for your country.
We suggest, that you bookmark the album and use our Short List function.
Thank you for your understanding and patience.
Yours sincerely, HIGHRESAUDIO
Maurice Ravel (1875 - 1937):

1

Ravel: Deux mélodies hébraïques, M. A22: 1. Kaddisch (Transcr. For Cello And Orchestra By Richard Tognetti)

04:59

Christoph Willibald von Gluck (1714 - 1787):

2

Gluck: Orfeo ed Euridice, Wq. 30 / Act 2: Dance Of The Blessed Spirits (Arr. For Cello And Strings By Mathieu Herzog)

03:07

Henry Purcell (1659 - 1695):

3

Purcell: Dido and Aeneas, Z. 626 / Act 3: "When I Am Laid In Earth" Dido's Lamento (Arr. For Cello And Strings By Mathieu Herzog)

03:48

Fazil Say (b. 1970): Concerto For Cello And Orchestra "Never Give Up", Op. 73:

4

Say: Concerto For Cello And Orchestra "Never Give Up", Op. 73: 1. Never Give Up

08:41

5

Say: Concerto For Cello And Orchestra "Never Give Up", Op. 73: 2. Terror - Elegy

06:47

6

Say: Concerto For Cello And Orchestra "Never Give Up", Op. 73: 3. Song Of Hope

06:00

Max Bruch (1838 - 1920): "Kol Nidrei" Adagio For Cello And Orchestra, Op. 47:

7

Bruch: "Kol Nidrei" Adagio For Cello And Orchestra, Op. 47: 1. Adagio ma non troppo

05:26

8

Bruch: "Kol Nidrei" Adagio For Cello And Orchestra, Op. 47: 2. Un poco più animato

05:09

Richard Wagner (1813 - 1883):

9

Wagner: Wesendonck-Lieder, WWV 91: 5. Träume (Arr. For Cello And Orchestra By Mathieu Herzog)

04:52

Antonín Dvořák (1841 - 1904):

10

Dvořák: Gypsy Melodies, Op.55, B. 104: 4. Songs My Mother Taught Me (Adapt. For Cello And Orchestra)

03:16

John Williams (b. 1932):

11

Williams: Theme From "Schindler's List" (Adapt. For Cello And Orchestra)

04:14

Jules Massenet (1842 - 1912):

12

Massenet: Werther / Act 3: "Pourquoi me réveiller" (Adapt. For Cello And Orchestra)

02:58

Gaetano Donizetti (1797 - 1848):

13

Donizetti: L'elisir d'amore / Act 2: "Una furtiva lagrima" (Adapt. For Cello And Orchestra)

04:10

Vincenzo Bellini (1801 - 1835):

14

Bellini: Norma / Act 1: "Casta Diva" (Arr. For Cello And Orchestra By Mathieu Herzog)

05:15

Wolfgang Amadeus Mozart (1756 - 1791):

15

Mozart: Don Giovanni, K. 527 / Act 1: "Dalla sua pace" (Adapt. For Cello And Orchestra)

03:28

Giuseppe Verdi (1813 - 1901):

16

Verdi: Nabucco / Act 3: "Va, pensiero" (Arr. For Cello And Orchestra By Mathieu Herzog)

03:07

Franz Schubert (1797 - 1828):

17

Schubert: Erlkönig, D. 328 (Adapt. for Cello and Orchestra)

03:52

18

Schubert: Gretchen am Spinnrade, D. 118 (Adapt. for Cello and Orchestra)

03:03

Arvo Pärt (b. 1935):

19

Pärt: Vater Unser (Version for Cello and Piano)

02:38

Total Runtime

01:24:50
Info for Voice Of Hope (Extended Edition)

"Beauty will save the world," wrote Dostoyevsky, which is the claim that Camille Thomas makes throughout this record. Not beauty for the sake of hedonism, but a beauty that believes there is a burning line to be drawn between pain and hope. Camille Thomas' new album illustrates this, structured like an archipelago surrounding the Cello Concerto composed by Fazil Say. Camille Thomas gave its premiere in 2018, and her album spanning the work of ten composers, allows us to travel the path from pain to hope. On the threshold, we meet three pieces: the heart-rending melody of the Kaddisch by Ravel, a sublimation of the Jewish prayer for the dead; the lamentation from Purcell's Dido, quasi a lullaby from the queen who awaits her death, in a nakedness without pathos; and between those two works, the tender Dance of the Blessed Spirits from Gluck's Orfeo, in which we hear the first signals of hope. The album is available today for pre-order and is accompanied by the pre-release track of Gluck's Dance of the Blessed Spirits from his opera Orfeo ed Euridice.
Camille Thomas, cello
Brussels Philharmonic Orchestra
Stéphane Denève, conductor
Mathieu Herzog, conductor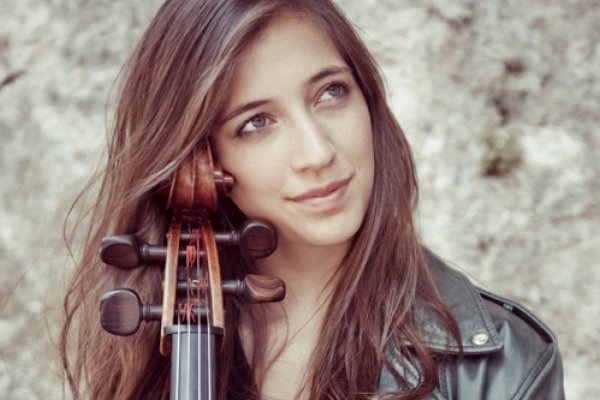 Camille Thomas
2014 wurde die franko-belgische Cellistin Camille Thomas von den "Les Victoires de la Musique", dem französischen Pendant zu den Grammys, als Newcomerin des Jahres ausgezeichnet. Kurz danach hat sie als belgische Vertreterin beim European Broadcasting Union-Competiton den ersten Preis gewonnen und wurde als "New Talent of the Year 2014" ausgezeichnet. Zuvor hat sie bereits zahlreiche Preise bei nationalen und internationalen Wettbewerben gewonnen.
Geboren 1988 in Paris, hat sie im Alter von 4 Jahren mit dem Cello-Spiel begonnen. Nach ersten Jahren bei Marcel Bardon und Philippe Muller in Paris, studierte sie zunächst an der Hanns Eisler-Musikhochschule in Berlin bei Stephan Forck und Frans Helmerson und dann bei Wolfgang-Emmanuel Schmidt an der Hochschule für Musik Franz Liszt in Weimar.
Bereits während ihres Studiums konzertierte Camille Thomas mit großem Erfolg und nach zahlreichen Wiedereinladungen in renommierten Konzertsälen wie der Salle Gaveau und dem Théâtre des Champs-Elysées in Paris, der Victoria Hall in Genf, der Bozar in Brüssels, dem Jerusalem Music Center und dem Berliner Konzerthaus. Sie spielt regelmäßig mit Orchestern wie der Sinfonia Varsovia, der Philharmonie Baden-Baden, dem Brussels Philharmonic Orchestra, der Slovak Philharmonic, der Orchestre Lamoureux, der Orchestre Philharmonique Royal de Liège, der Orchestre de la Garde Républicaine, der Orchestre Symphonique de Bretagne, der Orchestre des Nations-Unies, der La Baule Symphonic, der Junge Sinfonie Berlin…
Neben ihrer solistischen Tätigkeit ist Camille Thomas eine begeisterte Kammermusikerin und spielt mit Musikerkollegen wie Menahem Pressler, Franck Braley, Beatrice Berrut, Julien Libeer und Lorenzo Gatto. 2011 und 2012 wurde sie an Seji Ozawas Internationale Musikakademie in der Schweiz eingeladen. Ihr Debütalbum "A Century of Russian Colours" für Fuga Libera mit Beatrice Berrut, erschienen 2013, erhielt hervorragende Besprechungen in der internationalen Presse. Ihr zweites Album "Reminiscences" mit Julien Libeer für La Dolce Volta erscheint im September 2016 und ist ganz der französischen Kammermusik gewidmet.
Im Februar 2016 war Camille Thomas in der Arte-Sendung "Stars von morgen" mit Rolando Villazon zu sehen. Medici TV hat ihr Konzert vom Juli 2016 aus Flâneries Musicales de Reims aufgezeichnet. Die Höhepunkte der Saison 2016/2017 sind Konzerte in Berlin und München sowie die Uraufführung eines neuen Cellokonzertes, das der türkische Pianist und Komponist Fazil Say für sie schreibt. Die Uraufführung wird im 2017 in Paris sein.
Camille Thomas spielt ein wertvolles Instrument von Ferdinand Gagliano von 1788 aus Neapel, die "Chateau Pape-Clement", eine großzügige Leihgabe von Bernard Magrez.
Camille Thomas
Nominated as Newcomer of the year 2014 by the French-Grammys ' Les Victoires de la Musique', the Franco- Belgian cellist Camille Thomas was chosen by Musiq'3 - RTBF to represent Belgium at the European Broadcasting Union Competition, where she was awarded the 1st price and named "New Talent of the Year 2014".
She has won numerous prizes at national and international competitions, including the Seventh Antonio Janigro International Competition in Croatia, the Yamaha Music Foundation of Europe Strings Competition, the Edmont Baert Competition and the Léopold Bellan Competition. She just signed as an exclusive artist with Deutsche Grammophon international, becoming the first Belgian artist to sign with the prestigious yellow label.
The season 2017/18 will include the release of her first album for Deutsche Grammophon with the Orchestre de Lille conducted by Alexandre Bloch. She will play the world premiere of Fazil Say's cello concerto, a piece he is writing especially for her, on April 2018 at the Théâtre des Champs-Elysées with the Orchestre de chambre de Paris conducted by Douglas Boyd. She is also invited to perform with the Bremer Kammerorchester under Paavo Jarvi, Staatsorchester Hambourg in the Elbphilharmonie under Alondra de la Parra, the Lucerne Festival Strings in the Herkulessaal in Munich, the Orchestre National de Bordeaux, the Orchestre de l'Opéra de Toulon, the North Czech Philharmonic, the Krakow Philharmonic, the Aarhus Symphony Orchestra, the Orchestre de Massy, the Orchestre d'Avignon, the Orchestre Royal Philharmonique de Liège, the Orchestre de Bretagne...
She is a regular guest at leading venues such as the Salle Gaveau, the Théâtre des Champs-Élysées, the Victoria Hall in Geneva, the Palais des Beaux-Arts in Brussels, the Jerusalem Music Center and the Berlin Konzerthaus.
She regularly appears as a soloist with orchestras such as the Sinfonia Varsovia, Orchestre Philarmonique de Baden Baden, Brussels Philharmonic Orchestra, Orchestre National de Lille, Orchestre de Picardie, Orchestre Philharmonique Slovaque, Orchestre de la Radio Slovaque, Orchestre Symphonique de Bretagne, Orchestre Philharmonique Royal de Liège, Orchestre Lamoureux, Orchestre de la Garde Républicaine, Orchestre des Nations-Unies, La Baule Symphonic, Junge Sinfonie Berlin etc under the baton of conductors such as Theodor Guschlbauer, Darrell Ang, Faycal Karoui, Jean-Christophe Ferreaux, Pavel Baleff, Kriistina Poska, Debora Waldman, Giedre Slekyte, David Navaro-Turres, Antoine Marguier, Rastislav Stur ou Aziz Shokhakimov...
Her debut album « A Century of Russian Colors » for the label Fuga Libera (Outhere) released in May 2013 has been very well received by the international press (Choix de France Musique, 5* Volkskrant and 4* La Libre Belgique, Klara 10 Beste). Her second recording « Réminiscences » dedicated to French music with the pianist Julien Libeer, has been released in the Fall 2016 on the label La Dolce Volta and has been awarded a CHOC Classica among other prices . Her concerts are regularly broadcasted on international radios and TV such as ARD Das erste, BR, Arte, TF1, France Musique, Radio Classique, Espace 2, DR Danemark, Musiq'3-RTBF, Deutscher Rundfunk etc.
She has been chosen to be one of the « Stars of Tomorrow » by Rolando Villazon for his TV show presented on Arte in March 2016.
Camille studied in Frans Helmerson's and Wolfgang-Emmanuel Schmidt's class at the Hochschule für Musik Hanns Eisler in Berlin, after working with Marcel Bardon and Philippe Muller in Paris and Stephan Forck in Berlin.
She plays a magnificent instrument by Ferdinand Gagliano (Napoli, 1788), the "Château Pape-Clément", on a generous loan from Bernard Magrez.

This album contains no booklet.