---
Album info
Album including Album cover
1

Under Weather

04:56

2

Plate

05:21

3

Faggio

04:25

4

Simple Melody

05:21

5

Soy

03:29

6

Thread

03:24

7

WigWag

03:53

8

Miracle Beams Surrounding

04:20

9

Canto

01:28

10

Spacemen

02:51

11

Derailer/Rooms

03:06

12

Dole over Beethoven

02:33

Total Runtime

45:07
Info for Canto

With a buzz in our ears, we sing our way through the cantos of a new book. Shout – or whisper – our musical poetry into a spacious realm of warm analog keyboards, strings and reeds, flooded with subtle electronics, granular processing and microtonality. Interwoven contemporary chamber music tableaux are carefully folded into a unique multilayered electroacoustic blend – grandiose and yet intimate.
Maniscalco/Bigoni/Solborg navigate freely with and around original materials. This is about improvising as a unit while honouring or challenging the idea of a song. To instantly react to each other and create chamber-like music with a strong presence, that bridges melodic poetry and contemporary abstraction. This music does not care about genre or style. It is essentially about musical conversation and made for ears interested in dialogue.
The Danish/Italian trio has worked their musical approach intensely for a decade. The results can be heard on its two prior albums, praised internationally by audience and critics. With CANTO, the three musicians bring their work and musical approach into a new crisp territory.
Francesco Bigoni, tenor & alto saxophone, clarinet
Mark Solborg, guitars, devices & electronics
Emanuele Maniscalco, Fender Rhodes, piano & keyboards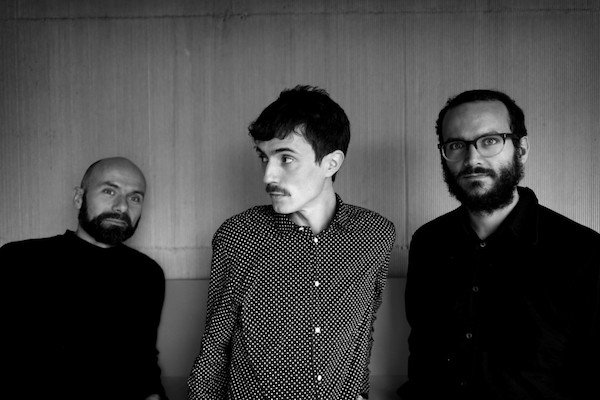 Emanuele Maniscalco
(Brescia, 1983) is an Italian multi-instrumentalist and composer. Since a young age, he showed a strong interest in jazz and improvised music. Although his first instrument was the piano, at age 12 he took up the drums, which would soon become his green card to the local jazz scene. By 21 he was already touring and recording with the most influential players in Italy, including Enrico Rava, Stefano Battaglia, Emanuele Cisi, Ares Tavolazzi. By the age of 23 though, he felt that his first instrument could not be left behind, so he decided to go back to the piano and dive into it. That almost meant starting his career anew, and the whole process resulted in a double amount of inputs shaping up his musical identity.
Although Emanuele is mostly self-taught, an important confirmation came when he was accepted into the Soloist line (Advanced Post-graduate Diploma) at the Rhythmic Conservatory in Copenhagen, where he graduated in 2014. Moving to Denmark allowed him to expand his network dramatically with new and interesting collaborations. At about the same time, he started recording and releasing his music with the German label ECM (two albums with the band "Third Reel", a collective project with Swiss musicians Roberto Pianca and Nicolas Masson).
Among the ILK members, Emanuele immediately found a meaningful correspondence with Mark Solborg, Qarin Wikström, Nils Davidsen and Francesco Bigoni (whom he had already worked extensively with in Italy), although new encounters are yet to come. A consistent affinity with the deep, multifaceted, crossing aesthetics which characterize the Danish collective naturally led to his recruitment, in the summer of 2014. Since then, Emanuele has been spending his time between Italy, Denmark and Sweden, constantly encouraging artistic exchanges between the three countries.
On ILK, he has so far released two albums: "Copenhagen Season" (2014) (a collection of duo improvisations with US bass player Thomas Morgan) and the critically-acclaimed "Maniscalco/Bigoni/Solborg" (2015).
Francesco Bigoni
Born in Ferrara, Italy, 1982. Mainly self-taught, he rapidly finds his own spot on the Italian creative scene, sharing the stage with the likes of Enrico Rava, Stefano Battaglia, Gianluca Petrella, Greg Cohen. He experiments strategies of collective production since 2005, as a member of El Gallo Rojo (www.elgallorojorecords.com) label/collective. Based in Copenhagen since 2009, ILK member since 2014. Graduated from the Soloist line at the Rhythmic Music Conservatory.
Can be heard as a sideman with Francesco Diodati Neko, Giulio Corini Libero Motu, Danilo Gallo Dark Dry Tears (feat. Francesco Bearzatti and Jim Black), Zeno De Rossi Trio, Alfonso Santimone Laser Pigs, Morten Pedersen Kvintet, Maria Faust Sacrum Facere. He co-leads the Italian-Danish quintet On Dog, which has toured extensively in Italy, Germany, Denmark and Luxembourg since 2012 (Copenhagen Jazzhouse, Casa del Jazz – Rome, Loft – Cologne, Copenhagen Jazz Festival, Abbaye de Neumünster – Luxembourg, Metastasio Jazz – Prato, Correggio Jazz, ...) and released two albums on ILK (Part I – Sloeblack and Part II – White Horse y La Rumba); the trio with Emanuele Maniscalco and Mark Solborg, featured on ILK as well.
Mark Solborg
I strive to create contemporary music that require presence, and in different ways – with respect – challenges tradition, listener and musician. Music where the sum of the collective efforts is greater than the individual performance. A personal and unpolished approach is a key ambition.
I have since 2000 as composer, leader or co-leader released 19 albums with original works. Besides that a substantial amount of music for plays and film. Awards, prizes and nominations include Danish Arts Agency, The Spanish Cultural Ministry, Danish Music Awards Jazz, CPH Dox, a.o. See reviews and info elsewhere on these pages.
From 2000 and onwards I have written and developed music for the groups and projects Mark Solborg 4, ON DOG (ITA/DK/LUX), Solborg/Skjødt – Omdrejninger feat. Axel Dörner and Ingar Zach (DK/DE/NO), Herb Robertson/Mark Solborg duo (DK/US), Maniscalco/Bigoni/Solborg (DK/ITA), Solborg 4+4+1 feat. Chris Speed and Hank Roberts (DK/N/US), Mark Solborg & Simon Toldam Duo , Solborg/Dörner/Toldam/Yoshigaki (DK/DE/JP), Polyfonias (DK/E), moLd (DK/D), Mark Solborg Trio feat. Evan Parker & Herb Robertson (DK/UK/N/US), Solborg/Banke Duo, Short Story Compositions (Banke/Solborg duo with various poets. Jan Sonnergaard, Kristina Stolze, Pia Juul, a.o), Hopscotch (ITA/DK/CAN), Anderskov/Solborg Duo, poetry by Peter Wessel og Adda Djørup, Revolver (DK/N/L), Ventilator, a.o.. The music has been performed at venues and festivals in Denmark, Sweden, Norway, Finland, Faroe Islands, Lithuania, Latvia, Estonia, Wales, Ireland, France, Germany, UK, Luxembourg, Netherlands, Malta, Spain, Italy, Poland, Syria, USA, China, Brazil, Japan, a.o. by musicians from 15 different nations.

This album contains no booklet.