---
Album info
Album including Album cover
1

Sum It up (Disturbing the Peace)

05:32

2

Along Goes Betty

05:17

3

Waterfalls

05:48

4

Good Times

05:19

5

Tackle and Dabble

05:55

6

In a Sentimental Mood

06:30

7

Feel the Beat

05:04

8

J'me Prépare

06:35

9

I Will Build Myself a Nation (Biding My Time)

06:12

10

Rebirth

03:43

Total Runtime

55:55
Info for And Still We Sing

Die große Diva der Niederlande, Fay Claassen, hat sich mit dem begnadeten belgischen Sänger, Komponisten, Texter und langjährigen Pariser DDavid Linx auf "And Still We Sing" zusammengetan; einer großartigen Kollaboration mit der WDR BIG BAND Köln unter der Leitung von MAGNUS LINDGREN. CLAASSEN bringt ihre kristallklare Stimme und ihre abenteuerlichen Scatting-Künste in das Programm ein und verschmilzt auf wunderbare Weise mit LINX, dem einzigartigen Talent, das in ganz Europa Bekanntheit erlangt hat.
Produziert vom WDR-Tenorsaxophonisten (und CLAASSENs Ehemann) PAUL HELLER, enthält "And Still We Sing" zehn herausragende Bigband-Arrangements von HELLER, LINDGREN, BOB MINTZER und MICHAEL ABENE.
"Ein kongeniales Duo, das nahezu perfekt miteinander harmoniert (.​.​.​) Sehr gerne mehr davon!" (Jazzthing)
Wie alle Ensembles des WDR ist die WDR Big Band Köln ein Kulturorchester und Kulturbotschafter mit dem Ziel, ihrem Publikum durch Sendungen und Konzerte Jazz und jazzverwandte Musik nahe zu bringen. Gleichzeitig hat die international besetzte Big Band einen Bezug zur europäischen Tradition, speziell zum Jazz made in Europe. Dieser integrative Faktor ist immer auch Teil der äußerst vielschichtigen Programmkonzeption und spiegelt sich in der Zusammenarbeit mit hervorragenden europäischen Gesangssolisten wider. Bei ihrem Konzert im Alten Schlachthof wird die niederländische Jazz-Sängerin Fay Claassen und der belgische Jazz– und Chanson-Sänger David Linx die Gesangsparts übernehmen. Claassen hat bisher neun CDs unter eigenem Namen veröffentlicht und ist auf 17 weiteren Alben als Gastsolistin vertreten. Für ihr Projekt Two Portraits of Chet Baker erhielt sie ausgezeichnete Kritiken. Sie gibt Workshops und regelmäßige Masterclasses an den Konservatorien von Amsterdam, Maastricht, Antwerpen und ist Hauptfachdozentin für Jazzgesang am Konservatorium in Rotterdam; sie gab Masterclasses und Konzerte auf den Konferenzen der International Association for Jazz Education (IAJE) in Los Angeles und New York.
Der Brüsseler David Linx ist Sänger, Komponist, Texter, Produzent und Multi-Instrumentalist. Er hat über 15 Soloalben als Leader und/oder Co-Leader aufgenommen und neben seinen eigenen Projekten ist er ein häufiger Gast in der Jazzszene und gibt Meisterkurse an renommierten Konservatorien weltweit.
Die musikalische Leitung hat der schwedische Jazz-Saxophonist, Flötist, Komponist und Arrangeur Magnus Lindgren.

Fay Claassen, Gesang

David Linx, Gesang

WDR Big Band

Magnus Lindgren, Leitung, Saxofon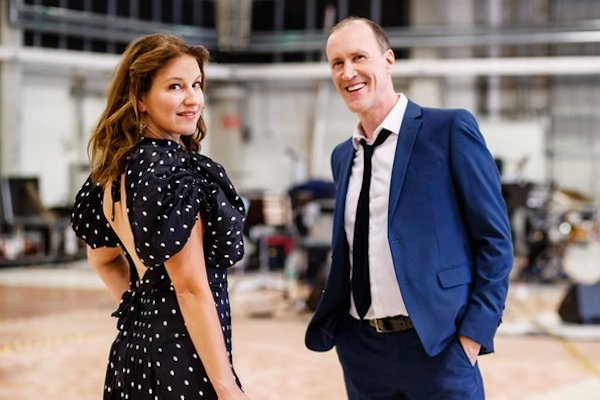 Fay Claassen
is one of the great (female) voices of jazz. The American music magazine "Cadence" enthuses: "Fay sings as Audrey Hepburn plays: elegant and graceful". For her new (eighties) solo album "Luck Child", her most personal and emotional work, the multi-award winning Dutch singer (Golden Record, German Record Critics Award) has selected her absolute "Heart Songs". Fay Claassen comes to Bonn with three renowned Dutch colleagues.
It seems the most natural thing in the world, when Fay Claassen brings English and Dutch pop songs, original compositions or standards of the "Great American Songbook" with her touching voice to new life.
When phenomenal improvisation and perfect intonation seem to be a child's play, combined with enormous emotional depth and more than twenty years of musical experience.
Born in Nijmegen, a city in the east of the Netherlands, Fay Claassen began with a ballet and theater training at early age, then switched to the musical subject and presented an impressive career.
With her unmistakable timbre, she is one of the great female voices of European jazz.
David Linx
Singer, composer lyricist, producer and multi-instrumentalist David Linx has recorded over 15 solo albums as leader and/or co-leader and besides his own projects he is a frequent guest in the jazz circuit and also giving masterclasses in renowned conservatories worldwide.
Since the 1980's he has worked with with: Harry 'Sweets' Edison, Johnny Griffin, Clark Terry, Slide Hampton, Natalie Dessay, The Count Basie Orchestra, Frank Foster, Toots Thielemans, Mino Cinelu, Marc Ducret, Philippe Catherine, Paolo Fresu, Erik Truffaz, Aka Moon, Khalil Chahine, Roy Ayers, Oumou Sangaré, Meshell Ndegeocello, Billy Cobham, Lena Willemark, Palle Danielsson, Jon Christensen, Didier Lockwood, Richard Galliano, Michel Portal, Abraham Laboriel, Kenny Wheeler, Claude Nougaro, Mark Murphy, Sheila Jordan, Ivan Lins, Daniel Humair, Gonzalo Rubalcaba, Omara Portuondo, Fay Claassen, Agnès Jaoui, Maria Pia de Vito, Irène Jacob, Rhoda Scott, John Clayton, Marc Ribot, Nguyên Lê, Craig Street, Ernie Wilkins, The Dutch Metropole Orchestra, Orchstra Jazz Della Sardegna, Steve Coleman, Jon Faddis, Ray Lema, Marc Ribot, Horace Parlan, Sahib Shihab, Andy Sheppard, Juan José Mosalini, Aldo Romano, Charlotte Rampling, Bob Stewart, Minino Garay, Hanna Schygulla, Maria Joao, Mario Laginha, Gustavo Beytelman, Maria de Medeiros David Gilmore, Maurane, Juliette, Greg Cohen, Michel Fugain, Tetê Espindola, Ray Lema, Kevin Breit, Claudio Roditi, Norma Winstone, Ibrahim Maalouf, Lenine, Cristina Zavalloni, Magic Malik, Tigran Hamasayan, Médéric Collignon, Jacques Schwartz-Bart, Miroslav Vitous, Hamilton de Holanda,…
In 1986 David's first acclaimed project 'A Lover's Question' with writer James Baldwin reciting his poetry on music composed and produced by David and Pierre Van Dormael, puts him in the lime light of the jazz world both in Europe and the USA. This cd with a.o. Steve Coleman, Slide Hampton, Deborah Brown recorded in 1985 and 1986 and released in 1991 is re-released in 2000 by Label Bleu/Harmonia Mundi and comes with a book of poems and short stories (some previously unpublished), in English, translated in French by the late Hubert Nyssen, founder and owner of the Actes Sud Publishing House.
In 1992 David gets together with pianist – composer Diederik Wissels to form the legendary vocal- piano project that has never stopped recording and touring ever since, whether it be in duo, 4-tet, with Symphony Orchestra etc… This widely acclaimed duo - project is known to have given new life to contemporary vocal jazz and their songs appear in the Real Book of Sher Music. They have won numerous awards in many countries over the last 20 years. Their songs have been sung and/or recorded by many jazz vocalists such as Sheila Jordan, Maria Joao, Fay Claassen, Maria Pia de Vito, Norma Winstone, a.o.

This album contains no booklet.