---
Cappella Amsterdam, Holland Baroque, Daniel Reuss
---
Biography Cappella Amsterdam, Holland Baroque, Daniel Reuss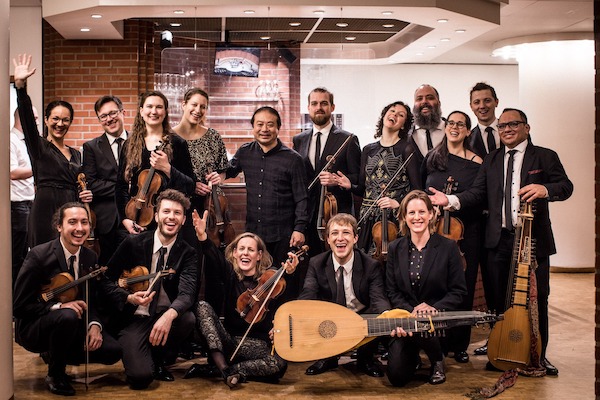 Daniel Reuss
studied with Barend Schuurman at the Rotterdam Conservatory. In 1990, he became director of Cappella Amsterdam, which he turned into a full-time professional ensemble that is now one of the most sought after in the Netherlands.
From 2008 till 2013 he was also the artistic director/chief conductor of the Estonian Philharmonic Chamber Choir.
In 2010, he was nominated for a Grammy "best choral performance" for the cd he made with the two choirs together (Frank Martins Golgotha).
From 2003 until 2006 he was chief conductor of the RIAS Kammerchor in Berlin, with whom he recorded a number of successful CDs. Their CD with works by Martin and Messiaen (released by Harmonia Mundi) won both the "Diapason d'or de l'année 2004" and the "Preis der Deutschen Schallplattenkritik". The CD's Les Noces, Le vin Herbé and Händels Solomon have also been critically acclaimed.
In summer 2006, at the invitation of Pierre Boulez, Daniel Reuss teached and conducted at the summer 2006 Lucerne Festival Academy.
In February 2007, Reuss made his debut at the English National Opera, with Händel's Agrippina. In 2008 he directed at De Munt/La Monnaie in Bruxelles, with the Dido & Aeneas-production of stage director Sasha Waltz.
From 2008 till 2013 he was the artistic director/chief conductor of the Estonian Philharmonic Chamber Choir. In 2010, he was nominated with the Estonian Philharmonic Orchestra together with Cappella Amsterdam for a Grammy for best choral performance for the recording of Martin's Golgotha (harmonia mundi). The two choirs also worked together in a recording of Stabat Mater and Sept Répons de Ténèbres (Francis Poulenc), released in 2014 by Harmonia Mundi.
In September 2014 the cd Warum, choral works of Brahms, sang by Cappella Amsterdam was released. It won the Preis der deutschen Schallplattenkritik beginning 2015.
Daniel Reuss has been invited to conduct chamber ensembles and orchestras throughout Europe. Among these may be mentioned the Akademie für Alte Musik Berlin, MusikFabrik, Scharoun Ensemble and the Radio Chamber Philharmonic.
From 2015 Daniel Reuss is chief conductor of Ensemble Vocal Lausanne.
Cappella Amsterdam
was established by Jan Boeke in 1970 and has, since 1990, been under the artistic leadership of Daniel Reuss. In recent years the choir has occupied a prominent position in the field of Dutch music and has also enjoyed great success in Europe and beyond. Cappella Amsterdam has thus played a vital role in the European Tenso Network of choirs.
Cappella Amsterdam is renowned for its homogenous, refined consonance and its extraordinary versatility. The choir excels in both modern repertoires as in music by the old masters and especially embraces the works of Dutch composers.
Cappella doesn't only have success with its own productions but also with collaborations with other renowned choirs, ensembles and orchestras. Harmonia mundi released several CDs by Cappella Amsterdam, which were all praised. 'Lux Aeterna', for instance, which include works by Görgy Ligeti and Robert Heppener, was crowned with the 'Diapason d'Or de l'année 2009'. The productions of Sweelinck and Frank Martin's Golgotha (released by the same label in 2010) also welcomed rave revues.
In November of 2009 Cappella Amsterdam won the VSCD Klassieke Muziekprijs in the category 'most impressive achievement of a small (chamber) ensemble'. The choir has again been recognised in 2010 and was shortlisted for the Amsterdam prize for the Arts, the Edison Classical Listeners award and the VSCD Classical Music award. For a recording of Martin's Golgotha, conducted by Daniel Reuss, the choir was nominated together with the Estonian Philharmonic Orchestra for a Grammy for best choral performance. In September 2014 the new cd 'Warum ist das Licht gegeben den Mühseligen' with exceptional choral works by Johannes Brahms (1833-1897) was released in the Netherlands. Daniel Reuss and his Cappella Amsterdam are focussing on Brahms' later choral works.
Holland Baroque
is an original and innovative baroque orchestra. The musicians use their instruments to sing, dance, cry, and laugh through tradition, innovation, surprise, and a dash of entertainment. Founded in 2006, Holland Baroque has worked with many soloists, composers, choirs, and theatre producers.
Encounters with soloists often result in warm friendships and unlock new worlds of sound. The easy blend of Eric Vloeimans' velvety sound with the cornetto shows us that baroque is now. Together this trumpet whisperer and Holland Baroque were awarded an Edison for their album Carrousel.
Touring with piano virtuoso Leszek Możdżer proved that in a baroque orchestra the score can keep changing when the composer is improvising among the musicians. Cellist Giovanni Sollima wrote compositions for Holland Baroque that could not have been more Neapolitan: again, a tribute to the past and at the same time as current as today's news.
Holland Baroque and Reinbert de Leeuw became close friends during their quest for his truth behind Bach's St. Matthew Passion. Cherry Duyns made a documentary about this process, which was shown in cinemas for months. Bach in the cinema: a unique event.
Tineke and Judith Steenbrink are the artistic team and beating heart of the ensemble. These baroque twins curate the ensemble's sound, create original programmes, and rewrite repertoire according to Holland Baroque's style. After years of musical encounters it is crystal clear to us: baroque can be found in many places. Baroque is now.
Holland Baroque has shared the stage with Daniël Lohues, Wu Wei, Reinbert de Leeuw, Giovanni Sollima, London Community Gospel Choir, Lars Ulrik Mortensen, Hidemi Suzuki, Amandine Beyer, Nederlands Kamerkoor, Cappella Amsterdam, Radialsystem, Orkater, Marco Ambrosini, Dorothee Mields, Aisslinn Nosky, Toshio Hosokawa, Nico Muhly, and many others.