---
Biography Scala & Kolacny Brothers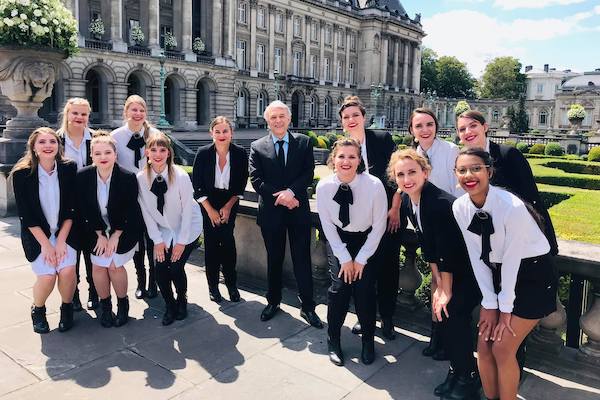 Scala & Kolacny Brothers
is a Belgian women's choir conducted by Stijn Kolacny, and arranged and accompanied by Steven Kolacny on the piano. They have made five studio albums (in multiple languages) starting with On The Rocks in 2002. Most of their songs are specially arranged renditions of songs by well-known musicians and bands such as Oasis, Björk, Radiohead, U2, Nirvana, Depeche Mode, Muse, Rammstein, etc. although they have also been very successful with their own compositions.
The story of Scala & Kolacny Brothers is truly a dream come true. The classically trained Kolacny brothers, Steven (piano) and Stijn (conducting) have turned this Belgian girls' choir into an international phenomenon, performing imaginatively reworked covers of Radiohead, U2, Rammstein and Nirvana songs (to name but a few) as well as, their equally successful original compositions before sold-out audiences throughout the world. In February 2009, Scala & Kolacny Brothers performed for the first time in the United States at the New York Times Center. They released their first CD and DVD in the U.S., Circle, in the Fall of 2010 and the choir will tour the U.S. in April 2011. Scala & Kolacny Brothers currently have more than 200 young women between the ages of 16 and 26 on its member list, but the choir started very small. The very first rehearsal took place on April 2nd 1996, with just 18 singers. The brothers' intention was to work with "voices" in their free time, thinking that a choir would be the best form for their experiment! Scala & Kolacny Brothers started more or less as a classical choir. The many rehearsals, hard work and perseverance soon led to prizes at choir festivals and contests. In their home country of Belgium, Scala & Kolacny Brothers became "Choir of The Year 1999-2000" and have won top prizes around the world. In his search for 'a different sound', older brother Steven started arranging pop and rock hits, which younger brother Stijn directed. This led to Scala & Kolacny Brothers: the 'rock choir' being born, almost without them even realizing it.
Their first CD, Scala On The Rocks was released December 1st, 2002. The idea was simple but daring: transposing rock songs into a believable sound using 40 young women's voices and 1 piano. The success of this first CD, the favorable reviews from press and the audience, were beyond everyone's wildest expectations. The CD got the support of nearly all-Belgian radio stations, newspapers and magazines and from leading names within the Belgian rock scene. Sales of On The Rocks' CD achieved gold in Belgium; making it the first ever choir to score a gold album! At the end of 2003, the second CD, Dream On (named after the Depeche Mode song) was released and Scala & Kolacny Brothers started its first On The Rocks sold-out tour throughout Belgium. Neighboring countries showed interest and it was not long before Scala & Kolacny Brothers' CD's made the playlist of radio stations throughout Europe. In Paris, RTL2 and M6 rolled out the red carpet and Nikola Sirkis, the lead singer of mega group Indochine, let it be known that he loved Scala & Kolacny Brothers. This resulted in a collaboration with Indochine, a duet with Nikola, two concerts (Brussels/Paris) in one day and a guest appearance on Indochine's CD Starlight. As a result, the Scala & Kolacny Brothers CD Respire, an album with French rock songs, was released in 2004. In Germany, Radio Fritz in Berlin discovered Scala & Kolacny Brothers around the same time. Thanks to airplay of the Scala & Kolacny Brothers version of German superstar Rammstein's "Engel" -- which Rammstein endorsed enthusiastically - and a live Fritz-concert in Berlin in August 2004, Scala & Kolacny Brothers started getting requests for concerts throughout Germany, as well as from radio and TV-stations. They performed with the German band "MIA" and in 2005 Scala & Kolacny Brothers released Grenzenlos, its first CD in German. In 2005 Steven, in partnership with Koen Buyse, front man of the Belgian rock band Zornik, started writing songs in earnest. The collaboration resulted in the album, It All Leads To This (released in Belgium in September 2006), which again went 'gold'. An It All Leads To This tour followed throughout several countries. This tour strongly emphasized sound, light, sets and projection. Finally, the Scala & Kolacny Brothers concept was complete: take rock classics and pop hits, strip them down and rework them in a totally new dimension, utilizing celestial female voices. Simple but brilliant. In 2008 Scala & Kolacny Brothers was asked to do a project in remembrance of the legendary Belgian singer Pierre Rapsat, who died in 2002. The sold out "Dans les Yeux d'Aurore' tour strengthened Scala & Kolacny Brothers' relationship with Belgium's French-speaking audience. The number of concerts in Germany also increased steadily and Scala & Kolacny Brothers performed more and more songs in German, including its version of MIA's hit, 'Hungriges Herz', which was used in a top national German television commercial. Symbolically, Scala & Kolacny Brothers is completing its Circle, from covers to their own songs, from churches to rock music festivals, from Belgium via Japan to the States. Scala & Kolacny Brothers are spreading their wings, introducing new audiences to new original music. Like the potter's hands molding masterpieces from clay, the Kolacny brothers are taking these female voices, the choir's soul and shaping them in their own inimitable way.