---
Josh Teskey & Ash Grunwald
---
Biography Josh Teskey & Ash Grunwald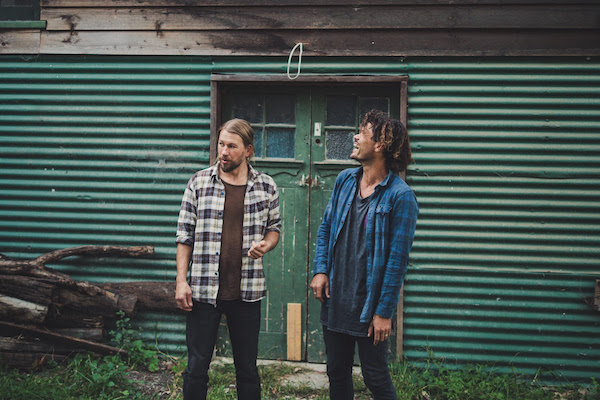 Josh Teskey
Every few years you hear a voice that you don't forget. Because it conveys something - a feeling, a memory, perhaps a certain kind of comfort. Such voices transcend the boundaries of genres and musical tastes because something resonates in them that makes you happy. You feel a little bit freer, at least for the moment. And then you remember what music was all about.
Josh Teskey has such a voice. The singer and guitarist sings as if he didn't come from Melbourne, Australia, but from another time and place. From Memphis, maybe, circa 1967, or from Detroit. Josh Teskey recalls legends like Otis Redding or Sam Cooke and brings old soul and blues back to life in a way that you can't really do anymore. When Josh sings, it gets quiet around him because you don't want to miss anything, not a note, not a word, not one of those great classic melodies and R&B hooks. "My voice has just always been there," Josh says, "I used to run up to my dad when I was a kid and say, Dad, listen, I can sing like a blues man!" That Teskey spent years busking at weekly markets in and around Melbourne probably helped too. "You don't just have to be loud at gigs like that, you have to put everything into it - as much feeling as you can."
Ash Grunwald
is an Australian blues musician.While it's true that his music is steeped in the Delta blues tradition of the legendary acoustic musicians who proliferated in pre-World War II America's deep South and the giants of electric blues who shaped rock and roll, it's the young Victorian's willingness to combine these influences with grooves and sounds common in contemporary music that sets him apart.
A soulful singer and guitar player, Grunwald immediately drew attention with the release of 2002's 'Introducing … Ash Grunwald' a collection of originals and blues standards that included 'Smokestack Lightnin' (Howlin' Wolf) 'The Sky Is Crying' (Elmore James), and 'Rolling and Tumbling' (Robert Johnson) recorded live with only acoustic guitar and foot percussion consisting of a stomp box and tambourine.
The positive response to Grunwald's debut resulted in two Victorian Blues awards for Emerging Talent and Album of the Year.The following year he scored two Australian Blues awards for Male Vocalist of the Year and Best New Talent in addition to the MBAS' Blues Performer of the Year.
He also reached the final of the International Blues Performer of the Year in Memphis.In 2004 Grunwald released his follow up album, I Don't Believe, once again recorded solo and live.Since his initial release he'd been made aware of two Tom Waits albums, Swordfishtrombones and Bone Machine.
In a daring move he emulated Waits' experimental bang and clang percussion using hammers, spanners, pots, etc, in addition to a boss loop station as a bed for his lap steel, dobro, and acoustic guitars.
The album included six originals, two of Waits' compositions, "Going out West" and "Jesus Gonna Be Here" (a-cappella with handclaps) and blues standards "Walking Blues" and "Cross Roads" (Robert Johnson), "Empire State" (Son House), and "How Many More Years" (Howlin' Wolf).
On the strength of this release Ash won an ARIA award nomination for Best Blues And Roots Album, and the Victorian Blues award for Male Vocalist Of The Year (equal with Lloyd Spiegel) and in 2005 the MBAS Vic / Tas award for Solo / Duo Of The Year (equal with Dave Hogan).
For the 'Live At The Corner' album (songs from his first two releases plus Willie Dixon's 'Spoonful' featuring Ian Collard on harmonica) Ash won the 2005 MBAS Vic / Tas and Australian Blues award's Album Of The Year in addition to being nominated once again for the Best Blues And Roots album at the ARIA's.
Ash has built a substantial following performing at countless live venues around the country and at major festivals including Byron Bay, Port Fairy, Falls, Apollo Bay, Fremantle, Cockatoo Island and Margaret River.
In May 2005, Ash was invited to take over the reins as host of Triple J's popular Thursday night show Roots 'N All. Ash Grunwald continues to forge his own identity with the release of twelve original songs on album number four, 'Give Signs' recorded on his own label Delta Groove Records.
As usual it will be live and solo. And as usual, it is another terrific offering from this talented performer.