---
Thomas Strønen, Ayumi Tanaka, Marthe Lea
---
Biography Thomas Strønen, Ayumi Tanaka, Marthe Lea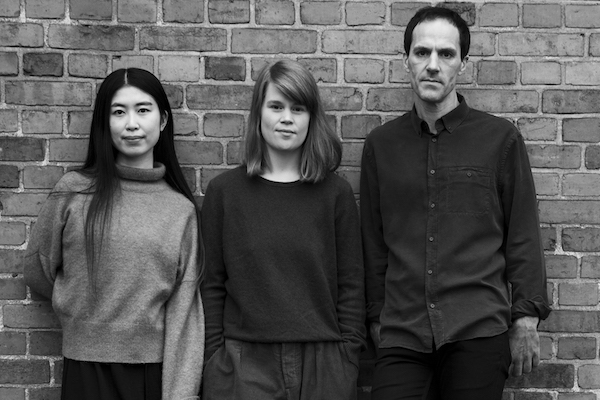 Thomas Strønen
graduated from the Music Conservatory of Trondheim, Norway in 1999 after six years of studying jazz and composition. Since his student days he has been involved with improvised music in different contexts
He is one of Norway´s most prolific drummers, known from his involvement with Food (with Iain Ballamy), Humcrush (with Ståle Storløkken), Parish (with Bobo Stenso), Pohlitz (solo), Maria Kannegaard Trio and others, where he has often also taken on the role of writer and arranger and sometimes producer.
Strønen is a very interactive musician who likes to be involved in different musical forms and he has the ability of creating structures and textures to generate unexpected results. He is a melodic type of drummer who focuses on large forms, sounds and communication, playing both acoustic music and a set up with live electronics such as samplers and sound effects. Today Strønen has a solo record deal on the leading electronic music label Rune Grammofon, and also with his band Parish, on German label ECM.
As a composer, Strønen has contributed (either as main or co-composer) on almost all of his released records so far, more then thirty-five altogether. He has also contributed on several commissioned works for festivals (e.g. the Bath and Cheltenham Jazz festival and Ultima comptemporary music festival) and radio. (e.g. the BBC, NRK, Deutsche Rundfunk, Swedish Radio, among others).
He has played with musicians such as Bobo Stenson (S), Iain Ballamy (UK), Tomasz Stanko (PL), Evan Parker (UK), Tim Harries (UK), Bill McHenry (USA), Lars Danielsson (S), David Tronzo (USA), Koichi Makigami (JP), Ernst Reijseger (NL), Chris Batchelor (UK), Eric Vloeimans (NL), Mattias Ståhl (S), Joakim Milder (S), Fredrik Ljungkvist (S), Christian Spering (S), David Stackenas (S), Staffan Svendsson (S), Joe Williamson (Can), Francois Houle (Can), Martin Kuchen (S), Magnus Lindgren (S), Phil Bancroft (UK), Tunji Bejer (GE), Ståle Storløkken, Bjørnar Andresen, Vidar Johansen, Knut Reiersrud, Iver Kleive, Silje Nergaard, Tore Brunborg, Christian Wallumrød, Trygve Seim, Arve Henriksen, Stian Carstensen, Cikada, and others.
Thomas has toured Europe, Asia and Canada during the last few years with the bands mentioned above, and also with Ståhls Blå (with Swedish musicians Joakim Milder, Filip Augustson and Mattias Ståhl), Phil Bancroft Quartet (with British musicians Mike Walker, Steve Watts) and Maria Kannegaard trio (comprising Ole Morten Vågan). His festival appearances include Moldejazz, Oslo Jazzfestival, Ungjazz, Maijazz, Bylarm, Vossajazz, Nattjazz, Soddjazz, Trondheim Jazzfestival, Kongsberg Jazz, Dølajazz, Montreal Jazzfestival (Can), Vancouver Jazzfestival (Can), Winnipeg Jazzfestival Can), Edmonton Jazzfestival (Can), Toronto Jazzfestival (Can), Victoria Jazzfestival (Can), Ottawa Jazzfestival (Can), Calgary Jazzfestival (Can), Birningham Jazzfestival (UK), Cheltenham Jazzfestival (UK), Bath Jazzfestival (UK), Brighton Jazzfestival (UK), Edinburgh Jazzfestival (GB), Largs Jazzfestival (GB), Exeter Jazzfestival (UK), Leeds Jazzfestival (UK), Leverkusen Jazzfestival (Ty), Musik Triennale Köln (Ty), Aalen Jazztage (Ty), Heidelberg Jazzfestival (Ty), Beyreuth World Music Festival (Ty), København Jazzfestival (DK), Umeå - Stockholm-, Malmö- og Göteborg Jazzfestival (S), Expo (Jp) and others.
Ayumi Tanaka
is a Japanese pianist and composer currently living in Norway. She leads the Ayumi Tanaka trio which debuted in 2016 with the album Memento. Later that year, she released her second album 3 pianos with another trio. In 2018, Ayumi went on to record under ECM Records as part of Thomas Strønen's ensemble.
In April 2021, the album "Bayou" of the co-leading trio with Thomas Strønen and Marthe Lea will be released on ECM Records. The new album of Ayumi Tanaka Trio is expecting to be released later in the same year.
Ayumi continues to perform internationally with various ensembles including in Japan, India, Germany, Nordic countries, the US and Brazil. Ayumi holds Bachelors and Masters Degrees in Musical Performance in Jazz and Improvisation from the Norwegian Academy of Music. Ayumi began studying at Yamaha Music School from age 3 and when she was fifteen, won first prize in the Yamaha Junior Electone Competition.