---
Tommy Emmanuel with Mike Dawes
---
Biography Tommy Emmanuel with Mike Dawes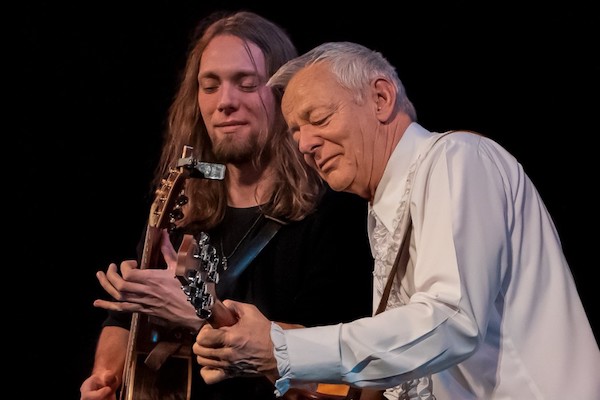 Tommy Emmanuel
has achieved enough musical milestones to satisfy several lifetimes. At the age of six, he was touring regional Australia with his family band. By 30, he was a rock n' roll lead guitarist burning up stadiums in Europe. At 44, he became one of five people ever named a CPG (Certified Guitar Player) by his idol, music icon Chet Atkins. Today, he plays hundreds of sold-out shows every year from Nashville to Sydney to London. He's piled up numerous accolades, including two Grammy Award nominations, two ARIA Awards from the Australian Recording Industry Association (the Aussie equivalent of the Recording Academy); repeated honors in the Guitar Player magazine reader's poll including a cover story for their August 2017 issue; a cover feature for Vintage Guitar's July 2020 issue; and was Music Radar's reader's poll #1 winner of the Ten Best Acoustic Guitarists in The World (December 2019).
A noted fingerstyle guitarist, EMMANUEL frequently threads three different parts simultaneously into his material, operating as a one-man band who handles the melody, the supporting chords and the bass all at once. His talents, which translate in any language, carry him to the far corners of the globe, but EMMANUEL never plays the same show twice, and he improvises big chunks of every date. That leaves him open to those technical imperfections, though they also provide some of the humanity to an other-worldly talent. On May 8, 2020, he released a newly recorded career-spanning double album, THE BEST OF TOMMYSONGS, via CGP Sounds/Cruzen Street Records). Watch the album trailer here which focuses on TOMMY's unique ability to tell stories without words
Mike Dawes
is an award-winning solo guitarist known for composing, arranging, and performing multiple parts simultaneously on one instrument. He is regarded as one of the world's most creative modern fingerstyle guitarists with a repertoire spanning solo viral video hits and mainstream chart success with artists including Justin Hayward of The Moody Blues. The British guitarist was named "Best Acoustic Guitarist in the World" by Total Guitar Magazine and MusicRadar twice in their end-of-year reader's poll. All three of Dawes' solo albums have spawned viral video hits with millions of views including his popular arrangements of Metallica's "One" and Van Halen's "Jump." His original songs "The Impossible" and "Boogie Shred" are frequently covered by aspiring fingerstyle performers. Dawes has been featured on multiple Justin Hayward live releases, including Spirits…Live, which debuted at #2 on the US Billboard Charts. As a keen educator, Dawes has frequently worked as a columnist for the biggest guitar magazines in the world, including Guitar World and Acoustic Guitar.