---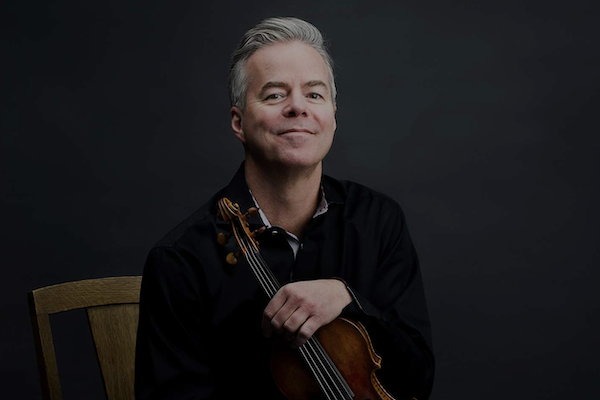 Frank Almond
holds the Charles and Marie Caestecker Concertmaster Chair at the Milwaukee Symphony Orchestra. He returned to the MSO after holding positions as Concertmaster of the Rotterdam Philharmonic with Valery Gergiev, and Guest Concertmaster of the London Philharmonic with Kurt Masur. Other Guest Concertmaster appearances have included the Seattle Symphony, the Montreal Symphony, the Dallas Symphony, and the Grand Tetons Music Festival. He continues an active schedule of solo and chamber music performances in the US and abroad including appearances with the Ojai Festival, Frankly Music, An die Musik, the Nara Academy in Nara, Japan, Jazz at Lincoln Center, Music in the Vineyards, and various solo appearances with orchestras. He has been a member of the chamber group An die Musik in New York City since 1997, and also founded and directs the much-loved and somewhat notorious Frankly Music Chamber Series based in Milwaukee. At 17, he was one of the youngest prizewinners in the history of the Nicolo Paganini Competition in Genoa, Italy, and five years later was one of two American prizewinners at the Eighth International Tchaikovsky Competition in Moscow, which was documented in an award-winning PBS film. Since then he has kept up an eclectic mix of activities in addition to his concertmaster duties, appearing both as a soloist and chamber musician.
In addition to his work with An die Musik, Mr. Almond's work as a chamber musician has generated collaborations over the years with many of today's well-known institutions, including the Chamber Music Society of Lincoln Center, the Hal Leonard Corporation, the Ravinia Festival, La Jolla Summerfest, Music in the Vineyards, and numerous other summer festivals.
He has recorded for Summit, Albany, Boolean (his own label), Innova, Newport Classic, Wergo and New Albion and has appeared numerous times on NPR's Performance Today. In both 2002 and 2004 An die Musik received Grammy nominations for its "Timeless Tales" series. The re-release of Mr. Almond's recording of the complete Brahms Sonatas, performed in collaboration with pianist William Wolfram, brought extraordinary critical acclaim, and was also listed in the American Record Guide top recordings of 2001.
Frank's most recent CD with William Wolfram was released on the AVIE label to much acclaim, and was named a "Best of 2007″ by the American Record Guide. His new CD of American violin and piano music was released on Innova Recordings with pianist Brian Zeger and has also garnered much press enthusiasm. A CD of selected works of Samuel Barber was released in 2010, in cooperation with the Hal Leonard Corporation. Another is planned this year featuring previously unpublished works of Aaron Copland.
Mr. Almond holds two degrees from the Juilliard School, where he studied with Dorothy DeLay. Other important teachers included Michael Tseitlin, Felix Galimir, and Joseph Silverstein. He has held academic positions at San Diego State University, Texas Christian University, and is currently on the faculty at Northwestern University.
When he's not traveling around playing the violin he lives in Milwaukee with his wife and two young daughters. He plays on a violin by Antonio Stradivari from 1715, the "ex-Lipinski". In December 2011, he appeared in concerts and masterclasses in Poland to commemorate the 150th anniversary of Karol Lipinski performing on his former violin.
In 2008 he started writing an online column called nondivisi.
Adam Neiman
Hailed as one of today's preeminent American classical pianists, Adam Neiman has cultivated a breathtaking career spanning more than three decades and traversing four continents. Possessed of an encyclopedic repertoire – nearly 70 piano concertos, dozens of diverse solo recital programs, and virtually the entire canon of standard chamber music – Neiman has been acclaimed as a thought-provoking, charismatic, and highly virtuosic performer.
Neiman has performed as soloist with numerous major orchestras, including those of Chicago, Cincinnati, Dallas, Detroit, Houston, Indianapolis, Minnesota, Saint Louis, San Francisco, and Slovenia, as well as the National Symphony Orchestra of Washington D.C. His recitals have spanned many of the great concert halls and festivals across the globe.
Neiman is an accomplished composer, with a catalogue of compositions that includes two symphonies, two piano concertos, a string quartet, and various solo and chamber works. Recent commissions include his Piano Concerto No.2, Piano Trio No.2 for Clarinet, Violin, & Piano, and his String Quartet. Various documentary film appearances as a pianist resulted in his eventual contribution as a composer to the PBS documentary by Emmy Award-winning director Helen Whitney titled: Forgiveness, A Time to Love and a Time to Hate.
Neiman is a tenured Associate Professor of Piano at the Chicago College of Performing Arts at Roosevelt University, where he also serves as Chair of the Music Conservatory. From 2016 until 2022 he served as Artistic Director of the Manchester Music Festival in Vermont, and he is CEO of Aeolian Classics, LLC.
Victor Santiago Asuncion
Hailed by The Washington Post for his 'poised and imaginative playing', Filipino- American pianist Victor Santiago Asunción has appeared in concert halls in Brazil, Canada, Ecuador, France, Italy, Germany, Japan, Mexico, the Philippines, Spain, Turkey and the USA, as a recitalist and concerto soloist. He played his orchestral debut at the age of 18 with the Manila Chamber Orchestra, and his New York recital debut in Carnegie's Weill Recital Hall in 1999. In addition, he has worked with conductors, including Sergio Esmilla, Enrique Bátiz, Mei-Ann Chen, Zeev Dorman, Arthur Weisberg, Corrick Brown, David Loebel, Leon Fleisher, Michael Stern, Jordan Tang, and Bobby McFerrin.
A chamber music enthusiast, he has performed with artists such as Lynn Harrell, Frank Almond, Zuill Bailey, Andrés Diaz, James Dunham, Antonio Meneses, Joshua Roman, Cho-Liang Lin, Giora Schmidt, the Dover, Emerson, Serafin, Sao Paulo, and Vega String Quartets. He was on the chamber music faculty of the Aspen Music Festival, and the Garth Newel Summer Music Festival. He was also the pianist for the Garth Newel Piano Quartet for three seasons. Festival appearances include the Amelia Island, Highland-Cashiers, Music in the Vineyards, and Santa Fe.
His recordings include the complete Beethoven Sonatas with cellist Tobias Werner, Sonatas by Shostakovich and Rachmaninoff with cellist Joseph Johnson, the Rachmaninoff Sonata with the cellist Evan Drachman, and the Chopin and Grieg Sonatas, also with cellist Evan Drachman. He is featured in the award-winning recording Songs My Father Taught Me with Lynn Harrell, produced by Louise Frank and WFMT-Chicago. Asunción is the Founder, and Artistic and Board Director of FilAm Music Foundation, a non-profit foundation that is dedicated to promoting Filipino classical musicians through scholarship, and performance.
He received his Doctor of Musical Arts Degree in 2007 from the University of Maryland at College Park under the tutelage of Rita Sloan. Victor Santiago Asunción is a Steinway artist.
Alexander Hersh
Having given his Carnegie Hall debut recital in November 2022, cellist Alexander Hersh has quickly established himself as one of the most exciting and creative talents of his generation. He frequently appears as soloist with major orchestras, including the Houston Symphony and Boston POPS, and has received top prizes at competitions worldwide including the: 2022 Pro Musicis International Award, Astral Artists National Auditions, Salon de Virtuosi Career grant, New York International Artists Association Competition, Friends of the Minnesota Orchestra, and Schadt competitions.
A passionate chamber musician, Hersh has performed on tour with Musicians from Marlboro and appeared at music festivals worldwide including: Marlboro, Caramoor, Chamber Music Northwest, Ravinia, Music@Menlo, I-M-S Prussia Cove, Manchester, Perlman Music Program, Amsterdam Cello Biennale, Kneisel Hall, and Lucerne.
He serves as co-Artistic Director of NEXUS Chamber Music, an artist driven collective of musicians whose mission is to make classical music culturally relevant through live concerts and multimedia content.
Raised in Chicago, Alexander Hersh began playing the cello at the age of five. He received his B.M. and M.M. from New England Conservatory where he graduated with academic honors. Later he was a recipient of the Frank Huntington Beebe fund for studies in Berlin where he studied at the Hanns Eisler Hochschule for Musik Berlin. His previous teachers have included Laurence Lesser, Hans Jørgen Jensen, Kim Kashkashian, Nicolas Altstaedt and Paul Katz. He plays a G.B. Rogeri cello, courtesy of Guarneri Hall NFP and Darnton & Hersh Fine Violins.