---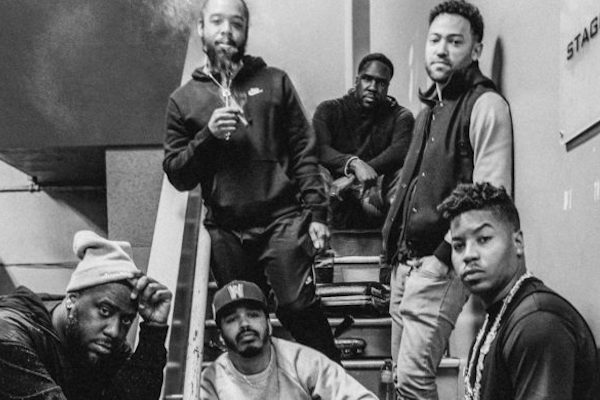 R+R=NOW & Robert Glasper
Robert Glasper. Terrace Martin. Christian Scott aTunde Adjuah. Derrick Hodge. Justin Tyson. Taylor McFerrin...this new project brings together the seminal voices of Robert Glasper's generation with a shared mission: to create music of and for its time. Robert Glasper is a game-changer. So are his friends. In 2018 you can hear what happens when the best of the best come together on one stage with one purpose.
In Robert's words "when you can respond to something, and you can reflect something – that's the essence of a moment; of now, and that's what all these cats do, just intuitively. It's why I love them, why they're who they are - and why we're called R+R=NOW".
Inspired by Nina Simone's conviction that "an artist's job is to reflect the times", Robert asks "how could we do anything else, right now?!" It is, then, as much his integrity as his artistry that compelled him to found this band at this time. R+R=NOW (Reflect + Respond =Now) is a collective of six of the most potent and outspoken artists of our generation, brought together by Robert Glasper to reflect a community that has built some of the definitive musical movements of the last decade, and respond to the socio-political moment we find ourselves in.
The individuals of R+R=now have long been the sonic secret behind high profile and prestigious releases and artists; from Snoop Dogg and Jill Scott to Herbie Hancock and Quincy Jones. They are collectively the vanguard of a new sound, influencing and infiltrating a stellar catalogue. Each musician in R+R=now is an underground icon. From Terrace Martin's mentorship by Dr Dre and his work on To Pimp A Butterfly, to Derrick Hodge's opening solo on Common's Be album and musical direction of Nas' Illimatic Orchestral tour. They are the musicians of our era.
Together they are at the edge of genre, each unmistakable voice creating unique spaces, sounds and revelry at every show. The hip-hop-head-nod is their anthem, but so too is a message: the beauty and brilliance of a jazz heritage that is as much Kendrick as it is Coltrane: "This is our story from our point of view. Everybody's sound is so different, but we all come from the same concrete garden. Its a very honest, fluid sound that rings of hip-hop, EDM, jazz, at times - hell - reggae... a bunch of cats that respect each other so much that we always pass the ball..." [Robert Glasper]
Long time collaborators and friends, individually acclaimed as pioneers, virtuosos and visionaries, they have united for a one-time tour to explore new horizons of perspective and of music; seeking new art and new truth.
On the frontline, Christian Scott aTunde Adjuah [trumpet] is a firebrand. An Afro-Native American chieftain, his sound is at once Trap and tribal, Jazz and Dancehall: a collision of ideas and identities, which is ever-challenging and ever-disruptive, and speaks to an innate human potential with every note. Alongside him, Terrace Martin [saxophone, vocoder, keys] is a hip-hop legend with a jazz soul. Regular producer for legends Quincy Jones and Herbie Hancock, Snoop Dogg, Wiz Khalifa and Top Dawg Entertainment (Kendrick Lamar and Schoolboy Q), as well as a close collaborator of YG. He is where musicality meets brotherhood: driven by the moniker to "find beauty in every problem" his sound is the triumph of art over hardship, love over hate.
In the rhythm section, Taylor McFerrin [keys and electronics] is a beatmaker, beatboxer, DJ, keyboardist and producer who traces a vintage flavour through a hip-hop lineage, playing with part-analogue, part electronic soundscapes. Justin Tyson [drums] combines the ghetto with the intellectual with his uncompromising, raw power and deeply philosophical approach, whilst Derrick Hodge [bass] is the heartbeat of this sonic landscape, laying an impossibly perfect groove at the root of it all. At the heart of this musical community, Robert Glasper [keys, rhodes] is revered and respected in equal measure by icons across era and genre: from Herbie and Stevie to Syd and Mos Def. Irrepressible and irreverent, hilarious and profound, Robert's touch – and his spirit - underpins a musical movement.