---
Biography Nothing But Thieves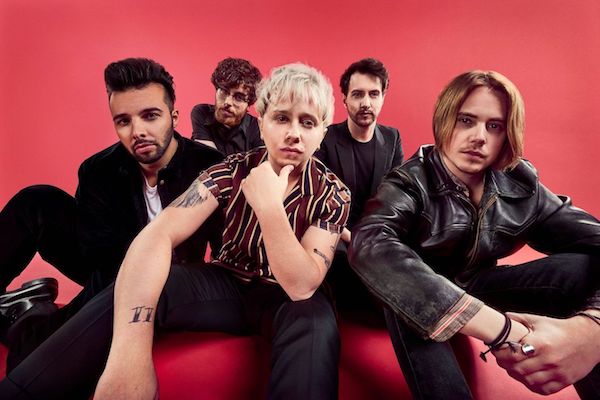 Nothing But Thieves
Hailing from Southend-on-Sea, 40 miles east of central London, Nothing But Thieves grew out of a friendship formed at school, between Connor Mason/vocals and Joe Langridge-Brown/Guitar.
Conor and Joe played in a string of teenage bands together before Joe left for university. Conor then hooked up with classically trained guitar player Dom, after a meeting at a sixth-form music class. The two collaborated casually for a while, without any expectation of success. "It was stupid not to just jam," says Dom, "but it was just for fun, nothing serious."
Though the band haven't clarified the timeline it seems that Joe continued to be involved. At some point, management interest arrived in the form of Drive-Thru Records duo, Richard and Stefanie Reinesa.
Connor recalls calling Joe to ask him if he wanted to form a proper band saying, "Do you want to come back and do a band thing?" to which Joe replied, "Yeah! I'll leave uni and drop straight out – I'll leave this week!"
Dom's cousin, Phillip Blake eventually joined as the bassist they'd been looking for over 2 years. James Price/Drums, (a friend of Dom's from school) was the final puzzle-piece.
Once complete, it would still take a further 2 years of frustration trying to nail down their sound in Dom's garage, before they were ready to venture out.
"The stuff we were coming out with wasn't good, and it was all the same" remembers Dom. "We were just like, "Anything to get out of the garage and explore a bit, because we completely hit a plateau with the writing."
Encouraged by their management, the band headed off to the US on a six-week low-budget trip, meeting with producers and writers. The adventure galvanised them and when they returned, it was to record their first EP 'If You Don't Believe, It Can't Hurt You.' Self-released in October, 2013, it attracted immediate interest from Radio 1's, resident new-music bellwether, Zane Lowe.
September, 2014, saw the arrival of a second re-configured EP, titled 'Graveyard Whistling' released via RCA. With major-backing and promotional interest from Lowe's Radio 1 show, the band were ready to take a prime-time bow.