---
Michael Stephenson & Alexander Claffy
---
Biography Michael Stephenson & Alexander Claffy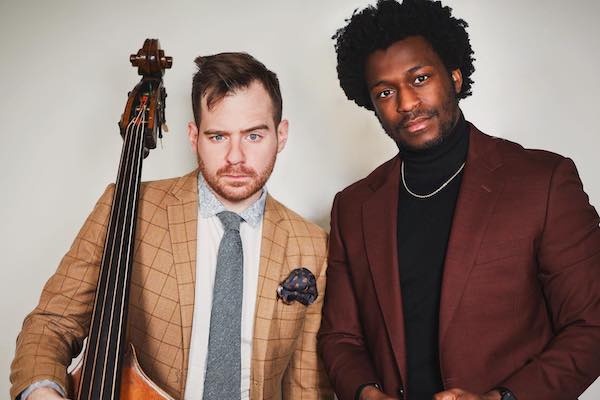 Michael Stephenson
is an upcoming saxophonist, composer, bandleader, and vocalist from Philadelphia, currently based in New York City. He began playing saxophone at the age of ten. At fifteen, he became a member of the historic Clef Club Of Philadelphia. Given the opportunity to play not just with other dedicated musicians his age but also with some of the most prolific players on Philadelphia's music scene, Michael learned through the Clef Club to express himself through jazz music. His years in the Club gained him notoriety, and he was soon picked to join long-standing veteran ensembles like the Millennium Big Band; young and talented bands like the Claffy-Howell Band; and he even formed his own ensemble, the Michael Stephenson Quartet.
In 2010, Michael was accepted to the New School of Jazz and Contemporary Music in Manhattan. There, he studied with award-winning professional musicians such as Jaleel Shaw, Jane Ira Bloom, Adam Holzman, and Marcus Strickland. While in New York, Michael was selected by the C.O.L. Jazz Band to perform and compete in the Monterey Next Generation Jazz Festival two years in a row. His band took 2nd and then 1st place in the open small-group division.
Michael has been fortunate to perform at such venues such as Chris' Jazz Cafe, the Philadelphia Clef Club, the Susquehanna Bank Center, Puppet's Jazz Bar, and Smalls Jazz Club. Michael has also performed both nationally and internationally at festivals including the West Oak Lane Jazz Festival; the Monterrey Next Generation Jazz Festival; the Monterey Jazz Festival; the Pittsburgh Jazz Live International Festival; and The Internationales Jazzfestival Bern in Bern, Switzerland. Currently, Michael lives in Brooklyn, NY, where he continues to compose, play, and sing. He performs frequently in New York, Pittsburgh and, of course, his native city of Philadelphia.
Alexander Claffy
has been immersed in music since birth. His father a pianist, his mother, a vocalist, he had many of his earliest lessons on bandstands in the heart of Philadelphia. As a teenager, CLAFFY found mentorship in many natives of Philadelphia's rich music scene from Hard-Bop to Hip-Hop. Upon his arrival in NYC, he studied with some of the world's finest musicians including, Ron Carter, Barry Harris, and Orin O'Brien of the New York Philharmonic. Since moving to New York City in 2011, he has had the honor of working with many of his living heroes, including Wallace Roney, Christian Scott, Louis Hayes, Russell Malone and legendary New York pianist/vocalist Johnny O'Neal. CLAFFY resides in Harlem as one of the most working bass players in the New York City scene.