---
Sachal Vasandani & Romain Collin
---
Biography Sachal Vasandani & Romain Collin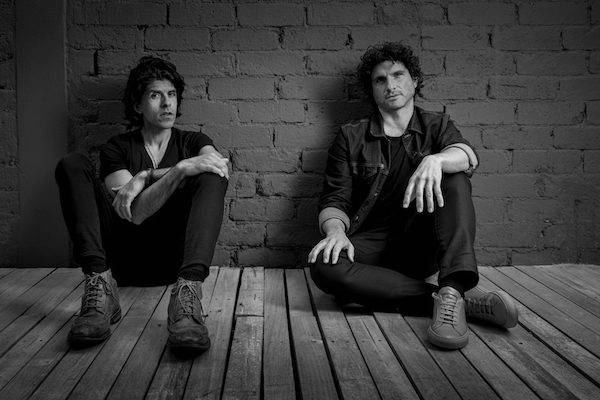 Sachal Vasandani
is recognized for his singular voice, with a tone and unique phrasing that mark him as one of the most compelling artists on the scene today.
Thoroughly rooted in jazz, Sachal has the swagger to front the most swinging big bands and the vulnerability to present definitive takes of classic ballads. His deeply creative approach to improvisation across lyrics, melodic changes and time signatures is always soulful, and he has come to be regarded as one of the eminent vocal improvisers of his generation.
Sachal's 2018 release, Shadow Train, celebrates twin themes of romance and respect with an open spirit. Songs like Abbey Lincoln's Throw it Away highlight this: Sachal's performance is equal parts virility and empathy. The Nat "King" Cole classic, Unforgettable, is honored with a spare, haunting style, and is revered by listeners with nearly a million streams across platforms since its release in 2019.
Sachal's groundbreaking 2015 release Slow Motion Miracles (produced by Steely Dan's Michael Leonhart for Sony/OKeh), highlights his original compositions – fantastic melodies in a fresh style inflected with popular music. His 2011 release, Hi-Fly, reached #1 on the iTunes Jazz charts. Hi-Fly was produced by John Clayton and features vocal legend Jon Hendricks.
Sachal has performed to enthusiastic audiences at all major festivals, theaters, and clubs across the world. He performs with artists of all styles, and has sung alongside musicians such as Wynton Marsalis, Bobby McFerrin, Milton Nascimento, Bill Charlap, Natalia LaFourcade and Michael Feinstein. He is also an in-demand lyricist and composer and has collaborated with artists across genres; his singing and writing was featured on Gerald Clayton's Grammy-nominated album, Life Forum (2013).
A preeminent educator, Sachal bridges a strong technical foundation and disciplined, immersive jazz study with a fundamentally open spirit. Through his workshops, classes, and lessons at multiple institutions around the globe, he has honed a style of teaching that is as encouraging as it is thorough.
Romain Collin
Grammy-nominated pianist and composer Romain Collin has been described by NPR as "a visionary composer", and touted by the Boston Globe as being "among the leading lights of a new breed of jazz players". Collin continues to develop "a highly personal and contemporary vision" (A Blog Supreme, NPR), blurring the lines between improvisation, sound designing, indie rock and film scoring. With his latest release Tiny Lights… (XM, 2019), Collin keeps developing "a unique voice, a crystal clear vision" (UK VIBE), making his mark on the New York scene, as well as internationally. Romain has since produced RMXS , a full length record of remixes of Tiny Lights… while co-directing SHE, a three-part music video that supports this project. The film, made in collaboration with LA director Matt Palmer, dancer/choreographer Alina Fatieieva and lauded fashion designers Alexander Chen and Jamila Mariama, has made the official selection at the Canada International Fashion Film Festival and at the Istanbul Fashion Film Festival (2020). Tiny Lights… RMXS is scheduled for release in 2021.
In 2009, Collin released his debut as a leader, The Rise and Fall of Pipokuhn (Fresh Sound), a record described as "an astonishingly mature and ambitious debut that secures Collin a placeholder in the continuing evolution of the grand tradition of the piano trio" (All About Jazz). Collin was soon after invited by legendary pianist Marian McPartland to her prestigious Piano Jazz show on NPR to discuss his artistic vision and to perform solo piano. In 2012, Collin released his second album as a leader, The Calling (Palmetto). The record, produced by Matt Pierson, features Kendrick Scott on drums and Luques Curtis on bass, a band of "astonishing capabilities, filling a landscape of incredible expanse" (All About Jazz). The Calling has been described as "a tour de force that showcases Collin's strengths as an accomplished composer and virtuoso pianist of the highest order" (JazzEd Magazine), and as "a work of art that is worthy of being held onto for generations to come" (Eric Sandler, The Revivalist). Collin's third release, Press Enter (ACT, 2015) features once again Scott on drums and Curtis on bass. This record was described by the New York Times as a "winning new album", hailed by Jazz journal, UK as an "absolute masterpiece" and praised by All About Jazz as an "extraordinary album". The group has toured in major venues and festivals throughout France, Germany, Spain, Italy, the Netherlands, Switzerland, Turkey, the United States and Japan.
Romain, originally born in France, attended Berklee College of Music ('04), where he majored in Music Synthesis. In 2007, Collin graduated from the prestigious Herbie Hancock Institute of Jazz where he held a Full Scholarship as the pianist of an ensemble handpicked by Herbie Hancock, Wayne Shorter and Terence Blanchard. During this time, Romain toured internationally with Hancock and Shorter, shared the stage with Marcus Miller, Jimmy Heath, and Terence Blanchard, and studied with the likes of Larry Goldings, Russell Ferrante, Ron Carter, Charlie Haden, Mulgrew Miller and Wynton Marsalis.
While carving his career as a leader, Romain co-leads a group with harmonica virtuoso Gregoire Maret, that features guitarist Bill Frisell. The trio released Americana (ACT, 2019) and was Grammy nominated in the Best Contemporary Instrumental Album category. Collin is set to release a duo record with Bergur Thorisson (Bjork's long time engineer and music director), as well as a project with singer Sachal Vasandani, Midnight Shelter (Edition Records, 2021). Romain has composed numerous scores for films such as Anthem and Syria (mini-documentaries produced by Peace Nobel Prize Laureate Malala Yousafzai), Le Bresil par la Cote (five-part feature documentary, 2014), Les Airventuriers (two-part feature documentary, 2015), various short documentaries for the United Nations Refugee Agency as well as numerous award-wining short movies.