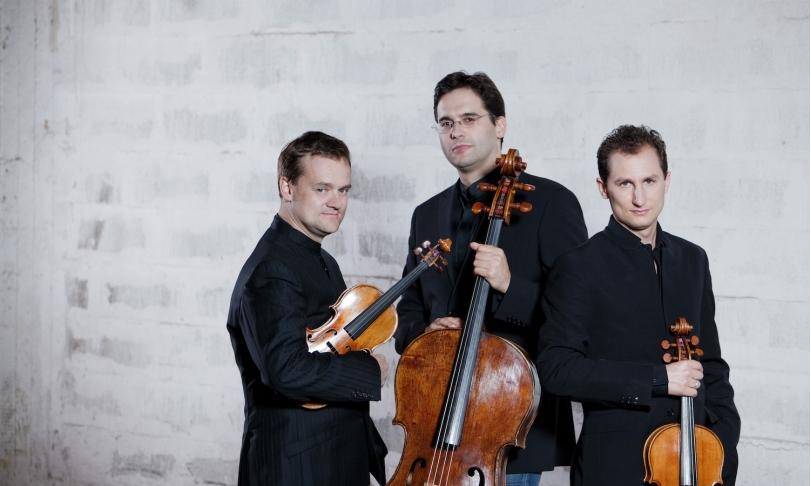 The Trio Zimmermann is a real stroke of luck, since in 2007 three top-ranking soloists joined forces to form a successful string trio. This is by no means the rule. Rather, in such a configuration, it is not uncommon for the concert soloists in the chamber music group to remain what they are: Soloists. In order to merge into a string trio, something other than soloistic competence is needed, namely exactly the opposite of it, i.e., lived ensemble spirit, which is why string trios and, in general, chamber music ensembles with proven chamber musicians who consciously forego the path of a soloist's career and subordinate themselves to the ensemble idea, are ahead in terms of the quality and persuasiveness of music-making in a small ensemble. The fact that the members of the Trio Zimmermann, Frank Peter Zimmermann, violin, Antoine Tamestit, viola, and Christian Poltéra, cello, succeed in being perceived as a true trio and not as a group of soloists, despite their primarily soloistic activities, is probably due to the fact that each of them had a second career as a chamber musician behind him when they came together as a trio in 2007. Another aspect that may have helped the trio grow together is their numerous public appearances as trio.
After only two years of playing and performing together, the three soloists of the Zimmermann Trio had already grown together into a convincing ensemble in the best spirit of chamber music, as can be heard on the first album recorded in 2009 and 2010, featuring Mozart's Divertimento in E-flat Major, K.563, which lasts almost 50 minutes, and Schubert's one-movement String Trio in B-flat Major, D 471. This album met with enthusiastic reception by audiences and critics, who placed it on the same level as the best competing recordings of Mozart and Schubert pieces available up to that time. This album was followed by the album of Beethoven's String Trios Op. 3 and his Serenade Op. 8. In the Beethoven Trio, the critics at the time attested to the Zimmermann trio's approach with plenty of heart and technique but little ego, resulting in a superbly natural-sounding performance. Another Beethoven album is devoted to Beethoven's Op. 9 string trios, which again drew rave reviews. The Trio Zimmermann plays these works to the fullest. These are dynamic and romantic interpretations that show excellent ensemble work by the players. Thankfully, there is no bowing to historical practices here. Just thoroughly robust string playing by three outstanding musicians.
Twentieth century string trios are the subject of the Trio Zimmermann's album of works by Hindemith and Schoenberg. This album, with its masterful trio playing, has received numerous awards such as the Diapason de l'Année, the Chamber Award from BBC Music Magazine, and an annual prize from the German Record Critics Association. The Trio Zimmermann returned to the realm of early classical music with its album of Bach's Goldberg Variation in Dmitry Sitkovetsky's arrangement for string trio, which was album was received as a sensation, and which reconceived the work written for keyboard instruments in terms of its chamber music potential. On this, the critics at the time commented: the Trio Zimmermann throws itself into the fray with fiery zeal, shaping the music with the phrasing sensitivity and heightened articulation of an experienced ensemble for period instruments. Perfectly matched - all three instruments are Stradivaris - and impeccably balanced in a lively and radiant acoustic, the finest compliment that can be paid to this captivating performance is that not for a moment does one feel that one is listening to a transcription. The ensemble's stated intention was an "unveiling" of Bach's masterpiece - the result is a triumph of the combination of technical ingenuity and musical understanding.
Together with the pleasing fact that all of the Trio Zimmermann albums have been exquisitely recorded, here is at least a preliminary sonic legacy of this impressive trio's activity that is impossible to pass up as a classical music fan devoted to chamber music. Finally, the fact that the five-hour download of the collection of the five albums with the Trio Zimmerman released so far on the album on A Retrospective is available in FLAC 88.2 format at a real bargain price is not to be neglected.
Trio Zimmermann