---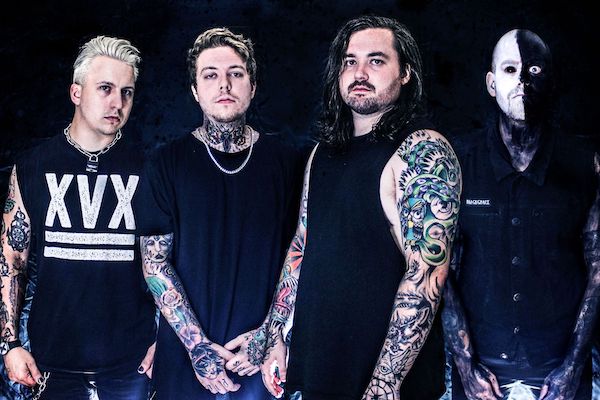 The Browning
Ah, metal music and its many, many faces. Combining styles is basically normalcy in today's music and can sometimes come at the band's expense. Mixing hardcore, emo, thrash, death and grind (just to name a few) together can create some interesting styles and sounds, but it doesn't always translate well. Hell, I have even seen seafood (yep that's right, "creatures of the deep") thrown into the mix with Attack Attack and their interesting subgenre known as "crabcore." And now The Browning are here to throw their proverbial hat into the mix to see if they can separate themselves from the pack. Former As Blood Runs Black vocalist Jonny McBee not only fronts the band, but also finds himself behind the board producing the band's self-titled debut album. Having been a full band no more than three months, will these Texans be able to hang with the big boys or find themselves standing on the edge of oblivion?
The album gets things going with "Standing On The Edge" and "Dazed". The opening electronics of "Standing On The Edge" sound like they could have come straight from any Ibiza nightclub or underground rave scene. Let me tell you, these beats hit harder than a sleep over at Mel Gibson and Oksana Grigorieva's house. Battering guitars fill your braincase, while ravaging drums, mind warping electronics and raging vocals pound you into nothingness. Imagine the annihilation that would take place if The Acacia Strain met Paul Oakenfold in a dark alley, and the result would be "Standing On The Edge". "Dazed" incorporates blasting beats, surging guitars and McBee's hell-fueled guttural attack with beautiful Cradle Of Filth-style keyboard backdrops. It's an incredible majestic sound that will shake you to your inner core.
One thing I would like to point out is just how fantastic this record sounds. To self-produce a record on little-to-no budget is one thing; but to also make it sound as good as this one is another thing entirely. The guitar tone is thick and meaty, the drums are rock solid (with the occasional 808 for that extra punch), and the vocals are tight and fit squarely into the mix, never sounding too out front or buried. Usually when bands use 808 accents on albums, the kit becomes less about the drums and more about the accents. However, that's not the case here. McBee found the perfect combination of kit and accents to create an absolutely devastating sound. If I have one gripe, it would be that the bass needs be brought up a notch or two. It seems a tad bit underwhelming, but never takes away from the band's crushing sensibilities.
The decimation continues with songs like "Judgment", "A Better Way" and "Suit and Tie." Once again, "Judgment" features beautifully crafted keyboard work that is intertwined with plundering double bass and totally assaulting vocal work. The scalding verses are always on the attack quickly turning into dismantling slow grooves that mash you into pieces. Angelic keys run behind the brutality making this song cataclysmically epic. "A Better Way" sees The Browning take a step out of their comfort zone to try their hand at a catchy chorus. Now mind you, this is extremely subtle but it works and shows just how eclectic these guys are. "Suit and Tie" is a behemoth track that combines the slower grooves of The Acacia Strain with atmospheric keys and Molotov Solution-style breakdowns. You better stretch out your neck before listening to this track because you'll need to be prepared for some serious headbanging.
Even with only a short time under their belt, The Browning have managed to write and record one of this year's best albums to date. This isn't just any other record- it's an experience of gigantic proportions. Simply put, the soundtrack to the apocalypse has arrived.